Officials at Kansas State University have apologized for a marching band halftime performance that featured what appeared to be sexual innuendo directed at the University of Kansas.
During halftime of Saturday's game against South Dakota, the Kansas State marching band performed a Star Trek-themed program, during which the Starship Enterprise encountered and attacked a "horrible space creature." The band formed an image of a Jayhawk, the mascot of rival University of Kansas, and it all devolved from there.
To many, the formation wound up looking sexually suggestive.
VIDEO: Bad day for Kansas fans gets worse: look at what the KSU band did to the Jayhawk http://t.co/9zh6vKyznA pic.twitter.com/Rcy2egyOyN

— Deadspin (@Deadspin) September 6, 2015
So I made a gif from my photos... #ksuband pic.twitter.com/TU9bWoDe4I

— George Walker (@pkmnct) September 6, 2015
Frank Tracz, director of the Kansas State marching band, shared an image of what the formation was supposed to look like on Facebook.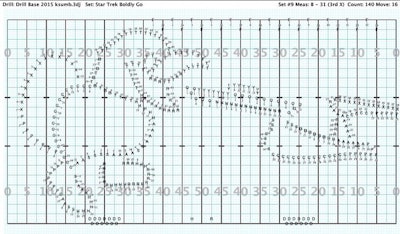 "There was absolutely no intent to display anything other than the Enterprise and the Jayhawk in battle," Tracz said in his Facebook post. "I do apologize for the misinterpretation and I assure you that I meant absolutely no disrespect or malice toward the University of Kansas."
Update
Kansas State has instituted internal sanctions for the performance. The band director will be suspended for the game against the University of Kansas, and the school will pay a $5,000 fine to the Big 12 Conference.
.@KState announces internal sanctions for band's halftime performance. Fine and single-game suspension of director. pic.twitter.com/Ftw1Gs2SrV

— kansasdotcom (@kansasdotcom) September 8, 2015