At Camp Pendleton Youth Sports in Southern California, meeting everyone's needs is a daily priority for the staff – not an easy task with roughly 2,500 kids participating annually.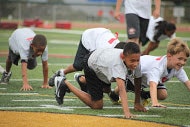 Despite the high volume of participants, the staff consistently provides a variety of high-quality programs that are fun and engaging while focusing on teamwork, sportsmanship, safety and fair play. There's also a strong emphasis on individual and team effort and no room anywhere for win-at-all-cost attitudes.
"Camp Pendleton Youth Sports strives to remain a positive experience for all involved," says Brittni Young, youth sports manager at the base. "With such a large program, it can be challenging to meet everyone's individual needs and yet we make it our daily priority."
The staff utilizes the National Alliance for Youth Sports' Rate Your Coach tool to gain valuable feedback on its coaches. In addition, Camp Pendleton staff members are present at all games and able to monitor the behavior of coaches and ensure that participants are having memorable experiences for all the right reasons.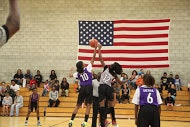 "It's important for us to give back to the children of the Active Duty service members and to create an environment where they can meet other kids who are dealing with the same issues that they are," Young says. "We remind ourselves every day of who our customer is, and who we are here for."
Soccer is the base's most popular program, as nearly 700 youngsters participate in programs throughout the year that feature Under 6 divisions all the way through Under 19 divisions. Baseball is another program that attracts lots of interest, as more than 300 players ages 5 to 14 participate in four divisions: T-ball, Coach Pitch, Minors and Majors.
The base also provides a variety of other team sports, like softball and basketball, among others. It also offers a variety of camps and clinics throughout the year, many at no cost to the participants, like the Eric Dickerson Foundation Football and Cheer Camp, Coast 2 Coast Irish Soccer Camp, Monarchs for Marines Football & Dance Camp, Doug Baker Youth Baseball Clinic and the CheerPros Cheerleading Camp, among others.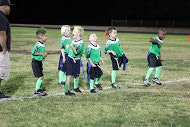 While all of these activities are going on sportsmanship stays at the forefront and is emphasized during all of the programs.
"We do this by encouraging our coaches to reward players not only for their skill but their sportsmanship and character," Young says. "We make sure that at the end of the game they are doing the team handshake."
Even before the season begins good sportsmanship is stressed. "All of our coaches must attend a coaches meeting where we go in depth about how important it is to follow the rules, play fair, and respect all players, officials and coaches," Young says.
Developed by the National Alliance for Youth Sports and Athletic Business magazine, the award recognizes programs that are doing superior jobs of conducting diverse activities with a focus on providing safe and positive experiences for all participants, including children, parents and coaches.The eight winners of the 2015 Excellence in Youth Sports Award are being announced in this space over the next eight days.