At NSA Bahrain Child and Youth Programs safety, effort and fun are what it's all about. The department's philosophy is zeroed in on instilling a positive attitude, basic fundamentals, confidence and sportsmanship into all children who participate.
The measuring stick for determining successful seasons isn't the amount of games won but rather the number of children who want to return to play again next year."Our programs emphasize participation, fun and sportsmanship, and downplay a competitive approach to sports," says Seamus Corry, youth sports director at NSA Bahrain Child and Youth Programs. "We exist for the benefit of all kids. We do not exist for the benefit of the adults or a select group of kids."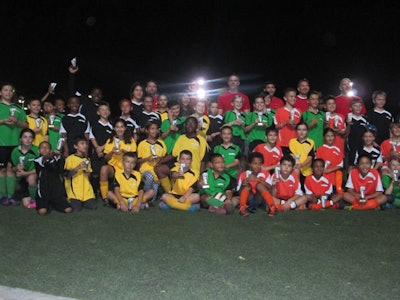 Children ages 3 to 18 have the opportunity to participate in a variety of programming, including soccer, volleyball, tennis, basketball, cheerleading, floor hockey, swimming, flag football, baseball and Ready, Set, Run! Soccer is its most popular program, as more than 200 kids take part in the 10-week outdoor season.
It also offers an indoor soccer season for children in kindergarten and first grades that runs for five weekly one-hour sessions.
Despite operating in one of the hottest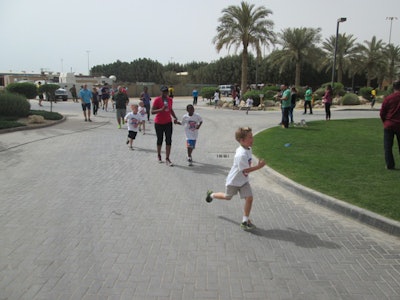 climates on the planet, the staff manages to keep the kids active all 12 months of the year.
During the summer it exposes children to unique opportunities to try different sports. "Every year we run eight to nine weeks of summer sports for the community," Corry says. "Each week we switch to a different sport. This year we had the Arsenal School of Soccer Summer Camp come in and run our first two weeks of sports camp. Every summer we try and run different sports to expose children to a variety of sports."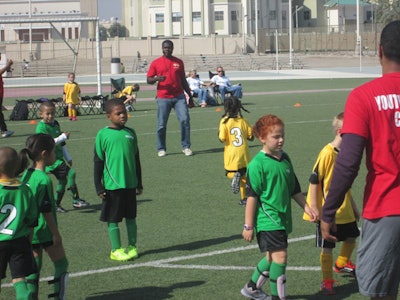 The program runs two different sessions, the first for children who have completed kindergarten through third grade and the second session for those who have completed grades 4 through 8. Each session lasts two hours and this summer featured a basketball camp, cheerleading camp, fitness camp, Gaga Ball camp, tennis camp, foam floor hockey camp and a Sport N' Play Camp.New this summer was a Swim Club for children in grades 1-8 that ran twice a week for six weeks. Parents could register their child for individual sessions and the club was a hit as each session sold out.
"There aren't many youth sports programs for American children outside of the base," Corry says. "The community relies heavily on this youth sports program to provide activities for their children."
Developed by the National Alliance for Youth Sports and Athletic Business magazine, the award recognizes programs that are doing superior jobs of conducting diverse activities with a focus on providing safe and positive experiences for all participants, including children, parents and coaches.The eight winners of the 2015 Excellence in Youth Sports Award are being announced in this space over the next eight days.