At the U.S. Army Garrison Hawaii Youth Sports and Fitness Program, the youth sports programs are continually evolving to meet the diverse needs of today's youth. What never changes, however, is the department's focus on enhancing kids' physical, cognitive, social and emotional development through their participation.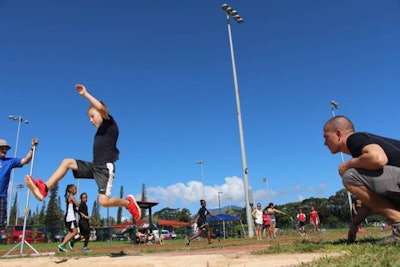 "Our hunger for growth and improvement helps keep our program the one everyone wants to be," says Brendyn Agbayani, youth sports director at U.S. Army Garrison Hawaii Youth Sports and Fitness Program. "We take our reputation seriously and it is one of the factors which drives us toward excellence."
Regardless of whether children are involved in a developmental program like T-ball or coach-pitch baseball, a competitive team sport like volleyball or softball, or an individual sport like swimming or track and field, they come away from the experience with greater skills and even greater memories.
"We are hungry for growth and providing a positive experience for all children, youth and teens in our program," Agbayani says.
Soccer and basketball are the most popular sports programs on the base, with 777 and 535 participants, respectively, this past year.
The department devises many other unique events as well, such as Summer Fun Fitness weeks, Olympic Day and a Teen Center Traveling Basketball League where teams practice twice a week and play games on Friday evenings. Activities such as these keep children engaged throughout the year. The department also orchestrated a Kick Butts Day, an anti-tobacco effort geared toward youth in which they partnered with the Naval Health Clinic and others in the community. The youth cheerleaders performed "Thriller" dressed as zombies to represent death by tobacco.
"Everybody who works for Youth Sports Hawaii comes from various walks of life, which makes our program so diversified in the programs we offer and how we grow our program," Agbayani says. "Like all of our employees we try and make the program unique and what fits our military community."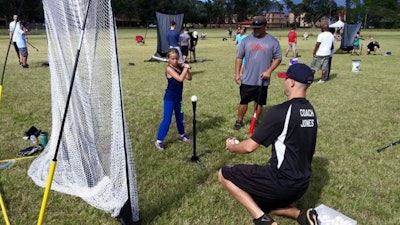 Every member of the staff is cross-trained within the field. This way, when one person is out the program still operates smoothly.
"The foundation of our program is one team, one family," Agbayani says. "It is one thing to achieve excellence, but the goal for us as a family is to maintain that constantly as a program over a long period of time."
As Vince Lombardi once said: "Perfection is not attainable but if we chase perfection we can catch excellence." That's exactly what the U.S. Army Garrison Hawaii Youth Sports and Fitness Program has done.
Developed by the National Alliance for Youth Sports and Athletic Business magazine, the award recognizes programs that are doing superior jobs of conducting diverse activities with a focus on providing safe and positive experiences for all participants, including children, parents and coaches.The eight winners of the 2015 Excellence in Youth Sports Award are being announced in this space over the next eight days.