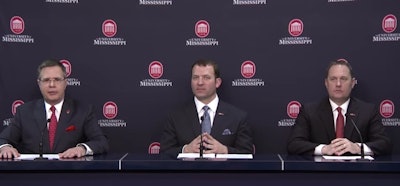 The NCAA's investigation into conduct of the Ole Miss football program has concluded, resulting in eight additional charges to the notice of allegations and a self-imposed one-year bowl ban, the university announced on Wednesday. In addition, the school will forfeit $7.8 million in postseason revenue.
Ole Miss received an initial notice of allegations in January 2016 that included 13 charges; the additional charges bringing the total to 21, with the conclusion that the "scope and nature of the violations demonstrate that the university lacked institutional control and failed to monitor the conduct and administration of its athletics program."
The athletic program's troubles began in 2012 with allegations against its football, women's basketball and track and field programs. In 2016, the allegations against the football program were separated to undergo a more-focused investigation.
Ole Miss has 90 days to respond to the new allegations. In a video released on Wednesday, chancellor Jeff Vitter, vice chancellor Ross Bjork and head football coach Hugh Freeze discussed the new allegations and the university's response.
The university has accepted responsibility for three of the new allegations — including allowing a recruit to hunt on a booster's private land, impermissible benefits given to a recruit, and providing false information to enforcement staff — but says it plans to contest five of the new allegations. Three of those allegations stem from incidents where impermissible benefits were given to or contact made with prospective student-athletes by both football program staff and boosters. The remaining allegations charge the head football coach with violating coach responsibility legislation and accuse the university of lack of institutional control.