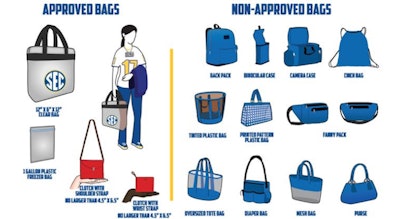 Following a unanimous approval vote from the league's 14 athletic directors, the Southeastern Conference has announced that it will implement a clear-bag policy for the 2017 football season.
In a release posted on its website, the conference announced changes to the size and type of bags that will be allowed into all stadiums where SEC schools host games.
The new rule was implemented as an enhanced security measure.
"SEC football stadiums are among the largest venues in the world of sports, so safety and security are issues that must always remain a priority for our events," commissioner Greg Sankey said in the release. "We believe this policy is an important enhancement to the security measures already put in place by our institutions."
The policy reflects changes made in other leagues and schools. The NFL also has a clear-bag policy, as do many other Power 5 schools. Prior to the 2016 season, 31 out of the 65 schools that make up the Power 5 conferences had already instituted clear-bag policies, including some schools within the Southeastern Conference. Some institutions, including Ohio State, Michigan, Michigan and Penn State, have shifted their policies to ban all types of bags.