If your club is anything like mine, right about now you're wondering what happened to Stan who was always on the treadmill on Monday, Wednesday and Friday mornings at 6 a.m. Or perhaps you can't remember the last time you saw Nancy, who was always in the 10 a.m. cycle class. And wasn't the weight room more crowded last month?
It's that time of year when many of our new members start to lose their motivation. The club can go from full of energy to empty in just a few weeks. The question plaguing everyone in the fitness industry is how do we keep people — especially people who are new to exercise — motivated to continue working out after that initial burst of enthusiasm wears off?
We used to run missing-member lists in the spring that would tell us who had not been to the club in months. We'd then reach out to them to say, "Hello, we miss seeing you, come on back!" What we've learned is that we have to be much more proactive in preventing members from going missing in the first place. And it starts when they join the club.
Here are five new-member retention tips that have worked for us:

1. Sell membership as an investment.
In my opinion, we have done a poor job of conveying to the public that we are here to help them adopt a healthier lifestyle. We shouldn't only be about helping them lose weight, tone up or add muscle. These are all short-term goals in the mind of the average person. We need to be a real "club." We need to educate people that they are joining a club, that they are a part of something and that the club is now a part of their lives.
It's one component of a healthful lifestyle. It goes along with eating healthier, controlling stress, getting regular medical and dental checkups, and just generally taking better care of ourselves. Sometimes, you might miss a workout. That's okay, just come tomorrow or the next day. No one should ever "quit" the club. What then? Start saving money for your blood pressure medication or your triple-bypass surgery? No, we need to do better for our members.

2. Carefully integrate new members.
It's up to us to help integrate each new person into the club. Every new member needs some time and attention with a staff person. When a new member finishes the signup process, the final thing we do is schedule them for an appointment. This appointment is about finding out how we can help this person get off to a good start.
We need to ask them a lot of questions. This gives us a real chance to get to know them, and they get to know a staff person they can rely on. What are their goals? What do they like to do? How often do they plan to come to the club? If the answer is five days a week, they're already destined for failure. Tell them.
We try to get every new member into a class that fits their schedule and their goals. We have group fitness classes and pool classes, as well as small group training sessions and one-on-one sessions. The last thing we want to do is put someone on the treadmill for 20 minutes and then show them six or eight selectorized machines. It's almost like abandoning a baby on the doorstep. That person is almost guaranteed to get bored and stop coming after the first month.

3. Don't lose track of them.
We need to keep track of our newest members and reach out to them. We still run a missing-member report at the end of every month. But now we are looking back 30 to 90 days. We tell our new members when they join that their first goal is to just show up. If we can get them to do that, they will find things they like and they will start to feel better.
If a member is struggling to get to the club, we call and offer them a session with a personal trainer to help re-motivate them and get them back in the door. They need to know that we noticed they aren't at the club — because they are members of a club!
We have a company — Retention Management — that pulls from our club software and then emails all of our members. New members receive several emails each month, and after 90 days they receive monthly emails. These are customized messages for members who might be struggling to get here (tips to improve consistency, for example) or for those who are attending regularly ("Keep up the good work, you'll get great results").

4. Make specific visits special.
One Saturday morning every month, we hold an open house and serve coffee, muffins, apples and other snacks. In addition, we offer one or two special events, such as a team-taught group fitness class or an outdoor boot camp workout.
We encourage members to bring family and friends for free, even if they've been here before. We want members to share their enthusiasm for their club. We publish pictures of these events on our Facebook page and encourage members to "like" them so their friends can see them working out.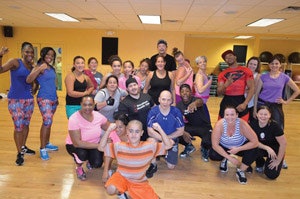 5. Thank and reward.
We also send our members special mailers several times a year to thank them for being members of the club, and it might include a free one-month membership that they can give to a friend or family member, or a coupon for them to try personal training sessions or some other service. Again, we want them to share their club with people they know and hopefully refer them to become new members.
Our members should come to the club and feel like they belong. The more they come, the better their chances of reaching their goals and feeling good about themselves. And the more we can help them, the more likely they are to stay members and to bring us more members. It's how all of this is supposed to work.
---
This article originally appeared in the May 2017 issue of Athletic Business with the title "5 Tips for retaining your newest members" Athletic Business is a free magazine for professionals in the athletic, fitness and recreation industry. Click here to subscribe.