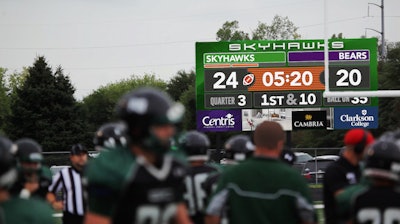 This sponsored content was paid for by ScoreVision. What is sponsored content?
An entirely free digital scoreboard upgrade. It sounds too good to be true, but that is exactly what Reverend Jonathan Dinger and Grace Lutheran School received when they partnered with ScoreVision's digital ad service.  
"Once I learned about the advertising capabilities of the software, I felt confident I could find sponsors in our community. In a handful of days, we had enough interest to cover both the hardware and annual software costs of the system," said Dinger.
The ScoreVision system integrates digital advertising on all its LED displays, giving sponsors the ability to use digital ads, animated digital ads and videos. The ads are easily managed through a sophisticated cloud-based system where they can change on a weekly, monthly or per-sport basis. The advertising revenue available with these sponsorships makes funding brand-new, multi-purpose displays possible for any school.
Grace Lutheran is just one of the many schools that have been able to fully fund their ScoreVision LED display system through sponsorship and ad revenue — some have done so in as little as 10 days. Not only are the scoreboards self-funding, they continue to generate profit throughout their lifetime. With an indoor system alone, schools can generate more than $50,000 throughout a standard one-year sponsor partnership. This number skyrockets to more than $130,000 per year if the school has both indoor and outdoor boards.
"Anyone can advertise on our boards," said Skutt Catholic President Jeremy Moore. "They pay for themselves with that revenue and then continue to generate revenue for our athletic programs."
The Digital Media Sales Program has also helped small schools install professional-grade LED displays when they would have otherwise lacked funding. Once the system is installed, the school can also utilize the multi-purpose functionality for pep rallies, film review, graduations, community events and more.
Often the only obstacle between a school and an upgraded LED display system is the price tag. But, with ScoreVision's digital ad program, schools can generate enough revenue to pay for the displays and make a profit.
To learn more about how your school could benefit from a ScoreVision system, click here.