Creative programming is key to counterbalancing the costs of operating a successful aquatics facility — even for college campuses like North Dakota State University, where the aquatics center's building and operation costs come out of student fees. Students who voted in 2013 to build the school's new aquatics center prioritized certain specialty programming — such as indoor scuba diving certification opportunities — as must-haves that made an increase in the cost of attendance worthwhile. Those looking for creative ways to broaden the classes, competitions and just-for-fun features that beckon patrons into an aquatics space will find many products aimed at expanding the patron base — as well as a few minor programming tweaks that can help appeal to a larger audience.
NDSU's latest addition to its student-funded wellness center is an aquatic center with two distinct spaces — one for competition swimming and one for leisure activities — and programming is in high demand. According to Ryan McMaster, the university's aquatics coordinator, the center often runs dual programming, with louder recreation activities such as water volleyball and basketball going on in one pool, while the other is reserved for lap swim and group exercise classes. McMaster says that students involved in the design of the new facility prioritized a space that promotes inclusivity, even for those who didn't come to swim. To that end, the leisure pool has a section of water approximately six-inches deep with lounge chairs where students can socialize, as well as a hot tub and an on-deck fire pit.
While the leisure end of the NDSU aquatics center is filled with a constant flurry of independent recreation, the lap pool is the site of much planning and comprehensive programming on the part of aquatics staff. In between regular team practices, open lap-swim hours and learn-to-swim classes, the competition side of NDSU aquatics schedules specialty classes such as stand-up paddleboard yoga, floating HIIT classes and scuba diving. Programmers are also offering creative competition events such as intramural Battleship, where students work in teams to paddle canoes with their hands while trying to sink other team's "ships" using a five-gallon pail.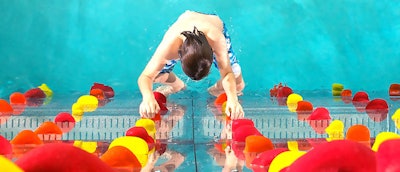 Floats, boats and climbing walls
When it comes to specialized aquatics equipment, the rec department at NDSU has invested in plastic canoes and a collection of stand-up paddle boards specially designed for indoor use. Both purchases serve highly popular programs that have running wait lists — however, in terms of return-on-investment, McMaster says the center's most popular aquatics program is made possible by the initial facility investment in underwater pool lights. According to McMaster, between 70 and 100 students routinely participate in the center's night swim program, open to students and members on select weeknights from 9 to 10 p.m. The facility switches off all overhead lighting, leaving only the pool lights to illuminate a simple free-swim period.
While the aquatics center at NDSU was built with an adequate budget and an ambitious vision for creative recreation, not all venues have the same luxury. For anyone looking at a simple, rectangular pool facility and wishing there was more to it, there are a number of semi-permanent installation options to add visual and programmatic interest to virtually any aquatic space.
One such option comes from Spectrum Aquatics of Missoula, Mont. Spectrum's Kersplash climbing walls come in panels four feet in height and can be stacked up to four panels high. They're also infinitely wide, which allows for a custom climbing challenge that leans out over the pool area so climbers can drop down into water after reaching the top.
According to Chase Taylor, marketing manager at Spectrum Aquatics, the walls are currently designed to be anchored to the pool deck, but the company is investigating ways to make the Kersplash wall removable, to a degree. Taylor says a lot of facilities like the idea of the wall but don't have enough space to install something that could permanently affect competitions or other programming. The new design would make it possible to unbolt the bottom panel and slide the wall to a different area of the pool.
The Kersplash wall's color-coded handholds — which are moveable, enabling facility managers to set new courses and create new challenges — ensure that the wall holds a patron's interest longer than a slide, while at the same time being safer than diving boards. Spectrum is currently invested in a redesign of the wall's handholds, and the company plans to introduce a wider variety of colors and shapes that will increase programming possibilities. "We're developing a style that will challenge kids' hand-eye coordination," he says. The new handholds can be used to teach young children to recognize colors and shapes, as well as improve their counting skills through games.
Along with the new handholds, Spectrum hopes to release a new feature in partnership with Colorado Time Systems — a timer connected to a button at the top of the wall so that participants can compete in climbing course speed challenges.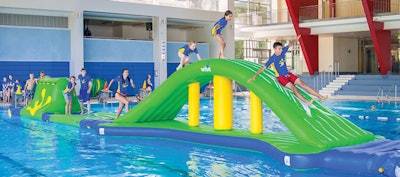 Extending the challenge
Another cost-effective challenge feature that can be added to an aquatics facility after the design phase is an inflatable obstacle course, such as those manufactured by Recreonics of Louisville, Ky. Inflatable obstacle course modules come in a variety of sizes and shapes, enabling the product to take form in almost any aquatic space. Floating obstacle courses are designed to be inflated using a small electric air pump, and can be attached to the pool using a horizontal anchor that connects the modules to the pool's edge, or a more permanent vertical anchor that connects the structure to pre-installed attachment points on the pool's floor.
While these large-scale challenge features are certainly eye-grabbing, they also represent a financial, space and maintenance commitment. But, there are some low-stakes alternatives. Key Log Rolling of Golden Valley, Minn., manufactures a portable, synthetic rolling log that mimics the motion of a natural log in the water and is used in team-building exercises and competitions, as well as in a free-swim recreational context. Log rolling, in which two competitors attempt to spin the other off the log and into the water, has been growing as a sport, with many proponents lobbying to see it in the Olympics. According to Emily Ward, director of sales and program development at Key Log Rolling, the activity has seen increased usage in municipal, campus and military recreation facilities, athletic clubs and in private homes.
Another portable, shallow-water programming tool is available from GlideFIT of Salt Lake City, Utah. Like Key Log Rolling, which took inspiration from an outdoor sport, GlideFIT developed the indoor paddle board after yogis expressed an interest in wanting to bring paddle-board yoga indoors and thus make it more accessible. The contoured boards are roughly 10 by 3 feet, and are now being used for high-intensity interval training, strength and toning, as well as for yoga and Pilates.

According to GlideFIT managing partner Ken Driscoll, the boards are most often sold to YMCAs and private gym locations but are expanding slowly into campus rec. "We get hit up with new markets all the time that we never thought of," Driscoll says. "We have boards at the National Center for Spinal Research." The floating boards provide a low-impact, unstable surface that is beneficial for core-strengthening exercises, as well as rehab and senior fitness programming.
The programming available to aquatics recreation facility managers is more varied than ever, and getting more use out of pool space is limited only by the imagination. Moreover, patrons can be surveyed as to what programs would prompt them to pay a higher participation fee. At NDSU, the aquatics staff takes advantage of the fact that student-members use the center as a focal point of socializing and recreation to introduce fun, creative elements, giving repeat programs a new face. For example, the university hopes to jazz up intramural Battleship with costumes and build-your-own-paddle contests in coming years.
Aquatics professionals intrigued by these new toys, but at a loss as to what to do with them, need not worry. Many manufacturers of aquatic recreational equipment also produce and distribute programming resources detailing the myriad ways patrons can explore the new features. Such materials can be found online for GlideFIT, Key Log Rolling and Kersplash, along with safety guidelines and maintenance tips for the products.
---
This article originally appeared in the October 2017 issue of Athletic Business with the title "Making the most of your aquatic recreation space: How to program like a pro." Athletic Business is a free magazine for professionals in the athletic, fitness and recreation industry. Click here to subscribe.