A high school coach in Iowa is responding to racial slurs posted to social media and directed at one of his players who knelt during national anthem.
Gabe Bakker, head football coach for the Clear Creek Amana Clippers, in Amana, Iowa, has responded to an image that was posted to Snapchat of one of his players, Darius Moore, kneeling during the anthem. The image was captioned: "kick this f------ ni---- off the football team like honestly who the f--- kneels for the national anthem"
Press-Citizen and the Des Moines Register
"What our football team has tried to do in this unique situation, is to use it as a teachable moment. Our team consists of players from different backgrounds that work together for one common goal; to lay it all on the line to win as Clippers. Although individually we may have different views, we as a team take the stance of our school district in supporting the free exchange of ideas embodied by the First Amendment. There is no doubt in my mind that our team, our school, and our community will rally together and come out better in the end after this incident."
Moore himself addressed the issue in a direct message he sent to the Press-Citizen via Twitter. That message read:
"Just wanted to emphasize the fact that my mom in Sioux City drilled into my head as a younger boy that 'you aren't going to be treated like your friends. And (I) really didn't understand what it meant until I faced adversity for the first time when I was on an elevator with another woman and she clenched her purse as if I was going to take it. But that's one of many examples that black (people like) me have to go through as far as being profiled daily in America."
Moore's teammates have supported him throughout the ordeal. CCA running back Matt Brimeyer, who is white, wrote in a note to the Citizen-Press"(Moore) is my brother just as much as everybody else. If you have a problem with him then you have a problem with me."
Moore's father reposted the image to Facebook with a message of his own: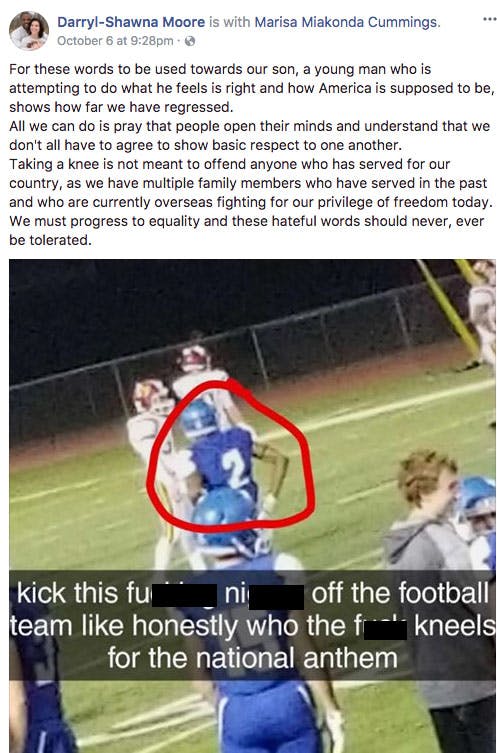 The Citizen-Press reports that Moore is one of Iowa's top prep football players. He entered Week 8 with 39 catches for 538 yards and three touchdowns.