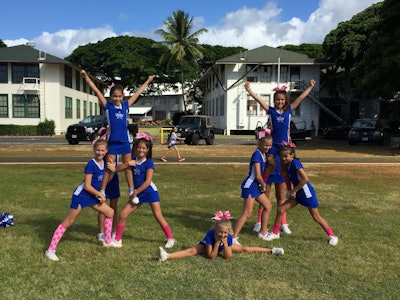 No matter the sport youngsters are participating in at Joint Base Pearl Harbor-Hickam Youth Sports and Fitness in Hawaii, rest assured they'll have positive and well-rounded experiences.
And, thanks to some program enhancements, they'll also be able to transition into school sports, too.
"Our organization went through a re-structure and this started with the structure of our team and individual sports calendar," says Brittany Bigham, Youth Sports and Fitness Coordinator at Joint Base Pearl Harbor-Hickam Youth Sports and Fitness. "Our sports calendar now goes opposite of the local school and league sports schedule. This allows our youth to participate in our developmental program and then try out and participate in their school or outside league teams. This reflects the progressive aspect of our structure."
The base offers a variety of sports for kids to choose from, including soccer, volleyball, basketball, baseball, cheerleading and track and field. It also runs popular Start Smart programs for soccer, baseball, football and basketball and offers camps and clinics for everything from golf and archery to BMX and flag football.
Another structural change within the department is what it's focusing on regarding each particular age group.
"Once the youth have a grasp of basic motor skills we build to skill development, to organized play, and to wrap it all up with skill enhancement and skill enrichment," Bigham says. "This is all broken down into each age group. Our 5-6 year olds is strictly motor skill development; our 7-8 age group is motor skill development and sport specific skill development; our 9-10 age group is motor skill development, sport specific skill development and now organized play; and then our 11-18 age group is skill enhancement and skill enrichment, which encompasses all the previous steps."
It's an approach that pays big dividends for the participants, regardless of their age, ability or experience with the sport.
"A great value to our program is that we are developmental focused," Bigham says. "So, we are able to take all skill levels at any age. If there is a 14-year-old who wants play basketball and has never played a day before this moment it is okay; we will help that teen learn all the way from the basic motor skills needed to enhancement and enrichment."
Staff closely track how their programs are meeting the needs of each child, too. At the midpoint of each season surveys are provided to parents for their feedback; and they utilize the NAYS Rate Your Coach feature where parents can provide honest and anonymous feedback regarding their child's coach.
It also pays close attention to families with more than one child participating to help seasons run as smoothly as possible.
"A tactic we put in place for every sports season is to try and ensure siblings who are in different age groups or registered for our sports programs are de-conflicted as much as possible for practices and game times," Bigham explains. "This allows for growth in numbers and a close to stress-free environment for our community."
And a fun-filled atmosphere for the kids.
"We are proud of what we have created this past year and want to show all programs that through change there is a light at the end of the tunnel and anything is possible," Bigham says.