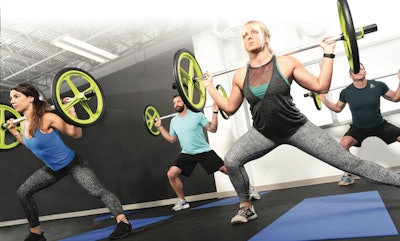 This sponsored content was provided by Power Systems. What is sponsored content?
The UFC Gym in New York City's New Hyde Park has almost 10,000 members. When you walk in on a typical Monday at 6:00 p.m. it feels like half of them are there to kick the week off strong. There is a lot happening: Powerlifting, MMA, small group training and a full display of Instagram-inspired 'look great while I'm doing it' moves. The training floor, it seems, is where you go to see and be seen.
But, weave your way through all the members doing push presses, sled drags, and punch combinations, and you'll find an expansive, floor-to-ceiling windowed, large-group studio populated by a dedicated crew who have been living and breathing GroupX since this fitness multiplex opened five years ago. Tonight's class? They're rolling and lifting a bright green barbell. This is The Axle.
At first glance, The Axle looks like a fun, new workout toy. It's big, bright, and shiny, and yet somehow 30 of them are lined up in this studio space. Nobody seems cramped or hemmed in, just eager to start the workout. The Axle Barbell stands 11 inches off the ground, just like a loaded Olympic bar, and has 44 inches of plated aluminum bar between its big green weights. Or are those wheels? They function as both - The Axle is the next generation of barbells, designed to lift, load, and roll. The Axle is a different experience than a standard barbell, and you can tell that on your first lift.
"We tested and polled and tested again and polled again," says Andrew Page, co-founder and education head for Axle. All that research landed at an 11 pound starting weight which is just enough for people to feel the weight but not be overloaded. The Axle is as uniquely manageable as it is balanced. You can squat, lunge, hinge, rotate, all - of the functional life movements. And it rolls.
Watching an Axle class in action illustrates the principles the Axle organization proudly preaches in their message and programming. "It's not (necessarily) about lifting heavy, it's about functional strength. The heaviest things most people lift are suitcases," says Page. "We're on a mission to help people get real-life strength. A carry-on into an overhead bin. A kid into a car seat. Injury free."
Adding a new dimension to functional fitness, the Axle brings awareness and programming to active core bracing (also known as rolling) -- a concept that has never warranted much attention in fitness circles. Axle's education team has put together a comprehensive program on functional movement and rolling. Two hundred instructors became Axle-certified this past January alone. So, what is an Axle Workout?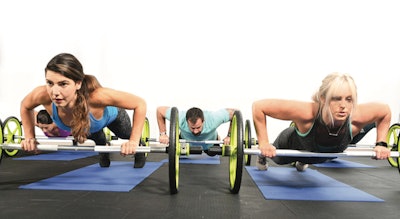 An Axle Workout typically begins with a dynamic warmup consisting of multiplanar and compound movements to get the body ready to train. In the class in Hyde Park, thirty Axles simultaneously punch into the air in a squat thruster. They're impressively on beat, like any seasoned aerobic class, using moves choreographed to upbeat music. But then the bars drop to the ground with a rollout-plank to pushup and right back up in the thruster.
This makes sense -- a fluid shift from one movement pattern to the next, rolling out, pushing up, squatting, overhead press. And when everybody is in sync, it's a spectacle. A serious display of core strength; the kind that gets your fitness to the next level.
Although any of The Axle workouts can be done with just the 11 pound barbell, loading the bar with any Olympic plate is simple and quick. Easy-to-use, specialty designed Lock-Jaw collars slide off and you can load up to 60 pounds per side - maximum 131 pounds. Axle recommends just the bar for beginners, 5 pounds extra on each side for second-timers, 10's for regulars, and 25's for the elite. Not only is The Axle a barbell, it is also a core roller. Simply add foot straps and now you can integrate some of your favorite core exercises with your feet anchored to The Axle, such as reverse planks with pushups, tucks, and pikes.
Johanna Buchberg manages group fitness at the UFC New Hyde Park location. She regularly visits her local CrossFit box for heavier lifting to supplement her GroupX lifestyle. "I kept telling my students, just wait until we get Axle, I'll teach you everything I do." Buchberg had been looking for a way to bring her passion for weightlifting to group fitness, and the concept of a lightweight Olympic barbell in the GroupX studio got her rolling on the Axle wagon. Plus, her clients are always hungry for something new. "Axle solves a lot of problems (in the studio) I don't have rafters to hang things and storage is easy."
When not in use, the bars disassemble (the weights and wheels slide easily on and off) and neatly store in either a rack or other storage bin. Now Buchberg is running six classes a week with fresh, exciting programming, and a versatile fitness tool that can offer something for everyone. Her next addition is Axle Loaded, an Olympic-lifting performance class for eager participants looking for that next level of fitness.
The Axle Barbell checks a lot of boxes for group fitness success. An innovative new tool with programming that pairs Olympic style weightlifting, active core bracing, rolling and planking movements with moderate tempo music. The Axle Workout and the Axle Barbell are both adaptable to all fitness levels and training goals. Tried, tested, and proven track records of success in Crunch and UFC Gyms in New York City and California make The Axle a safe bet.
---
If you want to add attention-grabbing, head-turning programming to your group fitness schedule, the Axle could be your solution. To learn more about The Axle and programming, visit www.powersystems.com, check out many informative blog posts, or check out our Axle YouTube playlist.