Right now, the U.S. suffers from an inactivity epidemic. The state of physical activity in America continues spiraling downward. A recent study by the Physical Activity Council stated that 82.4 million Americans are physically inactive. Not surprisingly, sports participation patterns — specifically among children — continue to decline. PHIT America, a national cause focused on reversing America's inactivity epidemic, intends to reverse this troublesome negative trend before its impact is even greater on the economy, health care costs and military readiness.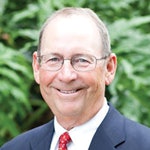 Founded in January 2013, PHIT America (it stands for Personal Health Investment Today) is committed to getting America physically active, saving recess and daily physical education courses in our schools, and educating all Americans about the importance of making exercise and physical activity a part of their regular lives.

The problem is real
The benefits of physical activity — and the negative side effects of physical inactivity — are obvious, but warrant being repeated. With more physical activity, healthcare costs are reduced, academic achievement is enhanced, national productivity increases and military readiness improves.
• More than 25 percent of all Americans are considered totally inactive
• Less than 25 percent of children in America are physically active three times a week
• Childhood fitness levels in the United States rank 47th out of 50 countries
• 48 percent of high schools across the country have no physical education classes
• Of military-aged Americans, 75 percent are unfit for military service
• Only 29 percent of youths meet the qualifications to join the military, and obesity is the leading disqualifier
• The U.S. Army is so concerned about obesity and lack of physical fitness among new recruits that it worked with PHIT America on a December 2017 editorial to encourage schools to offer regular physical education to their students
To further understand the magnitude of physical inactivity in America, it's worth noting that many medical doctors agree that sitting is the new smoking. In fact, many medical doctors are prescribing exercise to patients as the pathway to good health. According to the Centers for Disease Control and Prevention (CDC), exercise is a wonder drug, and Dr. Stephen Blair from the University of South Carolina cited physical inactivity as the biggest threat to public health this century.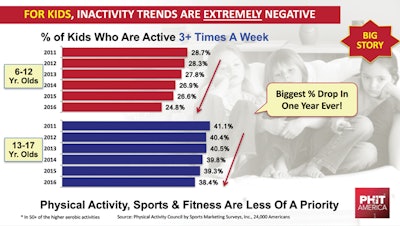 Taking action
Rather than just talk about the issue, PHIT America is addressing the problem with immediate solutions. The PHIT America GO! Grants program distributes funds to jump-start elementary school P.E. programs and initiatives. To date, the grants have impacted more than 200,000 children in nearly 400 schools. PHIT America is working tirelessly to seek more corporate support and involvement for its GO! Grants initiative.
In addition, PHIT America is working to get Congress to pass the PHIT Act, which would allow Americans to use their health savings and medical savings accounts to pay or get reimbursed for true physical activity expenses, such as gym memberships, 5K/10K/triathlon/marathon entry fees, youth sports registration fees, purchases of exercise machines, etc.
Earlier this year, PHIT America announced May as PHIT America Month. Together with corporations and like-minded organizations, the goal was to promote participation in as many running, walking, swimming and tennis events as possible in the month of May and beyond. The kick-off event actually took place April 20, with the leading organizations in tennis — the USTA, the USPTA and the Tennis Industry Association — helping launch the inaugural Million Calorie Burn at the USTA National Campus in Orlando, Fla.
The Million Calorie Burn featured a number of concurrent one-hour Cardio Tennis sessions during a three-hour time frame with nearly 200 participants. Cardio Tennis instructors put participants through their paces on nearly 20 tennis courts, overseen by Cardio Tennis global education director Michele Krause. "This was a fantastic event," says Krause. "The participants were incredibly enthusiastic, and our Cardio Tennis instructors did an amazing job."
One of the goals of the event was to track the total number of calories burned by those who played any form of tennis at the USTA National Campus that day. A total of 433,400 calories were burned, according to Keith Storey of Sports Marketing Surveys USA, which conducted the calorie-counting effort.
"While the goal of the event was to count calories, the bigger goal was to put the attention on the importance of physical fitness for Americans of all ages," says Mike May, PHIT America's director of communications. "We accomplished our goal and heightened awareness of the inactivity epidemic and the need to pick up the pace."
Through the event, PHIT America raised funds in support of its GO! Grants program. Participants were asked to use their cell phones to text 50155 with the message 'PHIT.' Funds are still being collected through the text-to-give format.
"By supporting PHIT America, individuals, organizations and corporations can make an investment in this country's current health and future welfare," says May. "Physical inactivity is a national issue that can only be solved on a local basis. The PHIT America GO! Grants initiative is truly making a difference in the lives of young American elementary-school-age children as they are learning the joys of physical activity and about the positive feelings they get from perspiration."
For more information on how to support the work of PHIT America and the movement to get America physically active, visit www.Donate.PHITAmerica.org
---
This article originally appeared in the June 2018 issue of Athletic Business with the title "PHIT America focuses on reversing epidemic of inactivity." Athletic Business is a free magazine for professionals in the athletic, fitness and recreation industry. Click here to subscribe.