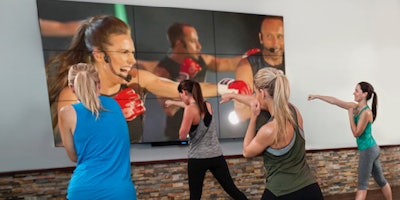 One might consider "streaming video" to be the rallying cry of couch potatoes, but the fact is, streaming video isn't just revolutionizing the entertainment world — it's shaking up the fitness industry, as well.
According to fitness purchase insights compiled by Cardlytics, which analyzed credit and debit transactions to identify these trends, payments to on-demand fitness services accounted for 7.7 percent of total spending on fitness in 2016 — up from 4.8 percent just two years earlier. Over that same period, spending on full gyms declined, dropping from 77.8 percent of total spending in 2014 to 73.2 percent in 2016.
So, while traditional gyms and health clubs maintain a healthy market share when it comes to spending on fitness, on-demand streaming options are gaining ground — and in a world of streaming video, it's a trend worth paying attention to.
"The whole idea of accessibility and on-demand access, self-service, that is a mega-trend," says Garrett Marshall, divisional CEO of Fitness on Demand, an enterprise video distribution platform that works with a wide range of health clubs and fitness centers. "It's affecting every industry, and we've really seen the impact of that over the past seven years in and around fitness."
Fitness on Demand's focus on delivering fitness content to its customers is indicative of the trend. While Marshall estimates that 80 percent of his company's clientele are brick-and-mortar fitness clubs, Fitness on Demand also works with hotels, luxury apartment buildings, corporate on-site fitness centers and others looking to provide their users with a variety of on-demand workout options.
For traditional health clubs, Fitness on Demand addresses a common concern: studio utilization. "We know that a majority of those [studios] sit empty for 80 percent or more of the day," Marshall says. To increase usage in these areas of the club, Fitness on Demand users can access a point-of-service terminal, choose from more than 3,000 pieces of unique fitness content, and wirelessly broadcast that video to a large-format display.
Group fitness, of course, has a long history of using video to reach the masses. Marshall sees his business as the next step in that evolution, recalling the famous illustration of The March of Progress, in which a procession of mankind's evolutionary forebears transforms from monkey to man. "I wish I had one of those for group fitness that would start with Jane Fonda and Richard Simmons, and go to P90X," he says. "It's always changing, and that's the struggle for any operator who wants to provide comprehensive group training."
Outside the group fitness space, the company's Solo option offers a similar experience but one intended for individual use. Users select and view content on a single screen, choosing from programs limited to 20 minutes or less, and that require no special equipment — all meant to be executed within the same footprint as a standard commercial treadmill.
But users don't have to be within the four walls of the club to take advantage of Fitness on Demand. The company also has its own iOS and Android applications, and offers club customers an enterprise option that allows club owners to embed Fitness on Demand content within their own mobile app or website, freeing up Fitness on Demand users to stream from their home devices.
Clubs that seek to leverage streaming fitness content should ensure that they have the physical infrastructure to support it. "We start with the physical experience," Marshall says. "How does traffic move in and out of the space? Do you have audio-visual in that space already? Do you have the screens? Do you have the sound? Flooring? Peripheral equipment?"
The preparations don't stop there. Clubs should have a plan on how they hope to incorporate the technology, as well. Tailoring their digital streaming fitness option to their clientele and unique business is key to ensuring success. "Digital fitness is still a disruptive innovation," says Marshall. "It's a growing trend, but it's probably something that they haven't tried before. If we were to just give our customers our database of 3,000 programs, it's almost too much. It's paralysis by analysis. So we try to help them in that exploration, to build and tailor a solution that helps accomplish their business objectives."
Marshall says that many of the club owners he speaks to do consider the market impact of YouTube, Daily Burn and other streaming fitness video options. "As a club community, we can't control it," he says. "We have to be reactive to market demand. And we already know that members are bringing these types of things [YouTube, Daily Burn, etc.] into the club and using them."
Still, he notes that a majority of highly active people in the U.S. — those who work out for 30 minutes or more three times or more each week — are not members of a health club. "There's probably as many as 140 million to 150 million people in the U.S. who are frequent exercisers and not a member of a gym," he says.
That kind of market could represent an opportunity for owners with the ability to leverage new trends and technology to coax the active at-home population through their club doors.
---
This article originally appeared in the July|August 2018 issue of Athletic Business with the title "Like Netflix for fitness: Streaming video in health clubs." Athletic Business is a free magazine for professionals in the athletic, fitness and recreation industry. Click here to subscribe.