Coordinators are on the front lines of campus recreation departments across North America; those individuals who develop programs or champion campus initiatives know it can be tricky not to get stuck in a rut. But Marketing and Recreation Coordinator Amanda Gill and her team at Southern Alberta Institute of Technology in Calgary are constantly working to build the buzz for healthy people and healthy communities. This past winter, Amanda and her team brought their creativity to bear on one special event in particular.
Make Some Noise for Mental Health
Looking to change things up from past years, Amanda decided to turn off the lights. On January 22, the Athletics and Recreation Department at the Calgary-based SAIT hosted a glow-in-the-dark DJ spin class as part of its ongoing and award-winning Make Some Noise for Mental Health campaign.
The campaign—which is also endorsed by the Canadian Mental Health Association (CMHA)—has been around for four years and is designed to break the stigma surrounding mental health on campus. It was celebrated by the broader community, earning the SAIT Trojans the Canadian Collegiate Athletic Association (CCAA) Community Service Award in 2015 and the Lieutenant Governor's Circle of Mental Health 'True Imagination' Award in 2016.
"SAIT Recreation believes that daily physical activity is beneficial to the success of all students and saw the Make Some Noise for Mental Health campaign as a way of getting this message out to all SAIT students," says Amanda. "Concurrently, Recreation made the commitment to educate students of how participation in physical activity can enhance their mental wellbeing and ultimately their success as a student."
An integrated approach to wellbeing

According to the Canadian Mental Health Association, exercise is good for mental health, helps to reduce muscle tension, improves blood flow, and floods your body with feel-good chemicals.
---
Related: CMHA's Healthy bodies = Healthy minds
---
Exercise has also been positively tied to academic outcomes, as the 2016 North Carolina State University study cited in an Inside Higher Ed article which shows that "for every hour that student's exercise, their odds of graduating (or returning the following year) increased by 50 percent." And students had higher grade point averages when they exercised more, even in small amounts. "For every one-hour increase in weekly physical activities, researchers found, students' GPA went up .06" on a 4.0 scale.
Live DJ spin class
Amanda's recreation team has hosted a spin event associated with the campaign for the past three years. The first event in 2016 consisted of a 20-person, hour-long spin class with a live DJ spinning tunes inside SAIT's main hub, the Irene Lewis Atrium, during class hours.
It served as just one of many events during a full week of events—each designed to make as much noise as possible—dedicated to raising mental health awareness. Other events included a mobile pep-rally with students walking all over campus ringing cowbells and banging on drums, and Trojans basketball, volleyball, and hockey games where fans take part in of a myriad of events.
The spin event was chosen by Athletics and Recreation due to its popularity and its compatibility with a live DJ. Amanda jokingly refers to it as a 'party on a bike.' In reality, though, spin is considered a fantastic form of exercise that is broadly accessible, which was key in their planning.
In January of 2017, Amanda rolled out 100 bikes to help commemorate the post-secondary's centennial celebration. Trojan student-athletes—as well as local celebrities, community members, and mental health advocates—were among those who got their sweat on during the massive event held once again inside the atrium.
Glow-in-the-dark theme sheds a different light on mental health in 2018
With her focus on keeping things fresh, Amanda moved this year's 'party' into SAIT's Campus Centre Gymnasium and went dark. Participants proudly donned white Make Some Noise for Mental Health T-shirts that were illuminated by black lights, and glow-stick necklaces and bracelets along with, seemingly, buckets of glow-in-the-dark body paint applied to faces, arms, and legs.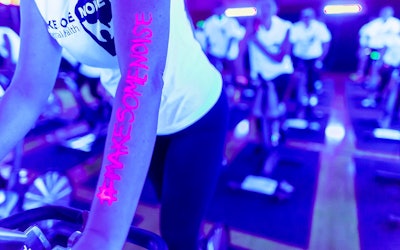 "It is important to do something fresh every year because from a special events perspective, themes create a buzz," says Amanda. "Since Make Some Noise for Mental Health is an awareness campaign, having 100 bikes in the SAIT Atrium or a glow-in-the-dark event in the gym creates curiosity and starts a conversation, and that's what we want."
Again, Amanda's idea was to 'create a scene,' and with two separate viewing areas outside the gym looking in, they did just that. Bystanders were able to peek into the gym through the windows, resulting in photos being taken and a myriad of social media posts that expressed jealousy about having to go to class instead of being able to take part in the event.
Campus support
Amanda hopes those who feel like they missed out will be able to join them next year. "Every year we have had a waitlist for the DJ Spin event. Student athletes, SAIT staff, students, alumni, and the community of Calgary want to get behind this cause," she says proudly. "The DJ Spin event always seems to attract a crowd and serves to be a catalyst to create change surrounding mental health. People are very loyal to supporting this cause and look forward to it every year."
The change to the lighting was not the only major change that was made this time around. The number of bikes was scaled back down to 40, but instead of one class, they had four, ending with 160 total participants ranging from Trojan student athletes and staff to local celebrities, community members, and mental health advocates.
One of those people who took part in this year's event was SAIT Athletics and Recreation Director Wade Kolmel. "It was important for me to support this great event, not just on an administrative level, but as a participant as well," he says. "The issue of mental health has become more and more prevalent recently, with every post-secondary making it a priority that their students have the necessary resources available to them in the event that they may need it. If it takes getting on a bike and sweating for an hour to help let students know it's alright to ask for help, I'll gladly do it again and again."
Community collaboration
For all three years, Calgary's YYC Cycle co-owner Andrew Obrecht has led the classes. Known around Calgary for his love of spin, Andrew was a natural fit. "YYC Cycle is a community-minded spin studio in Calgary. When we first had the idea to host this event at SAIT, we couldn't think of anyone better to lead it than Andrew and his motivators," Amanda explains. "They donate their time to lead this event and we couldn't be more grateful for their involvement and the energy that they bring. This event has turned into an inaugural event in which wouldn't be possible without the partnership with have with YYC Cycle."
Thinking big for 2019
As for next year, Amanda says her team already has some ideas how to improve, and promises not to disappoint. "Think bigger and better," she says with a laugh. "Changing the theme keep the interest of past participants, hence why the participation in this event has grown each year. Plans are in the works. Trust me."
This article was republished from our partners at NIRSA: Leaders in Collegiate Recreation. Read more NIRSA news here.