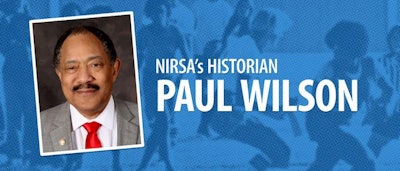 Paul Wilson has a long history with NIRSA. He has been an intramural athlete and a dedicated official, helped plan and host NIRSA regional conferences, hosted state and regional workshops during his 35 years as the director of intramural rec sports at the University of Oklahoma, and taken photos at NIRSA events even before he became NIRSA Historian. In fact, he has attended every Annual Conference but one since 1976!
He remembers a time when the NIRSA president was chosen based on a five-minute speech at the end of conference every year, and he's seen the Campus Rec and Wellness Expo grow from roughly a dozen exhibitors set up in a hotel parking garage to over 130 exhibitors in a convention center exhibit hall so packed with attendees it's hard to get inside.
"People ask me what I think of being NIRSA Historian, and I tell them I've been involved in the profession all my life and I know how important the history of the Association is," says Paul. "I feel very blessed and very fortunate for my role in NIRSA, and it's very important to me to keep the history alive."
Discovering his passions
Paul grew up in Coffeyville, Kansas, and started playing sports at a young age. His mother wanted him to go to college, and he knew that his best chance of fulfilling her dream was to get an athletic scholarship to pay for his education. In junior high and high school, he played football, basketball, and competed in track. He received a scholarship to play basketball at Oral Robert's University in Tulsa, Oklahoma. In 1966, while he was still an undergraduate, he joined the United States Air Force and served in the Vietnam War from 1967 to 1968. When he got back from Vietnam, he was assigned to a headquarters squadron at the Forbes Air Force Base in Topeka, Kansas, and it was there that he discovered his passion for intramurals and officiating.
"I decided to go out for the base basketball team, and after the first practice, the coach handed me a whistle and said: 'Sergeant Wilson, you have to officiate base intramurals,'" says Paul. Though he didn't have any experience officiating, it was required of everyone playing varsity basketball on base. Paul says it was a trial by fire.
"A buddy of mine and I decided we'd better get a rule book and figure how to do this because we didn't know anything about it," he says. "I tell you what, the first few games were a nightmare!" However, Paul quickly realized it was a challenge he enjoyed. "I used to not like officials because I always thought they made bad calls," he says. "When I found how difficult it was, I decided that I was going to do the best job I could. I started doing some training and getting more experience." Paul's internal drive to develop his own skills to improve the experiences of others is a trademark that pops up again and again throughout Paul's career.
He continued to officiate intramurals when he got out of the Air Force and returned to ORU to finish his degree and work part-time as a security agent and letter carrier for the US Post Office. He ended up having a chance to participate in a pilot training program for federal security guards at the University of Oklahoma that resulted in a job offer to teach in the program.
"I transferred from ORU to OU and changed my major from education to law enforcement and taught part-time," he explains. When he got to OU, he started officiating for intramurals at the university as well as off-campus games for junior high and junior varsity. Eventually he worked his way up to officiating high school, college, and even Division I men's basketball games.
"People knew that if there was anything controversial on the court that I was going to take care of it," says Paul. "That was my pride: to be able to manage the game situations. Somebody's got to be able to step in, take control, deal with the situation, get things corrected, and be strong enough to say we've got to do the right thing so we can finish the game and let everybody have fun. That's one thing from officiating that's transferred into my whole lifestyle and my whole career."
Paul went on to officiate Division I NCAA men's basketball for ten years, and continued officiating Division II and National Association of Intercollegiate Athletics (NAIA) games during the 90s. Two of his proudest professional achievements relate to his work as an official. Because of his involvement with Barry Mano, the publisher of Referee Magazine and creator of the National Association of Sports Officials (NASO), Paul got involved with the NASO board of directors as an official. In 1989, he served as the president.
"I regret not having time to run for NIRSA president, but one of the proudest things of my career was to become the president of NASO," says Paul. "It was a great experience to rise to the top of that organization when my officiating was so important to me."
Paul's dedication to officiating was recognized in a big way just last year. "I got inducted into the Oklahoma Officials Hall of Fame for officiating for over 40 years," says Paul. "People had to turn in letters to say I deserved to be in the hall of fame, and I had officiated so long all over Oklahoma and all over the country that people knew who I was and wanted to nominate me. Talk about a surprise!"
Discovering a career
While Paul's officiating career was taking off, so was his career in what has grown to become collegiate recreation, more commonly known then as intramural sports. He says, "I didn't know anything about intramurals until I was suddenly officiating intramurals in the military. When I got out of the Air Force and found out the university had intramurals, guess what I did? I got involved right away."
After a year working as an intramurals official at OU, he had an opportunity to become the intramurals supervisor, and after he graduated, he was hired as the assistant director. "I went from intramurals official to supervisor to assistant director in three years," he says.
He decided to pursue a Master's degree in public administration while working as the assistant director, and after three years, the director decided to retire. Paul was promoted yet again and took over as director of intramural rec sports at University of Oklahoma in 1976. "That's how lucky my career was," says Paul. "I was 26 years old. Isn't that something? You talk about lucky."
Paul's promotion was also remarkable in that he became the first African American director of a major intramural recreation sports department on a predominantly white campus, to be followed by Tony Clements—who served as President of the NIRSA Board of Directors in 1989—two years later at the University of Illinois.
"Of course there were African Americans involved in the Association—our organization was founded by African-American members—but they worked at historically black colleges and universities, not on predominantly white campuses," explains Paul. "Now almost 40 years later, that's changed a lot, and it's altogether different all over the country. Opportunities for minorities have really improved in our profession, but at the start of my career, I was very fortunate in my timing and fortunate to be a part of affirmative action."
Paul says that because NIRSA grew out of HBCUs, it opened the door to real diversity within the organization. "True diversity means the doors of opportunity should be open to everyone in NIRSA. Any current NIRSA member should feel a true sense of being involved in everything we have to offer," says Paul.
Related: "Campus recreation is all about inclusion"
Discovering NIRSA
Paul first learned about NIRSA when he was intramurals supervisor. OU hosted the Big 8 Intramural Conference on their campus, and he met people from other Big 8 schools who told him about going to NIRSA conferences. Due to budgetary restrictions, it wasn't until 1976 in his first year as director that Paul was able to attend the NIRSA Annual Conference.
While in Vietnam, Paul had a bunkmate who introduced him to photography, and Paul had formed a habit of taking his camera everywhere he went, including the conference. "I learned how to photograph while I was in Vietnam, and when I got back, I made photography my hobby," explains Paul. "I find that the best way to tell a story is through pictures."
Paul began telling NIRSA's story through his pictures, walking around capturing the event and donating the photos to NIRSA Headquarters since at the time there was not a designated conference photographer. He also joined the NIRSA historical committee in the 80s, which evolved into the NIRSA Historian when it seemed more productive to have an individual dedicated to the role. Roy Yarbrough became the first NIRSA Historian in 1989.
"Roy knew I took pictures at conference every year, and we started working together to catalog what history we had," says Paul. "Now, we have compiled and contributed some unique and special pictures from years past of awards and important turning points in NIRSA's history."
Some of the most incredible pieces of history Roy and Paul preserved are interviews with past presidents and Honor Award winners.
"In 1989 Roy started doing videotaped interviews, and he was able to interview Dr. William Wasson, the founder, in 1990. Dr. Wasson passed away the next year in 1991. Talk about unbelievable timing!" says Paul. "They say you can't go back in history—you have to capture it at the right time. Fortunately, Roy and I captured videos of former presidents from the 70s and 80s and even back in the 60s." For any organization that's as old as NIRSA is now, that primary and secondary source history is an incredibly valuable asset.
The work of the historian
Roy decided to retire as historian in 2003, and it seemed logical that Paul would serve as his replacement. Paul was getting ready to retire from his duties as director at OU at the time. He took on the role of historian with enthusiasm and made it his own, seeking support from NIRSA Headquarters to create new ways of preserving and sharing NIRSA's history.
In 2004, Paul was officially named a photographer for the Annual Conference along with a second photographer who helped him capture all the excitement. "We ended up with over 3,000 pictures between the two of us," says Paul.
In 2005, Paul began visiting NIRSA Headquarters in Oregon to help catalogue photos and artifacts such as newsletters and magazines. "I went up for a week in the summer for nine years to work on organizing our history collection in the library. It's been amazing for me to be able to go through everything," he says.
Now the pictures from 2004 to the present have been catalogued, and the collection continues to grow every year. These days, there's so much going on at conference that NIRSA hires two photographers as well as Paul to document the event.
Paul is not only passionate about cataloguing history, but he is also dedicated to sharing it, especially with young professionals. "Every year in the exhibit hall at conference we have a NIRSA booth, and we have history banners that I've designed so people walking through can learn about the history," says Paul. "We're almost 70 years old now as an organization, and it's important to be able to reference the history we have and for young professionals to get to see it."
Paul has also presented on NIRSA history at national sports events, regional conferences and workshops, the HBCU summit, Emerging Recreational Sports Leaders Conference, and other NIRSA events. "If I attended the event as the historian, then I did a history presentation and showed the young professionals what NIRSA's all about," says Paul. "If I could, I would be at every ERSL meeting, every HBCU summit, at every NIRSA regional, and at every conference workshop so I could make a history presentation. There would be new people in every one of those meetings who could learn our history."
As NIRSA looks forward to its 70th anniversary and beyond, Paul feels confident in the resources we have curated to help tell our story. "Eventually this organization is going to get to 100 plus years old!" Paul points out. "When we get out that far, can you imagine the questions young professionals will have? Like when did this start? Who did it? Well it started in 1950 as the National Intramural Association. Rec Day is the Association's birthday and the date of the first annual conference. Who was involved? Well here's a video of Dr. William Wasson, the founder and first president of the Association. Let's sit down and hear him tell his story."
Supporting well-rounded professionals
Paul stresses the importance of members being familiar with NIRSA's history in order to respect the roots of the organization and become well-rounded professionals. Take the evolution of the Association's name for example. In 1975, the National Intramurals Association (NIA) became National Intramural and Recreational Sports Association (NIRSA) to accommodate the growing focus on recreation in the field.
In 2012, the Association became NIRSA: Leaders in Collegiate Recreation to embrace its many members who live and work outside the United States and the diversity of its membership beyond just intramural and recreational sports professionals: aquatics, fitness and wellness, outdoor recreation, student development educators, intramural and club sports professionals and more all are proud to carry the banner as leaders in collegiate recreation. "It's a banner," says NIRSA Executive Director Pam Watts, "that underscores a commitment to developing students and to promoting healthy people and healthy communities."
Related: "NIRSA article on wellbeing's importance is NASPA magazine cover story"
He advises young professionals to take the time to learn and be familiar with all aspects of the profession. "Don't be a one-sided professional in NIRSA. You don't have to work in every area, but you should know how every area operates: intramurals, fitness, aquatics, etc. You may get promoted and have to oversee multiple areas of the program," he says.
Of course, Paul is partial to intramurals and hopes others will take the time to learn the valuable lessons intramurals can teach. "You're going to have people that come to play and have fun with a fair, open mind and then you're going to have people who come angry and upset about something who are going to try to create problems during the game," says Paul. "One thing I took pride in as an intramurals supervisor was being able to calm things down and reason with people and get them to understand that the game is more important than starting a fight over being upset about a call. I learned to negotiate and deal with people and stay level headed."
The skills he learned in intramurals also affected his work as an official and an administrator. Problem solving became a team effort with Paul making it clear that if a mistake was made, he would be willing to help untangle it.
Related: "Officiating skills become life skills"
"Everyone knew I wouldn't yell if they messed up, but I would roll up my sleeves and help correct it. I would take the time to talk to people, hear both sides, do what I had to do to make the right decision," he says.
He brought honesty and fair play from the court into the workplace, encouraging all his staff to participate in meetings and to take responsibility for their duties. "Let everybody come to play," he says. "I'm not going to put anyone at a disadvantage; I'm going to be open to making sure it's fair and fun. If you can't have fun, then why are you there?"
The most magical place on Earth
Paul has led a varied and successful life, but there's nowhere quite as magical as the "NIRSA Family Reunion," besides maybe Disneyworld of course! Paul had a particularly meaningful conference last year in National Harbor, MD. During the opening session, keynote speaker Ben Nemtin shared his experience breaking out of monotony with his friends and trying to achieve as many to-dos off their lists of "100 things to do before you die."
"Each and every year they would go somewhere and do something that nobody thought they would do," explains Paul. "This turned out to be the best involvement of his life. He said anybody in any profession should stop and think about going somewhere where they normally don't get to go and doing something they normally didn't do."
Ben's talk struck home for Paul, who was on the verge of making a long-standing dream come true. "At the end of the presentation, Ben asked if anybody had anything they wanted to share about what they wanted to do or where they wanted to go and I shared my story about Disneyworld," he says. Paul and his wife had been talking about going to Disneyworld for years, but had never been able to go. Until now!
"We did something that we hadn't done and took ourselves, our kids, our grandkids—all 15 of us—to Disneyworld," says Paul. "We took pictures, and the grandkids went nuts on all the rides and had a good time. It was just unbelievable. We got to make wonderful memories there."
He is happy to share his story of fulfilling a dream with his NIRSA family, and hopes they will be inspired to challenge themselves to take a chance and make their own dreams come true. "When you look back and say what kind of career, what kind of life have you had, I'm fortunate to say I've had a great and wonderful life and I have no complaints!" he says.
This article was republished with permission from NIRSA: Leaders in Collegiate Recreation. Read the original here.