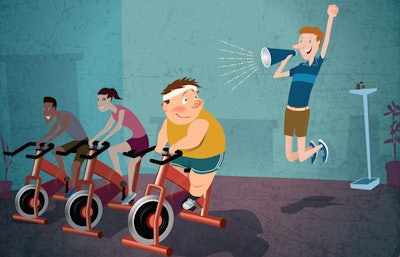 I recently read an article analyzing the obesity epidemic from the perspective of several overweight individuals who agreed to share their painful experiences.
The author points out that obesity is rampant and caused by several societal issues: the overabundance of readily available, overly processed food (especially foods containing high-fructose corn syrup); the high cost of healthful food; and the fact that we are now so busy as a society that there isn't time to plan meals or to exercise. He makes two very interconnected points: 1) we need to accept the obesity epidemic, and 2) we should focus on eating healthier and exercising more.
I agree with the author on almost everything. Diets don't work. They are a short-term solution to a long-range problem. We need to change our eating habits. We all need to exercise more.
However, I disagree with his conclusion that we should give up on reducing obesity and just accept the fact that one-third of the people in this country will be obese. People aren't necessarily pre-programmed for obesity, though there does seem to be a genetic component. I see people who leave our club and return a decade later having gained more than 50 pounds. That's not genetics. That's poor lifestyle choices.
Solving the socioeconomic issues that drive a significant portion of low-income families to rely on the McDonald's Dollar Menu because that's all they can afford is a major issue, and one that's largely out of our control as club owners. But if we get people to eat better and exercise more (or at all), we will rein in the obesity epidemic. That much we can and must do.

Part of the solution
Simply accepting the fact that two-thirds of our population is overweight and one-third is obese, without trying to be part of the solution to the epidemic doesn't make sense to me.
There are stigmas against overweight people, who are often perceived as "sloppy" or "lazy." We think we can bully or shame them into losing weight. We look at them and think, "It's your own fault. Just stop eating so much." The article's author cites some interesting statistics concerning doctors' lack of training about weight loss and obesity. He also points out that fat people receive less time and attention from their doctors than thin people do.
Have we as an industry also done a poor job of addressing this epidemic? Yes, I think we have. How do we advertise to the pubic? Do we make everyone who walks through the front door feel welcome? Ever catch your younger staff members making fun of overweight members? Have you done it? I'm ashamed to say that I have.
We are on the front lines in the obesity battle. It's going to be up to us to address the issue, educate obese individuals, work with them, help them get healthy and lose weight. After all, if 75 percent of the population is overweight, it would be bad business not to. This is where our would-be (should-be) customers are.

Action plan
According to the author, there are specific things we need to do to help this population. First, we need to focus on health and not weight. As the owners and managers of health clubs and fitness facilities, you are already doing this, right? We've known for a long time that diets are not effective. Instead, we need to educate people about portion sizes and food labels. We need to tell clients to ignore calorie counting and forget about excluding certain foods or food groups. We can always focus on weight loss later if that is someone's goal.
The next thing we need to do is to listen to this population. As fitness people, we have built-in prejudices that we need to overcome. We need to talk to our customers to find out what they need and want. Even though someone is overweight, maybe weight loss isn't their primary goal. Maybe their primary goal is to simply gain some self-confidence or to not feel exhausted at the end of the day. We need to ask questions and then listen to the answers and not assume we know what customers need.
We need to introduce activity gradually. This population may not be comfortable in a high-energy group fitness class — at least not right away. We need options to help them get started. A Zumba class, with the right instructor, can be fun and unintimidating. Some overweight individuals may not be comfortable in a bathing suit, unless they know there will be other people of like body types in a water exercise class.
This population will benefit from a support network, and we need to figure out how to provide it. We offer a three-week program, free of charge to the public, to introduce exercise to people who are not currently exercising. Everything is in a group setting, so people can bond with others who, like themselves, are just getting started. We plan social activities in addition to workouts, so people can get to know each other and associate their time at the club with more than just exercising.
Lastly, we need to provide these individuals with some personal attention. We schedule all new members with one of our lead trainers for a Q&A session. It's not an orientation, and it's not a workout. It's a face-to-face to help us understand how we can help this person get off to a good start. We ask about their goals, what days and times they will be coming to the club, what activities they think they might enjoy. Then we write it down. We schedule several weeks of workouts on a calendar that they take home and put on the refrigerator, and they have to follow that plan. Our goal is to get them comfortable in the club and to make exercise a part of their routine.
In addition, every new member is assigned to a member of the staff. That person is responsible for checking to make sure the new member is getting to the club. If they aren't, we need to know why and how we can get them back on track.
Yes, we are a business. We need customers, and we need to make our customers happy. It has to be a mutually beneficial relationship. If your goal is simply to sell more memberships than you lose each month, you're not truly caring about the wellbeing of your customers. Isn't that why we started out in this business — because we thought we could help people? Well, here's our chance to really help.
---
This article originally appeared in the November | December 2018 issue of Athletic Business with the title "From the front lines of the obesity battle." Athletic Business is a free magazine for professionals in the athletic, fitness and recreation industry. Click here to subscribe.