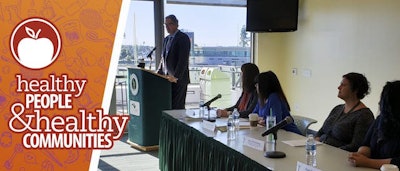 Earlier this month, the NIRSA Board of Directors held their midyear meeting at California State University – Sacramento (Sac State). As a part of these meetings, the NIRSA Board hosted a Town Hall on October 12, inviting area members to gather at The WELL for a networking lunch and panel discussion. Attendees were also encouraged to bring their teams, their bosses, their cross-campus partners – anyone who might join them in this work of building cultures of wellbeing on their own campuses.
In line with the priorities of NIRSA's Strategic Plan, this panel discussion featured representatives from Sac State's Student Health and Counseling Services, Recreation, and Student Affairs who are engaged in an integrated, holistic wellbeing strategy for their campus. Though each campus stakeholder has different reporting and organizational structures, they are making strides individually and collaboratively to increase the wellbeing of their students in all sectors of campus.
Moderated by NIRSA President Ken Morton, the panel featured:
Kate Smith, Director of The WELL

Joy Stewart-James

, Associate Vice President, Student Health & Counseling Services

Reva Wittenberg

, Associate Director for Campus Wellness

Danielle Munoz

, Student Affairs Case Manager
Guided by their 7 Dimensions of Wellness model, Sac State is an institution striving to embody a culture where no one "owns" wellbeing and it is everyone's responsibility to enhance the community's pursuit of a healthy, balanced lifestyle.
A catalyst and a commitment
The building of The WELL was a catalyst for pursuing an integrated wellbeing strategy at Sac State. It brought not only stellar recreation facilities, but a space in which health services and counseling could be brought together with rec under the same roof. It's been an ongoing journey – over 10 years and counting – but the driving impetus has remained much the same: make wellbeing seamless and holistic for the campus community. At every turn, the goal is to have users see one entity – The WELL – rather than separate functions.
One example of what this looks like is that campus medical providers now always ask students about their exercise habits – and document their responses in their electronic health records – as a part of any appointment. Previously, there was resistance to addressing exercise because the medical provider wasn't always comfortable knowing how to follow up on the information received. However, they are now able to refer students right next door – to recreation; seeing rec as a partner and resource has helped them embrace this practice. Its rollout has been so successful that the counseling staff has requested to adopt similar practices.
Early on, though, each stakeholder "had to make a strong commitment to each other," said Joy. Several staff would go to dinner together once a month to talk about the overall vision and how each of their areas were contributing.
This is always easier to do when a project is new. As time goes on, though, you can quickly get drawn back into your respective silos. On any campus "there is a lot of professional tribalism and you have to break that down by being willing to look at what you're working towards from the student lens and asking what makes the most sense for them," Joy said. Every time one person doesn't loop another in, even on something small, the efforts towards collaboration and integration take a step back. "You have to stay dedicated," Joy said. "Bringing people together takes a lot of work."
New, bold, and challenging initiatives – such as shifting the culture on campus and working towards integrated wellbeing – also take a lot of work. Teaching and modeling self-care for staff and faculty is important to be mindful of as well. Encouraging staff to be well – such as by taking advantage of the Wellness at Work program at Sac State – helps both keep staff healthy and "motivates them to spread that to their staff and students," said Kate.
Language matters

All the panelists agreed that pursuing integrated wellbeing on campus started with a shared mission, complemented with shared language. Integrating their 7 Dimensions of Wellness model within the core values and work of student affairs was essential in this. Throughout campus it was also "a good way to get the language around wellness into common consciousness," said Reva.
To keep it in the campus consciousness – and to continue to help it permeate – necessitates constant effort. "Culture change is a long-term project," Reva said. More recently, Reva's team worked with Sac State's orientation department to train their leaders in the 7 Dimensions and where aspects of each can be found around campus. Accompanying signage was made to visually identify these wellness areas. Increased visibility has furthered the momentum of culture change.
Joy agrees that spreading the use of a common language is key. She cited the example of the recent need for a financial resource center on campus, which was to be named the "financial literacy center." Joy also saw an opportunity to integrate wellbeing one step further, suggesting it be called the "financial wellness center." The idea wasn't accepted immediately but was helped by subtle reminders that the group should consider the user perspective and how going to a "wellness center" might be received differently than going to a "literacy center." Conversations like this, Joy reflected, are opportunities to bring more people into the fold and help them see their specific work in a shared, overarching vision of wellbeing.
Language can also be a bridge in building successful and sustained collaborations. Strategic use of language in all you do can help you "look beyond programs to the overall big picture," Kate said. As an example, she cited the innovative position titles within her recreation department. "We have an exercise physiologist. In rec this position is often called the personal training coordinator, but we went with this title to demonstrate our commitment to meeting medical providers in the middle by using their language, which helps them feel comfortable referring the students they see to us. We also have a full-time recreational therapist, a position which requires certifications. The title mirrors those certifications and allows this staff member to start in a place of respect with the medical practitioners."
Everyone counts
Key to integrating wellbeing on campus is making sure everyone is involved. Frequently in these efforts the group of people last to the table are those with some of the most touch points with students – faculty. "A key 'ah-ha' moment was how often faculty came up in focus groups we did with students regarding their feeling supported on campus and having the resources they need," Reva said.
Reva reached out to Simon Fraser University, who have done great work with faculty through their "Wellbeing in Learning Environments" project. With help from SFU peers, Sac State now sends a bi-weekly newsletter to over 80 faculty members – who have opted in – containing everything from bite-sized tool kits of simple strategies and resources for creating environments of wellbeing and supporting students, to self-care, to upcoming events students may be partaking in. Efforts such as these have gone a long way towards demonstrating and reinforcing the connection between wellbeing and student success.
Making sure everyone is involved in pursuing the same goal also saves departments from having to reinvent the proverbial wheel. For example, recreation offers a leadership series to students. Reva started requiring her student managers to attend at least one of these sessions so that they both get to know The WELL staff (enhancing their ability to work together) and get the leadership training they need.
The work is messy and that's okay
These efforts are about changing a culture — and they're reliant on people. In other words, they can be messy at times. And that's okay. "Things don't always go as planned," Joy cautioned. "You have to retreat sometimes to keep moving forward overall."
It's also important to look at the larger systems and policies affecting your campus community that can be either assets or deterrents for wellbeing. This social-ecological view allows for an understanding of the community and societal factors that, along with the more readily identifiable individual and relationship factors, influence health and wellbeing.
Thank you
The NIRSA Board of Directors wishes to sincerely thank Kate, Joy, Reva, and Danielle for sharing so many of Sac State's exciting and innovative practices, as well as their own insights and lessons learned. And thank you to everyone at Sac State for being such kind and gracious hosts.
Thank you also to everyone who took time out of their day to engage in the Town Hall and attest to the importance of building cultures of wellbeing on all college and university campuses.
---
This article was republished with permission from our partners: NIRSA — Leaders in Collegiate Recreation. View the original here.