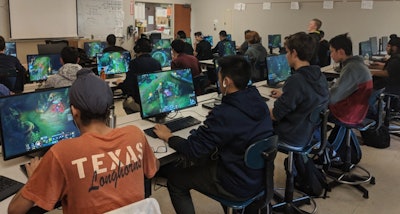 High schools are always looking for opportunities to involve more students in education-based athletics and activities. In addition to the almost eight million participants in high school sports, more than four million high school students are involved in activities such as speech and debate, music, theatre, robotics and many others.
In fact, the most recent National Federation of State High School Associations (NFHS) athletics participation survey revealed 51 NFHS-member state associations had high school students participating in 65 different sports during the 2017-18 school year.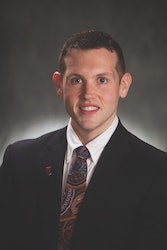 Undoubtedly, the biggest spike in participation in a new activity next year will be esports, which officially began October 30 at schools in five states. The NFHS, along with the NFHS Network and partner, PlayVS, launched the historic first competition of esports at the high school level.
Season Zero, as it is known, began with five NFHS-member state associations and one affiliate group receiving guidance from PlayVS. Schools from the Connecticut Association of Schools-Connecticut Interscholastic Athletic Conference (CAS-CIAC), Georgia High School Association (GHSA), Kentucky High School Athletic Association (KHSAA), Massachusetts Interscholastic Athletic Association (MIAA), Rhode Island Interscholastic League (RIIL) and affiliate member Georgia Independent School Association (GISA) are involved in the inaugural season of esports.
"I think we have an opportunity to engage students in the life of the school with an activity that they might already be participating in on their own," said Dr. Karissa Niehoff, NFHS executive director. "Now, we bring that interest and activity together to combine it with all of the elements of sport that are so special: teamwork, camaraderie, collaboration, story lines, excitement and connection to a group."
Mark Koski, NFHS director of marketing and CEO of the NFHS Network, noted the students being introduced to esports are largely those who are already going home to play games. The adoption of esports by schools provide them a trusted space to compete "within the walls of our education-based setting after school."
"These are not students who we are taking off our basketball courts and football fields," Koski said. "Esports are a great way to retain students in a scholastic environment under the direction of a teacher/coach who will teach them not only how to be a great gamer, but to also be a lifelong positive citizen and valuable member of the school community."
PlayVS shares the NFHS philosophy of working exclusively in the high school setting. The organization's commitment to education-based activities directly correlates to its leadership, which includes former teachers and others with an education background to manage relationships and strategies with schools.
"There are currently eight million kids who do not participate in any high school sports, largely because no sport is designed to be scalable," said Delane Parnell, CEO and founder of PlayVS. "There are a limited number of teams and a limited number of spots on each roster. With esports, absolutely any eligible student can join a team, wear a jersey and become part of something bigger than themselves."
Season Zero, which features the five-player team game "League of Legends," spans October 30 to December 11, with two games a week for a season total of 12 matches. Season Zero culminates with a single-elimination playoff bracket in January 2019 to determine a state champion. The state championships will be streamed free of charge on the NFHS Network (www.NFHSNetwork.com).
---
Cody Porter is a graphic arts/communications assistant in the Publications/Communications Department at the National Federation of State High School Associations in Indianapolis, Indiana.