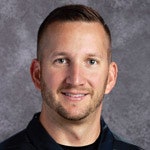 Mike McCarthy made headlines months after being fired from the Green Bay Packers sidelines when in February the former NFL head coach berated a crew of high school basketball officials as they exited a gym in Pulaski, Wis. It was the latest video evidence of the type of verbal abuse that has caused the average official to quit the job within three years of starting, leading to a nationwide shortage of officials and prompting state athletic associations to attempt to quell fan rage through "Cool It!" campaigns. Justin Seuser has seen it firsthand from multiple angles — as athletic director at Buhler (Kan.) High School and as a collegiate basketball official. AB senior editor Paul Steinbach asked for Seuser's perspective on both professions and the problem of fan behavior.
How do you reconcile your professional schedules?
What I do officiating-wise does not interfere with my professional duties as an athletic director. I attend every function that we're involved with. I obviously know our athletic and activity schedules two years in advance, so I go through our assigning website that we use and block out the dates that I'm busy. That way, I'm fulfilling my professional duties as an athletic director, and my officiating duties do not interfere or overlap. And there will be some Saturdays where I'll go to an activity during the day and then I'll officiate that night. My professional job is important, so I make sure that I'm there to support our kids and coaches and programs.
Log in to view the full article