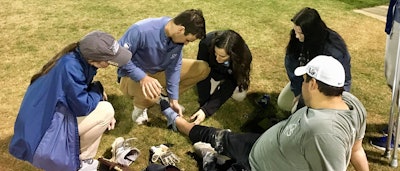 I am the last glimmer of hope for the student who doesn't have medical insurance. I am the first person an athlete sees on the field when—dazed and confused—they wake up from a concussion. I am the one consistently pushing through mental roadblocks and acting as the safe-haven of trust necessary to make it through a rehabilitation session that would otherwise feel impossible. I am the sideline guardian watching someone return to the field after a grueling surgical recovery. I am an athletic trainer in campus recreation.
My journey
My campus recreation journey started at West Chester University as an undergraduate athletic training student. I started working in the fitness department and quickly fell in love with optimizing human performance. During my junior year, I became a personal trainer and trained for a bodybuilding competition. While working in this setting I thought about how advantageous it would be to have an athletic trainer in our recreation center. There were countless times when I would be confronted by an injured or scared patron who I was not qualified or legally able to help as just a First Aid and CPR-certified employee. For my senior project, I helped create a proposal to implement athletic trainers in this setting.
I continued my career in campus recreation when I attended Georgia Southern University to complete my master's degree in kinesiology with a concentration in athletic training. At this point I was unaware that other universities had athletic trainers in their recreation centers, so when I saw this opportunity at Georgia Southern I knew I had to take it. I also knew Georgia Southern had a research emphasis on concussions which included a concussion research lab on campus. I was excited to learn more about one of the most complex injuries an athletic trainer can face.
For the next two years, I worked as a Graduate Assistant Athletic Trainer for Injury Prevention and Care (IPC) for Campus Recreation and Intramurals (CRI). At the time, we had a sound concussion policy for club sports but not for any other department. This meant that there was no way of withholding concussed participants from intramurals or open play, despite the detrimental effects on the brain a concussion can have and other major risks of continued participation after suffering one.
Related: Concussion protocols - Return to play
In Spring 2017, I became the Coordinator of IPC, and I knew the first goal I wanted to accomplish was to implement a concussion policy for intramural sports. Intramural sports had the highest number of participants and the second-highest injury risk, just behind club sports. The need for this policy became even more evident when the Concussion Research Lab on campus informed us that the scores from recreation concussions were coming back worse than scores they had ever seen before (even compared to NCAA sports). As a department (two full-time athletic trainers and one graduate assistant), we worked diligently to modify and advance this policy. It was successfully implemented in Fall 2018.
Why is this important?
Campus recreation programs provide a healthy atmosphere for a diverse student population to engage in many different forms of physical activity and competition. However, without proper concussion education and management, there's a potential for catastrophic injury and a potential for legal liability. Having an athletic trainer on staff would promote the safety, care, and education for all recreation participants.
Related: Concussion Management Top of Mind for Campus Rec
People don't always know what is best for them. That's why campuses need medical professionals—to guide students in the right direction and support student safety.
Considerations for hiring a certified athletic trainer
Expertise. Before hiring an athletic trainer, it's important to know their education, training, and expertise. In order to become a certified athletic trainer (ATC), one must graduate with a degree in athletic training from a CAATE accredited program (which includes clinical hours), successfully pass the Board of Certification (BOC) exam, and—depending on the state—must be licensed/credentialed in that state. This means any other degree in any other fields do not qualify (physical therapy, exercise science, etc.). Furthermore, the profession is shifting to require a master's degree, so all baccalaureate programs will no longer enroll students starting in Fall 2020.
ATs are educated and trained in the following five domains:
Injury and Illness Prevention and Wellness Promotion
Examination, Assessment, and Diagnosis
Immediate and Emergency Care
Therapeutic Intervention
Healthcare Administration and Professional Responsibility
More information about the things athletic trainers do daily is available on the National Athletic Trainers' Association (NATA) website.
Value. Hiring a certified athletic trainer sends a message to patrons that their health and safety is a top priority for your institution. It ensures that if a medical emergency occurs out of the blue, someone who is qualified to respond is there. It ensures that if someone has a chronic condition or previous injury, they're able to participate safely too. Athletic trainers have a major impact not only on injury prevention and care, but also on overall wellbeing and student success. Having an athletic trainer on staff supports the safety, care, and education for all recreation participants. I've noticed in campus recreation that having medical services are often viewed as a wow factor when they really should be viewed as standard.
Education and Development. Employing an athletic trainer can lead to unique educational opportunities for students. More specifically, athletic trainers can become clinical educators (preceptors) to athletic training students. This offers a great opportunity for students to learn skills in the field that they cannot learn in a classroom, and it's a great way to shape the future of campus recreation. Other students in related fields who are considering becoming an athletic trainer, or who want shadowing experience, will benefit as well. At Georgia Southern, we're preceptors to multiple students each semester in addition to having pre-athletic training students and exercise science majors shadowing us.
Legal. When looking to hire a full-time or part-time athletic trainer, it's important to understand an athletic trainer's scope of practice and to be aware that there are variations in state laws/licensure. As defined by the National Athletic Trainers' Association (NATA), athletic trainers are:
"Health care professionals who collaborate with physicians. The services provided by ATs comprise prevention, emergency care, clinical diagnosis, therapeutic intervention and rehabilitation of injuries and medical conditions. ATs work under the direction of physicians, as prescribed by state licensure statues" -NATA
Medical practices can vary from state to state, meaning that what one athletic trainer can do in Georgia may be different from what an athletic trainer is legally allowed to do in Florida. Overall, hiring an athletic trainer can help mitigate risk of potential lawsuits that can occur in recreation facilities when incidents and injuries are not effectively managed. Support from the department's risk manager(s) can help in stressing the importance and value of athletic trainers to higher administration.
Related: Concussions pose a threat to recreation and other campus programs
Documentation. Ideally, athletic trainers will have access to medical software for ease and efficiency of proper medical documentation. If this is not financially feasible, however, a software that is HIPAA and FERPA compliant can work (ex. not storing sensitive health information on shared docs/drive/sheets, etc.). It's always best to collaborate with your institution's overseeing physician, especially when you are unsure of any local laws or compliance protocols.
Considerations for developing a concussion protocol
Ideally, an athletic trainer (AT) would be available to respond to injuries in order to ensure the best possible care and safety for participants. When developing a concussion protocol with an AT, it's important to consider the following:
What are the relevant governing bodies (ex. state laws) and their policies and procedures regarding concussions?
Where are participants getting their concussion education from? (We present to participants and club sport officers multiple times a year.)
Will there be a baseline assessment for athletes at higher risk of concussion prior to participation?
What neurocognitive testing will you use? Is it feasible in your daily operations and for tournaments? Neurocognitive tests are what medical personnel use to evaluate brain function. Some examples you may have heard of are the SCAT5, SAC, and ImPACT. Some tests take longer to administer than others, and some are only available through purchase.
If the AT medically suspends a participant from play, who's ensuring the individual is not participating in potential second impact situations? In larger facilities, it's not possible for the AT to see every person on every field. (We use IM leagues for intramurals and our club sports staff who are consistently on the sidelines for club sport athletes.)
Who's involved in medically clearing the participant to return to activity? What constitutes medical clearance? (physician's note, athletic trainer, PA-C, etc.)
Who's providing rehabilitation? Who's offering instruction on return to play protocol?
Who's educating the staff on their role in concussion management? Who's educating the staff on their role when the AT isn't present?
Is proper home care education given to the athletes that includes when to seek immediate medical care? This should be delivered in both oral and written form, and then given to the injured participant and a responsible adult who can look after the participant (parent, roommate, teammate, etc.).
If the athletic trainer is working per diem, will they have immediate access to the concussion protocol/information that they may need to make the best medical decision? Where does the AT document the incident?
Without an AT on staff, there's often no one who's medically certified and licensed to recognize, manage, or clinically diagnose a concussion. However, cultivating awareness and educating your staff and participants can help lessen the potential catastrophic effects. everyone in the campus recreation field should be aware of a few important concepts.
What is a concussion?
There is currently no universally-accepted definition of a concussion. Below are two definitions, defined by the Center for Disease Control and Prevention (CDC) and the National Athletic Trainers' Association (NATA):
"A concussion is a type of traumatic brain injury—or TBI—caused by a bump, blow, or jolt to the head or by a hit to the body that causes the head and brain to move rapidly back and forth. This sudden movement can cause the brain to bounce around or twist in the skull, creating chemical changes in the brain and sometimes stretching and damaging brain cells." -HEADS UP, CDC
"Trauma induced alteration in mental status that may or may not involve loss of consciousness." -NATA Position Statement: Management of Sport Concussion
It's important to realize that a concussion is a functional injury, so although the concussed person may appear "normal," internally he or she may not be. There does not need to be a loss of consciousness (ex. "blacking out") for someone to have a concussion and the person does NOT need to get hit in the head to sustain a concussion. If a person is suspected of having a concussion, they should be removed from play immediately and be evaluated by a medical professional.
You may have heard some call a concussion "getting one's bell rung" or a "ding," but the NATA suggests these terms not be used because they minimize injury severity. Lastly, symptoms can evolve over time and may not be present after initial impact, so it's important to monitor the participant.
What can staff do if they suspect a concussion and there is no athletic trainer present?
If the staff member is CPR/AED/First Aid certified, default to that level of training. Regardless of training, if unsure of injury severity, air on the side of caution and call EMS.
Depending on your protocol, another option for a non-medical professional would be using the Concussion Recognition Tool 5 (CRT5). This tool can help identify a concussion and walks you through exactly how to respond.
How can we lessen the risks associated with concussions?
Hire certified Athletic Trainers (ATs). ATs play a vital role in identifying high-risk sports and participants who are most susceptible to injury, in addition to treating the injury. If you're unable to hire a full-time athletic trainer, it would be beneficial to hire a part-time athletic trainer to cover high-risk sports.
One way to hire per diem ATs is to post openings through established industry-specific jobs boards like NIRSA's bluefishjobs.com or the National Athletic Trainers' Association Career Center. Another is through a new platform called Go4Ellis. On this platform you can post an event you want coverage for and ATs can apply.
Educate staff and participants. Regardless of whether an AT is present or not, the staff and participants should still be educated on concussion recognition and management. Recreation centers can collaborate with other areas on campus to develop a concussion protocol. The university's student health center or athletic department may be a valuable resource.
Be a risk manager. Staff should enforce the rules and proper use of equipment at the recreation facility. Participants should be informed of the assumed risk of sports and be taught the proper form/sport skills when applicable. Practices and games should be monitored for fair play, proper equipment, field conditions, sportsmanship, and overall safety.
Here at CRI we like to say: "we are all risk managers." This common phrase reminds everyone to pay attention to our surroundings. It might not be your job to clean the courts or pick up a loose ball before someone trips, but since we are all risk managers we all do those things. We also use the phrase: "see something, say something." It may seem really simple, but it makes risk management much easier for everyone.
Understand the role of protective equipment. It's a common misconception that helmets and mouthguards prevent concussions. Although this equipment serves a vital protective purpose, helmets are made to prevent skull injuries and mouthguards are made to reduce dental injuries—not prevent concussions. The staff and participants should be educated that a concussion is a brain injury, and there is no definitive way to protect the brain from all of the potential forces and variables it's exposed to.
Key takeaways
Certified athletic trainers are trained in five major domains:
Injury and Illness Prevention and Wellness Promotion
Examination, Assessment, and Diagnosis
Immediate and Emergency Care
Therapeutic Intervention
Healthcare Administration and Professional Responsibility
Remember:
A concussion is a serious functional injury that can result in catastrophic injury if not recognized or managed properly.
Campus recreation is a high-risk environment due to the amount of activities/sports offered and the diversity of participants.
A certified athletic trainer is usually the first person to identify and manage concussions. They should be present to ensure safety for all participants. If hiring a full-time athletic trainer is not feasible, you should seriously consider hiring a part-time athletic trainer for high-risk events/sports.
The Concussion Recognition Tool 5 (CRT5) may be a useful tool for non-medical personnel to use. Regardless, all staff members and participants should be educated on concussions.
If there is any doubt or concern, call an ambulance immediately. Do not move the participant or remove equipment. Stay with the injured participant and be sure to document all details following the incident.
Concussions cannot be completely prevented, but proper measures can ensure a lesser chance of them occurring and proper treatment if they do occur.
---
This article was republished with permission from our partners at NIRSA — Leaders in Collegiate Recreation. Read the original here.