Check out the newest products as seen in the November | December 2019 issue.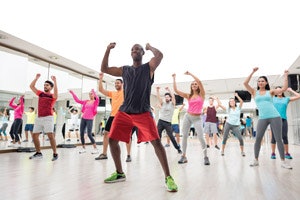 ReActive Play®
Today's group exercise market has many flooring options. ReActive's PVC flooring offers a realistic wood visual that is quieter, more comfortable and easier to maintain than real wood flooring — and at a far lower price point. ReActive Flex is available in 4.5-, 6.5- and 8-millimeter thicknesses and offers a realistic maple look, while providing the shock absorption needed for the various movements common to a group fitness room. Installed with heat-welded seams, the polyurethane coating makes cleaning easy. The antibacterial surface helps eliminate more than 99 percent of bacteria, which prevents the spread of germs and odor.
www.reactiveplay.com
(866) 530-9990
---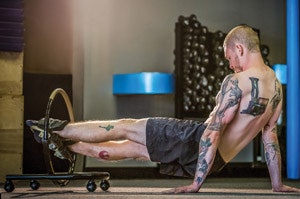 AbStinger Fitness LLC
The AbStinger is a patent-pending, commercial-grade fitness product that is 100 percent made in the USA. Offering a fun and challenging upper body, core and cardio workout, this product is unique in that it delivers 360-degree range of motion. The AbStinger can be used indoors or outdoors on any smooth surface and without any annoying cables or suspension straps.
www.abstinger.com
(719) 494-3476
---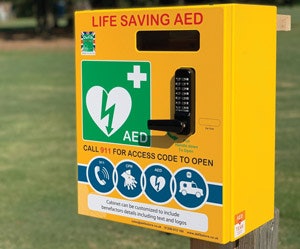 AED Team
The CE-TEK All Weather AED Enclosure by AED Team protects AEDs from direct sunlight, cold temperatures, moisture, dust, tampering and theft, while ensuring 24/7 public access to defibrillation. Manufactured in the UK from 2-millimeter-thick stainless steel, the CE-TEK All Weather AED Enclosure boasts an IP-66 rating against dust and water intrusion. A thermostat-controlled heater inside the enclosure ensures that AED pads and emergency medication remain at safe operating temperatures regardless of the environment outside. To access lifesaving equipment, bystanders call 911 to receive the access code to open the enclosure. An unlocked enclosure also is available.
www.aedteam.com
(844) AED-1600
---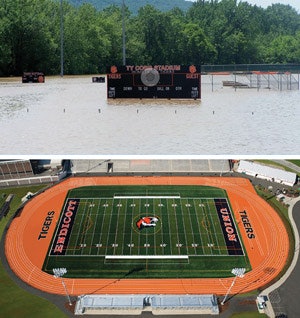 Covermaster
What are the options when your school's sports field sits on a floodplain? Since there's no point in trying to win a battle with Mother Nature, investing in a product designed to handle flooding is the best option. Since 2001, Union-Endicott High School in New York has used Covermaster® athletic field covers to protect its synthetic turf field from flood damage caused by the Susquehanna River. This durable cover has custom vents that allow water to escape, which prevents the cover from rising with the water and traps infill-destroying sediment deposited by receding floodwaters for removal come spring. The field cover can easily be rolled onto the school's field with the new TarpMate Air™ Rollers, which have simplified installation, removal and storage of field covers across North America.
www.covermaster.com
(800) 387-5808
---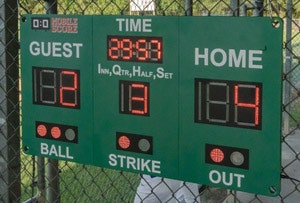 Mobile-Score
Mobile-Score is a foldable, LED scoreboard that allows the involved parent, fan or player the ability to enter and display game progress. It offers portability unlike any other scoreboard in its category and is creatively designed to display game facts and progress for multiple sports and games. Mobile-Score solves the problem of lacking or inoperable scoreboards and is controlled through the free Mobile-Score App on users' smart phones or tablets.
www.mobile-score.com
(337) 309-1656
---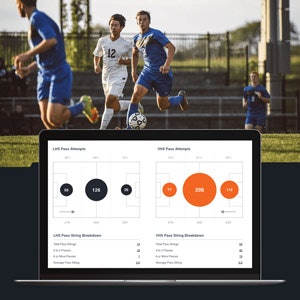 Hudl
Even the best coaches need assistants. Hudl Assist uses game video to compile statistics, allowing coaches to coach smarter, not harder. Hudl's professional analytics provide game breakdowns for football, basketball, volleyball, soccer, ice hockey and lacrosse. Clients receive an interactive report with data in 12 to 24 hours, sparing coaches hours of work that they can instead spend with their team. Reports can be filtered by player, game or season, and clicking any total allows the user to watch the video behind the numbers.
www.hudl.com/products/assist

---
This article originally appeared in the November | December 2019 issue of Athletic Business with the title "New & Improved." Athletic Business is a free magazine for professionals in the athletic, fitness and recreation industry. Click here to subscribe.