The start of any college career can be filled with uncertainty about what the future may hold. A new chapter in life begins when a student steps on campus, where a familiar face may be hard to find.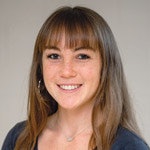 I spent the greater part of my first semester at Georgia Southern University finding my niche. I chose activities that were familiar, including joining a campus outreach band because I grew up in a theater and choral community. However, I did not seem to fit in. I tried joining clubs that seemed interesting to me, such as the Service Dog Training and Education Program, but I could not have a dog in the residence halls. A month into the semester, a friend mentioned playing on an intramural softball team, and finally something clicked.
The most fun I had as a freshman was playing intramural sports. From then on, my involvement in Campus Recreation and Intramurals exploded. I committed to going to the Recreation Activity Center to explore the myriad indoor activities, such as climbing, racquetball and swimming.
One day I decided to try one of the group fitness classes. At the beginning of the Awesome Abs class, the instructor announced that CRI was hiring. After one of the most intense yet fun workouts I have experienced, I knew I was going to apply for the position. My journey with Campus Recreation and Intramurals began.
I declared as an International Studies major as an incoming freshman. That quickly changed when I was hired by Georgia Southern's CRI. I am now studying Exercise Science and believe that my experiences at CRI are preparing me for a career in this field.
As a group fitness instructor, personal trainer and fitness assistant, I developed an understanding of the human body and how exercise can impact an individual's well-being. This baseline understanding has set me ahead in most of my academic classes and prepared me for success in my education.
Additionally, working with the professional staff of CRI has opened my eyes to many career opportunities made possible by an Exercise Science degree. This inspired me to apply for facilities manager — CRI's highest student position. As a facilities manager, I lead a team of 40 to 60 peers in managing the operations of our 215,000-square-foot recreation center and 70-acre outdoor park. Through this position, I have full confidence that I will continue to grow as a young professional throughout my undergraduate work, as well as be fully prepared for all my post-graduate endeavors.
CRI provides more than a job for its employees. It provides a safe place to explore myriad interests and develop friendships along the way. Working at CRI has led me to meet some of my best friends, whom I consider to be my greatest support system. In comparison to past positions I've held, CRI employees are friendly and welcoming individuals. I always feel like my voice matters and that I am heard by my coworkers and supervisors. I truly enjoy working at CRI and being able to interact with my coworkers and our patrons. I hope that I am leaving a lasting impression.
Furthermore, I trust that my supervisors will support me throughout my college career and encourage me to achieve my future goals. CRI truly values its employees and promotes their success in college and everyday life. The organization's professional staff provides an open-door policy, allowing employees to share their concerns, experiences or successes. They have established an understanding of certain expectations associated with each position, and they challenge their employees to put forth their greatest effort in work and play.
The inclusive and welcoming atmosphere within CRI has allowed employees to grow as young professionals and feel pride in their successes, which is what I love most about my position. Walking out the front doors each day, I know I have left behind a shift filled with hard work that will in some way impact another individual in a positive way. I plan to leave behind a legacy of hard work and dedication, but also one that encompasses CRI's core values. I plan to teach others to provide a safe and clean environment for all patrons, to lead others through quality work at CRI — from daily activities to group fitness workouts — and to be dependable for my supervisors and inspire my coworkers to do the same.
I hope to always be a representative of fun, reminding everyone that a positive attitude is important to carry with you through all aspects of life. Campus Recreation and Intramurals at Georgia Southern University has allowed me to develop a sense of pride in my academic and professional careers, and I trust that I will only continue to grow as an employee and individual in my coming years at the Recreation Activity Center.
---
This article originally appeared in the April 2020 issue of Athletic Business with the title "Recreation provides comfort and growth." Athletic Business is a free magazine for professionals in the athletic, fitness and recreation industry. Click here to subscribe.