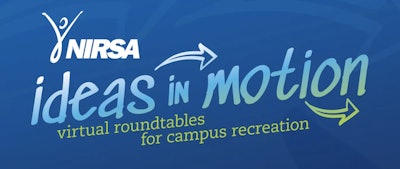 On March 16, NIRSA President Leah Hall Dorothy facilitated a roundtable focused specifically on COVID-19 preparedness efforts and considerations for campus recreation departments. Over 150 sites logged in live to join the conversation.
The session—which was recorded and can be viewed here—saw many NIRSA members sharing news, ideas, and resources, as well as responding to shared questions as we all navigate the unprecedented and ever-evolving response of our campus communities to the dangers posed by COVID-19.
Subsequently, members requested additional opportunities to continue to stay connected with each other and share ideas; many asked for opportunities to gather by functional areas or organized around other, more specified topics.
In response, NIRSA is hosting a series of informal, virtual roundtables. Some topics may only be offered once, while others will be reoccurring so that conversations can keep pace with the changing world around us. Whether one-off or recurring, all conversations will be recorded for on-demand viewing and sharing.
Virtual roundtable format
The roundtables will be facilitated by a NIRSA leader but kept informal in nature. Just as in the original "Virtual roundtable: coronavirus and campus recreation preparedness", they will take the format of a large Zoom meeting. Participants are encouraged to use the chat feature and, if encouraged by the facilitator, can come off mute to speak further to the group.
Registration is required in advance of each virtual roundtable to participate live. Up to 500 registrants can be accommodated for each session. All roundtables will be recorded and posted to the NIRSA website.
NIRSA currently has scheduled reoccurring virtual roundtables for Directors, for Associate Directors, for Small Programs, for Aquatics, for Intramurals, for Facilities, and for Fitness.
Other topics scheduled for one-time conversations so far include a look at the student experience, led by the Student Leadership Team, strategies for prioritizing personal wellbeing, student professional development, #WFHWK (working from home with kids), taking wellbeing virtual, and an overview of digital recreation, thanks to NIRSA associate member Geex.
You can find more information about each of these, as well as times, dates, and registration links on the Ideas in Motion page of the NIRSA website. This page will be updated regularly as roundtables continue to be confirmed.
More topics will be announced soon
The topics for the series are continuing to evolve and be added as they are confirmed. We are also continuing to look for new offerings, ideas, and voices. Do you see something critical missing from our initial line-up? Is there a topic you would like to help facilitate conversation around for members? Please let us know.
---
This article was republished with permission from our partners at NIRSA — Leaders in Collegiate Recreation. Read the original here.