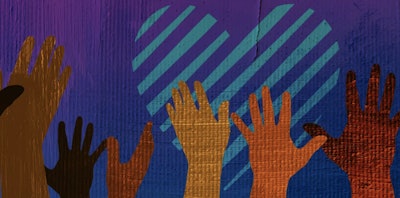 As a follow-up to the last "Message from NIRSA," NIRSA president David Davenport, and NIRSA Executive Director Pam Watts each wanted to share their unique perspective on the ongoing, systemic racism that continues to ravage the United States. They also share action steps NIRSA is taking to lean into the work of disrupting and dismantling racism so we may more fully live up to our value of equity, diversity, and inclusion.
Message from NIRSA President David Davenport
NIRSA Members,
Here we are again. We are forced to deal with wrongs in the world that have a deep impact on our daily lives. We are fighting, once again, Racism, Police Brutality, Injustice, Racial Profiling, and Inequality – none of which can be acceptable any longer. This time we have all had enough. We are all tired of being sick and tired. We are all tired of shouting that something needs to change. We are all tired of demanding action and not seeing action.
Why can't we simply go jogging through our neighborhood, or relax in the comfort of our own home? Why can't we ask for help after being in a car crash, or have a cell phone not mistaken for a weapon? Why can't we leave a party and be safe, or play loud music if we choose? Why can't we sell CDs, or just sleep in our beds, or walk from the corner store? Why can't our kids play cops and robbers, or go to church, or just walk home with Skittles? Why can't we hold a brush in our hand while leaving our own bachelor party, or celebrate on New Year's, or just get a normal traffic ticket? Why can't we legally carry a weapon, or have car problems on a public road, or shop at Walmart, or just have a disabled vehicle, or read a book in our car while waiting on someone? Why can't we be a 10-year-old walking with our grandfather, or decorate for a party, or just ask a cop a question? Why can't we cash our check in peace, or take out our wallet, or just go for a run? Why can't we breathe, or why can't we just live?
Specifically to my African-American Brothers and Sisters, why does this keep happening to us? Why do we keep hearing folks who don't look like us tell us over and over again that they are sorry, that they wish there was something they could do, and that they will support us the best way they can? Well, personally, I am done. I am tired of looking over my shoulder. I am tired of wondering if the person who lives next me, works next me, or is sitting next to me in their car will do me harm simply because they feel I am threat or they just have that kind of hatefulness in their heart.
Our NIRSA Founders started an organization that promotes Black people to grow, learn, teach, and support one another. Our founders laid the groundwork for Black people to be successful. We must not, now, let them down and allow their dreams and hopes to be in vain.
To my white partners in recreation, why do we have to continue to convince you that Black Lives Matter and that fact does not mean your life doesn't matter? Why do we have to kneel to make a statement? Why can't our children be children and instead have to live in fear? Why do we have to wonder if we or our children, siblings, parents, or cousins will be a statistic just because we don't look like you? Why are we still the only one in the room or at the table or the first one to earn a title or accolade? Why do we have to teach our sons that they need to always pay attention to their surroundings, and both our sons AND daughters that they will always have to work harder than the next person? Why do you feel you have to clutch your purse tighter just because you see me walking near you? Why do you keep saying that you don't know what to say or that you are sorry? As leaders, have you spoken to your Black colleagues, coworkers, student workers, or friends, if only to say "how are you doing" or just to give them a space? Why not? Why do you think that you can say nothing while the Black members of your staff and those you care for stand in harm's way just because of the color of their skin? You do not get a pass.
Our NIRSA Founders started this organization at HBCUs for Black students to be successful and thrive, to make us successful while matriculating through college, and to give back to those who will follow. You must not let them down now. You must not let us down now.
Why do we have to make a statement that we are tired of dying?
We are at a critical time in society where we need to rethink how we react to police actions, to governmental policies, and in everyday situations.
To our membership – to my NIRSA Family – what are the answers to all of the "whys"? These are not rhetorical questions. What action can we, as an Association, take to support our Black members? Through our work on our campuses and within our Association, we can take a stand against racism, take a stand against police brutality, take a stand against racial profiling. We must stop the micro and macro aggressions on our campuses, in our Association, and in our personal circles, and must stop allowing our Black members, employees, colleagues, and friends to feel marginalized. We need your help and support in expressing that Black Lives do Matter and in making a difference towards eliminating racial injustices around the country and the world. Black lives are not expendable.
The theme of my presidential year is 'Relevance' – and I can't think of anything more deeply relevant to the work each of us do. So do the research – educate yourselves. Use the resources NIRSA, your campus, and others have provided. Join the upcoming forums and dialogues – open yourself up to wrestling with these questions. Then take that knowledge you gain from the forums and dialogues and act. Speak up and step up on your campuses to ask hard questions where you can and to change whatever you're able to in your sphere of influence. Make yourself and others around you uncomfortable. Get comfortable being uncomfortable. We always talk about the impact our group of recreation professionals has on millions of students across North America every year – that's a big sphere of influence. Let's use it to make change.
I welcome your thoughts on how we can stand together as an Association. But, more so, I welcome your actions on how we WILL stand together as an Association.
Sincerely,
David Davenport, M.Ed.
Director of Foy Fitness and Recreation Center
NIRSA President
Message from NIRSA Executive Director Pam Watts
Dear NIRSA,
I am writing to follow up on last week's message from the NIRSA Board of Directors. That message included a call to action, so I wanted to share with you a progress update of sorts. This is, like so much of our world at the moment, inherently professional and personal.
First, I'd like to clearly and unequivocally state that Black Lives Matter. I wholeheartedly condemn police brutality and all acts of racialized violence. Black, indigenous, and people of color (BIPOC) undeniably experience maltreatment white people do not. We must work collectively and urgently to disrupt and dismantle systemic racism.
NIRSA, as an Association, has Black lives to thank for its very existence. The ingenuity, dedication, and determination of our founders – both men and women, all Black, and all representatives of HBCUs – began a national (and eventually international) organization in 1950 – at a time when public school segregation was still legal and Jim Crow laws would be on the books for at least another 15 years in most states. As members of NIRSA, started by Dr. Wasson and built over the last 70 years by generations of campus recreation professionals, we are called on, as Maya Angelou often said, to know better and do better.
There is no denying that as a white person I benefit from a system designed to privilege me. In our message, the Board "implore[d] all who enjoy privilege, influence, or power to learn about the experiences and plight of those who do not." In a Connect post, I shared some of the resources that have been shared with me and that I have been learning from. I hope others will continue to add to this thread as place for all members to learn and engage in this work.
To my Black and Brown colleagues and friends in NIRSA, I see you. I am listening. I am learning. I am committed to doing this work with you and to centering your voice.
To my White colleagues and friends in NIRSA, we have to do better. We must educate ourselves and not add more burden to our colleagues and students of color. Numerous books, speeches, podcasts, documentaries, and Black thought leadership is readily available. It is now on us to learn, process, and then act.
Initial Action Plan
NIRSA is committed to engaging in critical dialogue and spurring action. Together we want to listen, learn, use our voices, and organize action. Our first step was to offer a forum for the Black community in NIRSA to gather virtually. NIRSA Board members Andrea Snead and Nigel Harris facilitated this forum last Friday for over 80 attendees. Going forward, NIRSA will host a series of forums and caucuses. Caucuses have long been used to as "opportunities for those who share a common identity to meet separately to gather, connect and learn." These initial caucuses are meant to offer identity-based spaces for conversations, connection, learning, and organizing action.
On

Friday, June 19

, NIRSA Board member Andrea Snead and NIRSA Foundation Board member Shomari Kee will host a Black Community Caucus. Black community members who wish to use this space to come together can register here.
On

Monday, June 22

, NIRSA Board members Derek Hottell and Cara Lucia will host a White Ally Caucus 101. This is intended as an opening a dialogue on not only the current tragedies but the larger systems and culture that create and sustain racism in the United States. All are welcome to listen and/or participate but the focus will be for NIRSA's members who identify as white to gather to do this work. Those interested can register here.
The NIRSA Student Leadership Team will use their next Student Perspectives roundtable to continue the conversation about racism that started on their last roundtable. This is tentatively scheduled for Tuesday June 23. Watch the NIRSA website for registration information.
These initial caucuses are intended to be the start of a larger, ongoing dialogue and will be shaped by the needs and desires of NIRSA members. More caucuses for additional, and/or intersectional identity groups will be planned in the coming weeks and months. Continue to watch the NIRSA website for more session information as it comes available or to submit your own ideas.
We will also host forums for all members to come together to listen, learn, and organize action as a collective body. The myriad of ideas and actions from NIRSA's diverse membership across many identities has always been our strength. Identity-based caucuses will enhance our all-member forums, not replace them.
While much of this learning, growth, and action is intensely personal, as leaders in collegiate recreation we are also called to this work as leaders, supervisors, mentors, colleagues, and staff. The push for critical dialogue will continue into the fall when most students return to campus. Through the ongoing Ideas in Motion series we will also continue to offer space to talk about how to be leaders from our positional roles in the department and in the functional areas of recreation.
Work in Progress
The NIRSA Board recently adopted a policy to acknowledge traditional lands at the beginning of NIRSA endorsed gatherings and events. An accessible user guide has been drafted and final input is being sought before it is finalized and shared with our various host and program planning committees.
Earlier this year, the NIRSA Board appointed a History & Legacy Task Force. The original vision for the Task Force, in conjunction with current historian Paul Wilson, is to identify a long-term, sustainable, organizational structure for the Association to better honor our past. The NIRSA Board is working with the Task Force to review the original charges and reprioritize as needed.
There will also be explicit attention once again placed on civic responsibility. Exercising our right to vote allows us a voice in the power structures that greatly impact our environmental, economic, and social health. As the NIRSA Assembly noted, "increasing students' civic-mindedness strengthens 'their overall capacity to spur local and global economic vitality, social and political well-being, and collective action to address public problems.'" The local stuff matters. Voting matters. Your voice matters.
Long Term Strategies
We will assess NIRSA's structures, policies, and practices and make the necessary changes within NIRSA to more closely align with our values. Some examples include a review of our conference site selection guidelines, of our processes for recruitment and selection of presentations and speakers at NIRSA events, and of our leadership recruitment processes and practices. We are considering a climate survey or other assessments to understand where we are and where we need to be to fully realize our goals for diversity, equity, and inclusion as crucial to our vision for healthy people and healthy communities.
The Team at NIRSA Headquarters will be on this listening, learning, and action journey as well. As the supporters and facilitators of the great work of NIRSA members, as well as a team with its own culture, policies and practices, we too will be thinking critically about fostering inclusive environments and assessing our policies and practices.
The Board will engage in a strategic planning process this summer and fall to develop the 2021-2024 strategic plan. We are committed to an intentional process that includes learning, critical thinking, member input, and responsible execution planning.
Along with your NIRSA volunteer leaders, I will continue to provide updates on our short-term and long-term plans and actions. I invite you to share your ideas, concerns, resources, and knowledge with me or any member of the Board.
I want to sincerely thank those who have reached out to me or responded to my outreach to explore how NIRSA can engage more deeply in the long overdue work to disrupt and dismantle racism. Please continue the conversation – we are so not done. This will be a collaborative and collective process to create new and equitable systems where all can thrive.
Thank you for your engagement,
Pam Watts, CAE
NIRSA Executive Director