Editor's Note: Since this article was published, UNLV has discussed the possibility of changing its branding, including updating its mascot. Learn more.
How one experiences a building can vary widely based on how the space is designed. Daylighting, finish materials and massing are all elements that can evoke certain feelings in a facility's users — but a branded environment can transform a sports venue into something truly unique.
"Place serves as a powerful medium for brand expression," says Corianne Burrell, interior project manager with architecture firm Perkins and Will. "We believe that branded design creates and communicates organizational value, while setting the stage for experiences that connect with audiences, inspire actions and fuel imaginations."
Adds Sara Boyer of architecture firm MoodyNolan, "Branding is another layer that contributes to the overall design and success of a facility and its ability to tell the client's story."
In the world of collegiate athletics, a skillfuly branded environment can be a game-changer for fans, donors, student-athletes and recruits alike. Let's explore how the branded environment helps athletics facilities be their best.

Brand considerations
The word "brand" is so ubiquitous and broadly applied that its definition can become unclear. Simply put, a brand is compiled of things that distinguish an organization or a product from its competitors. That can include such elements as colors, logos, names, terms and designs. In the world of college athletics, those things are easy to identify — and often strongly reinforced.
But the story doesn't — and shouldn't — stop there.
"Effective facility branding should convey who we are as well as it conveys where we are," says Loren Zemlicka, principal with Thysse Design. "Where we are can be easily accomplished with a logo or team name, that's not hard. Unfortunately, this is where a lot of facility branding ends. I often ask my clients to look at their current facility and imagine if all the logos were removed. If someone were dropped into one of those spaces, would they still know where they are?"
Michael Todas of the graphic design firm Todas Design says that when branding an athletics facility, one should consider the things that unify the brand, as well as how variety can be introduced into a space. "The overall surrounding environment should encompass that unity and variety," Todas says. "Obviously, most of the time, the unifying things are the brand, the colors, things like that. The variety becomes the finishes. What is flat art, and what is dimensional art? What is lit? What's not lit?"
Adds Burrell, "A great environmental graphics package weaves stories, visual imagery, color, punch and interactivity into an experience."
And experience is everything.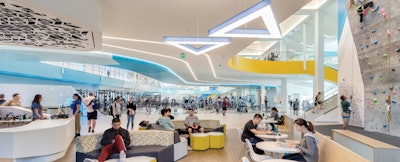 Experience and storytelling
"Branding is really storytelling that personifies culture," says Drew Berst, collegiate sports practice director at Dimensional Innovations. "The moment you step into a facility you should know what that program is about. It should be something you experience and feel."
Branding experts and architects agree — when it comes to collegiate sports facilities, crafting an exceptional experience and telling your unique story is essential. A total-facility approach allows designers to build in drama throughout an entire project.
Impactful stories can make experiencing a place more memorable, says Todas, adding, "That's the kind of impression that you want to make on a young mind who is athletically talented and wants to come play for your school — or another school. What's going to give your school the edge?"
Considering branding from the beginning allows for an integrated approach to the overall design process.
"This process interlaces the multiple disciplines that inform a building, which minimizes risk, plans for flexibility and improves the overall design," Burrell says. "This integration also allows the graphics to be more impactful, as they transcend the usual images-on-walls to become critical design elements that are fully integrated into the architecture and interior design."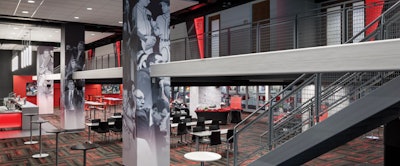 Right audience, right area
Branding can happen in any part of an athletics facility, but the approach may vary based on the area of the building and which audience it's intended to serve.
"Fans walking through a concourse want to feel inspired and emotionally connected to the brand; donors entering a lobby want to be part of something big, dynamic and successful; athletes in a workout space want to feel energized and motivated; and coaches walking down a hallway may want to be reminded of the brand's tradition, accomplishments and values," says Burrell.
"When we program a space, we want to create an experience hierarchy," says Dimensional Innovations managing director Scott Dewald. "How is each area being used, for how long and what is most important? The messaging is tailored to fit each zone of the building to maximize impact and experience."
Common areas such as hallways are good spots to showcase a broad branding message. Team-specific locker rooms, meanwhile, may narrow the focus to a particular culture and the specific sport. Considering the brand in all aspects can create a cohesive message. Even in-venue signage for wayfinding can present a branding opportunity.
"Too often, directional signage and room naming is thought of outside of the overall facility branding," says Thysse Design's Zemlicka.
Particular brand elements may have their "volume" turned up in some spaces, and turned down in others in order to properly meet audience expectations and organizational goals. "The volume or temperature varies per client and space," MoodyNolan's Boyer says. "One client exclaimed, 'Blue it up!' — meaning she wanted copious amounts of the school color in the locker room."
A general rule of thumb is to factor what might be considered timeless within an athletic program, and to turn the volume up on those elements, rather than messages that may be forgotten. Asks Todas, "Do we really want to turn the volume up on a message that disappears in just a year?"

Establishing a brand identity within an athletics facility can leave users with a feeling of inspiration and pride of place. A well-executed branding strategy can help an athletics program establish new relationships, reinvigorate old ones, and re-energize coaches and staff for the challenges of athletic competition. When users come into your space, your brand is what they'll remember.
"I want them to not only see the brand, I want them to feel the brand," says Todas. "And that's hard to achieve. If they could feel the brand, and it almost is like vibrating to them, that's kind of my end goal, and that's what I like to see. And that's when people talk."

Breaking down the brand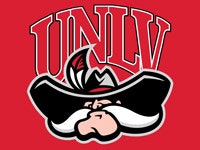 UNLV's Ferttita Football Complex
The design team working on the Ferttita Football Complex on the campus of the University of Nevada, Las Vegas sought to create a feeling of cohesion within the facility.
"All elements of the design — from the architecture to the interiors to the environmental graphics — were thought about holistically, and all team members gave advice and feedback to push the design further," says Corianne Burrell, interior project manager with architecture firm Perkins and Will. "This is best exemplified in the lobby, where large display cases and illuminated letters were completely integrated with an articulated wall, an intricate floor pattern and linear lights on the ceiling."
Dimensional Innovations created an initial graphics package, which managing director Scott Dewal says was focused on helping recruits and their families get a sense of the football program's vision and team culture. Adds Dewal, "Creating some flash that represented Las Vegas was also an important element of the overall design."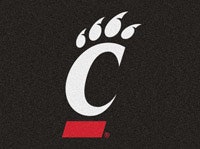 University of Cincinnati's Fifth-Third Arena
"Branding can be utilized to highlight what is most unique or most important to a client, such as the locality or culture," says MoodyNolan's Sara Boyer, whose firm designed Fifth Third Arena at the University of Cincinnati.
The project's branding approach focused on four pillars, emphasizing both locality and culture: innovation, academics, Cincinnati and athletics. The result is a facility that highlights proud moments in the program's history, while also rooting it firmly in its city.
Two destination beverage locations within the arena exemplify this approach. First, the Queen City Bar pays homage to the city of Cincinnati by highlighting its downtown brewery culture and elevating the city itself. Next, the Armory Bar honors the school's basketball history with graphic elements and by incorporating an older hardwood court surface.
"Highlighting the achievements of the men and women athletes at UC in the arena and within various team spaces was a pivotal way to honor student-athletes and their accomplishments, to serve as a recruitment tool and to inspire the current teams," Boyer says. "Designing all of the components desired by the client to celebrate their academic excellence, innovative spirit, Cincinnati heritage and Bearcat pride, as well as integrated audio/visual components such as large digital video boards, reinvigorated the facility and completed the overall design to create a place completely unique to the University of Cincinnati."
---
This article originally appeared in the July | August 2020 issue of Athletic Business with the title "Branding your athletics facility for the biggest impact." Athletic Business is a free magazine for professionals in the athletic, fitness and recreation industry. Click here to subscribe.