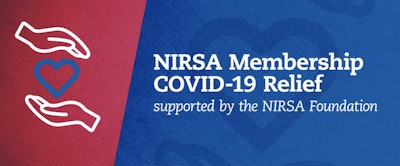 Fallout from the COVID-19 pandemic is nothing to celebrate—but in these challenging times, we must take heart where and when we can. For this reason, on behalf of your Association Leadership, NIRSA has been able to provide a membership fee waiver for lapsed members facing financial hardship due to COVID-19.
"We know that many NIRSA member schools across the continent are facing substantial cuts to professional development budgets. Furloughs, intermittent closures, and reductions to staff hours are realities facing many of our colleagues, whose support and ideas are treasured by the NIRSA family," says Brent Harrison, Associate Director for Recreation Programs at the University of Oregon and NIRSA Foundation President. "For some established members whose membership has lapsed since the pandemic hit in March, renewal may not have been an option under current circumstances. So, we're thrilled to have worked in concert with the NIRSA Board to find an opportunity to hopefully keep many of our colleagues in the fold," Brent adds.
About the program
The fee waiver program is designed to provide lapsed members impacted financially by COVID an avenue to continue accessing NIRSA services and programs. The membership fee waiver application is open to expired professional members with at least two years of NIRSA membership, whose membership was current through the end of March 2020, and whose campus recreation department has faced financial hardship (i.e. furloughs, spending freeze, budget reductions, etc.). Members are given the opportunity to apply for the membership fee waiver, via email, at the end of their annual membership.
"NIRSA Foundation volunteer leaders should be commended for their multi-year effort to encourage giving to NIRSA Foundation general fund; donors responded with big hearts and open hands," says NIRSA Executive Director Pam Watts. "And now," she says, "members of the NIRSA family who are facing so many uncertainties economically are seeing the fruits of donors' generosity and volunteer leaders' vision. Membership opens so many doors for professionals—it's really exciting to see the Foundation responding nimbly to the needs of the NIRSA family!"
This program is possible through the generosity of NIRSA Foundation donors. The NIRSA Foundation Board of Directors approved the commitment of $30,000 in unrestricted general funds to underwrite this initiative. Individuals who think they may qualify and haven't yet received an application link can inquire by emailing membership@nirsa.org.
Support the NIRSA Foundation general fund
"As a member of NIRSA I am able to get the latest updates and trends so I can provide that information to my team," says Lashica Thomas, Assistant Director for Operations and Marketing at Columbus State University and a beneficiary of the new fee waiver program. "It was important for me to have at least one professional staff member with access to NIRSA resources and network, and now I will be able to stay on my committees and continue to receive the NIRSA publications," she adds.
Not that you need an excuse to support the future of campus recreation by giving to the NIRSA Foundation general fund, but this September you have a great reason to participate in recreation, connect with NIRSA friends, and support programs like this one: participate in the NIRSA Golf and Give event with your friends and share your (social-distance-friendly) photos using the #NIRSAGolfAndGive hashtag.
Make a difference to individuals and communities through the power of campus recreation by supporting the NIRSA Foundation. Make a charitable contribution or set up a recurring monthly gift to the NIRSA Foundation general fund today.
---
This article was republished with permission from our partners at NIRSA — Leaders in Collegiate Recreation. Read the original here.