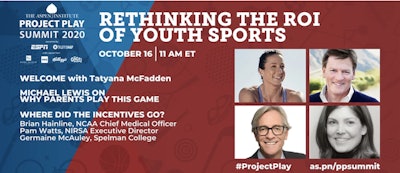 Last week, NIRSA executive director Pam Watts participated in the panel discussion "Rethinking the ROI of Youth Sports" as part of the Aspen Institute's 2020 Project Play Summit.
The hour-long session — which included an introduction from seven-time Paralympic Gold Medal champion Tatyana McFadden —c overs a range of topics, including: the youth travel sports scene through the perspective of bestselling author Michael Lewis; how colleges are supporting varsity athletes and sport programs in the wake of COVID-19 through the perspective of Brian Hainline, Chief Medical Officer of the NCAA; how schools are adapting to center offerings around student health and inclusion through the perspective of Germaine McAuley, Spelman College; in addition to Pam's insights about how intramural and club sports are fulfilling an important role for college and university students.
Background information
Many parents have seen the cost of elite youth sports balloon in pursuit of a college scholarship. But as loss of revenues from COVID has decreased the number of scholarships available, this conversation explores how the equation has shifted for parents, colleges, and youth sports programs.
In 2013, Spelman College eliminated the athletic department in favor of reallocating the money devoted to them toward establishing a wellness program that could take advantage of the college's gym, courts, and fields.
NIRSA continues to work with member institutions to support integrated approaches to individual and community health and wellbeing. Learn more about NIRSA and NASPA's efforts to support health and wellbeing in higher education.
---
This article was republished with permission from our partners at NIRSA — Leaders in Collegiate Recreation. Read the original here.