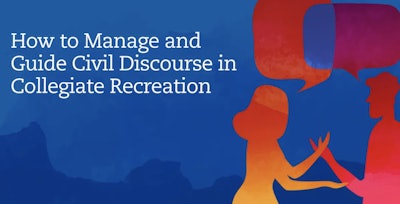 Campus recreation professionals are uniquely positioned to interact with diverse students on campus. Amid uncertainty and with many hot topics playing out on college campuses, tensions can be high. That's why the NIRSA Assembly — a diverse body of volunteers who serve as a think tank for the profession — took on the work of curating materials that could serve as a resource for collegiate recreation professionals who are looking to guide civil discourse on their campuses.
First released to members in the summer of 2017, "How to Manage and Guide Civil Discourse in Collegiate Recreation" has recently been updated by NIRSA. This resource is intended to be a living document that will continue to develop over time to help professionals and students learn skills to navigate difficult conversations regarding a multitude of issues on their campuses.
About the civil discourse guide
It is imperative that as campus recreation professionals we educate ourselves on deliberative topics and work to teach students the communication skills needed to engage in civil conversations, active debate, and listening to understand.
NIRSA members have shared that these curated resources remain as important in 2020 as they were when they were first introduced. This fall, the guide has been reviewed and updated to ensure the resources are timely and relevant.
The seven categories of the resource guide can assist members in mapping their learning journeys:
Skill development for difficult conversations
Moderating and guiding difficult conversations
Training Content
Personal/Group Reading
To watch/listen
Books
Websites/Organizations
View the full guide on the NIRSA website.
---
This article was republished with permission from our partners at NIRSA — Leaders in Collegiate Recreation. Read the original here.