The past year forced us to collectively assess our own physical and mental health, and in the process we took stock in the value of activity and interaction like never before. This dynamic was nowhere more evident than on college campuses, where COVID-19 restrictions forced students to learn remotely and recreation professionals to limit occupancy in their facilities or close them entirely for months at a stretch. Just when students needed recreation's benefits the most, the greater public health crisis wouldn't allow for it.
As the country at large came to a standstill, AB was preparing its inaugural College Recreation Survey for our April 2020 issue. The survey asked readers to reflect on 2019 with the goal of establishing benchmarks to which future years could be compared. As we now know, 2020 was beyond comparison — a case of apples and spoiled oranges. Nonetheless, hundreds of campus recreation professionals took the time to share their situations with our larger audience for this 2021 survey edition, and for that we are truly thankful.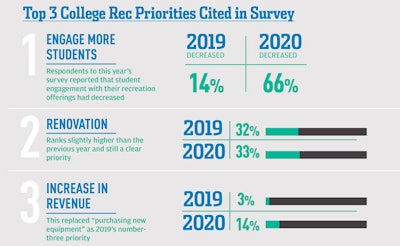 Let us then take stock in the year that was, by the numbers.
The least surprising takeaway from 2020 is that two-thirds of respondents to this year's survey (66 percent) reported that student engagement with their recreation offerings had decreased (after only 14 percent saw a decrease the year before). While a majority of the inaugural survey sample (53 percent) saw engagement increase in 2019, just 16 percent did so in 2020. Engaging more students remains the top priority of recreation professions — for 46 percent of this year's sample compared to 54 percent of last year's. Renovation is runner-up on the to-do list again at 33 percent, up slightly from 32 percent. In the number-three slot, increasing revenue (14 percent) has displaced purchasing new equipment (3 percent, down from 11 last year).
Treadmills and elliptical machines are the preferred one-two punch in cardio offerings again this year, with respondents reporting an average of 19 and 18 units, respectively. Upright stationary bikes are third for the second straight year, averaging 12 units per responding campus.
In the weight room, 92 percent or more of our respondents told us they offer the following: benches, squat/power racks, selectorized leg extension, selectorized leg curl, selectorized shoulder press, selectorized bicep curl, selectorized chest (press), selectorized chest (fly), lat pulldown, selectorized leg press, selectorized chin-up/dip assist, selectorized incline press, selectorized decine press.

As least 92 percent of respondents reported having the following functional strength equipment: kettlebells, battle ropes, medicine balls, plyometric boxes, suspension training, balance training, resistance bands.
Nine out of every 10 recreation departments in this year's sample offer yoga, followed by indoor cycling, strength training, aerobics/cardio, and functional fitness (HIIT) classes — all with at least 70 percent inclusion rates.
Like last year, campuses report an average of five times more court spaces than pools. Fifty-seven percent of this year's respondents have a climbing wall, up two points from last year. Sports fields remain the most common outdoor amenity (83 percent of respondents, up from 80 percent), followed by sand courts (52 percent, up from 40), tennis/pickleball courts (46 percent, up from 43) and basketball courts (41 percent, down from 48).

Patron safety is well addressed by this year's sample, with 97 percent of respondents reporting they have an emergency action plan in place, and another 97 percent reporting that automated external defibrillators exist in their facilities, though last year's sample hit 100 percent on AED ownership.
Seventy-nine percent of respondents report offering student health and wellness services, most often through a partnership with campus student health services, a figure that's up from 76 percent. That's the good news.
The not-so-good news, in a final reminder of the physical and mental challenge that was 2020, is the fact that 58 percent of respondents to this year's survey say they are optimistic about the fitness market's health, down from 76 percent the previous year.
---
This article originally appeared in the April 2021 issue of Athletic Business with the title "Results: AB's 2021 College Recreation Survey." Athletic Business is a free magazine for professionals in the athletic, fitness and recreation industry. Click here to subscribe.