Breaking Ground
Shovels hit the ground recently in Storrs, Conn., to kick off construction of the 97,300-square-foot ice hockey arena at the University of Connecticut. Located adjacent to the Freitas Ice Forum in the Athletics District, the 2,600-seat arena will be 80 percent seat backs and 20 percent bench seats. Team facilities will include training and support space for UConn's Division I women's and men's teams, including team lounges, locker rooms and hydrotherapy areas. Additional amenities will include coaches' offices, a press box, a center-hung scoreboard, premier ribbon boards, state-of-the-art sound and lighting systems, a dining area and the ice plant. The facility will meet all NCAA Division I and Hockey East ice hockey requirements, which Freitas Ice Forum does not.
Work on a new track and field facility has kicked off in Neville Township, Pa. The future P3R Track & Field Complex at Robert Morris University's Island Sports Center will be home for student-athlete training and competitions, but also host future regional sporting events, including several competitions as part of the 2023 National Senior Games.
---
First Pitch
Penn State University in University Park, Pa., announced it is seeking recommendations regarding the future of Beaver Stadium, built in 1960 and last updated in 2001. A study conducted in partnership with architecture firm Populous will look at maintenance needs, operational efficiencies and potential improvements to the stadium for fans and student-athletes. A Facilities Master Plan from 2017 includes reducing stadium capacity from 106,572 to 103,000. Any upgrades wouldn't be complete until at least 2023, according to the original plan.
In Lynchburg, Va., plans were announced to build the Liberty Multipurpose Center, a new multi-use indoor facility that will benefit Liberty University's NCAA, club and intramural sports programs. The 75,000-square-foot space won't be lined for a single sport, but rather will have tick marks on the turf to provide flexibility when moving from one sport's practice session to another. To create easier access to the facility, the university is also planning to construct a walking bridge from the Bailey Parking Lot over Regents Parkway to the new Liberty Multipurpose Center.
---
Grand Openings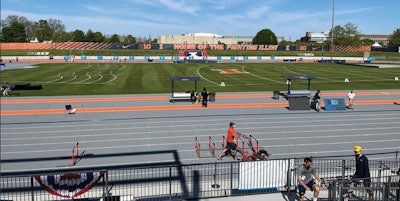 The University of Illinois Urbana-Champaign recently opened Demirjian Park as home to the school's men's and women's soccer, track and field, and cross-country programs. Demirjian Park features two new soccer fields, one for competition and one for practice, and a renovation of the existing track and field complex. The project's centerpiece is its stadium, sited between the new soccer fields and the renovated track. State-of-the-art amenities include locker rooms, video and meeting rooms, lounge and study spaces, sports medicine and nutrition facilities, and coaches' offices. It also contains spaces for visiting teams and officials. The stadium benefits more than 25 percent of the Fighting Illini student-athlete population.
---
This article originally appeared in the July|August 2021 issue of Athletic Business with the title "Forward Progress." Athletic Business is a free magazine for professionals in the athletic, fitness and recreation industry. Click here to subscribe.