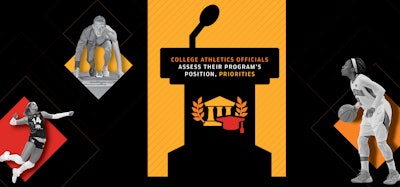 It may be too soon to fully assess the total fallout from a yearslong global pandemic — one that brought new challenges to the already difficult task of running a collegiate athletics department. From sports cuts and reinstatements, to name, image and likeness red tape, to the debate over the competition rights of transgender athletes, these are truly unprecedented times.
Athletic Business surveyed collegiate athletic departments at all levels of competition earlier this year to gauge current sports sponsorship and program support. Here's a summary of what we found:
Our sample includes departments representing members of the NCAA (60.5 percent), NAIA (15.8), NJCAA (15.8) and USCCA (7.9). Regardless of affiliation, nearly half of all survey respondents have a "somewhat positive" overall view of their school's athletics association. Our survey indicates that schools are just as likely to be "neutral" on this question as "very positive," with roughly a quarter of respondents taking either of those positions. Only 5 percent admit to having a "somewhat negative" view and none reported a "very negative" view.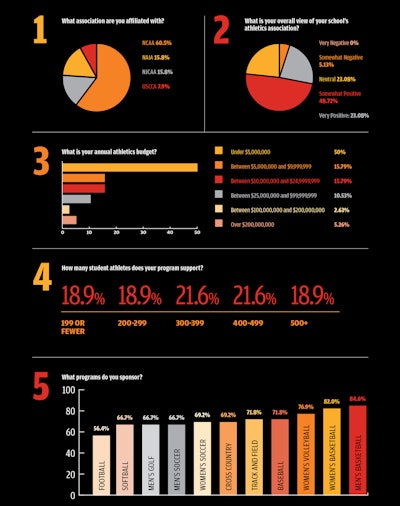 About 21.6 percent of our sample departments support between 300 and 399 student-athletes, the same percentage as those that accommodate 400 to 499. Nearly 19 percent fall in each of following categories: 199 or fewer, 200 to 299, or 500 or more. The average student-athlete total for the sample stands at 357.
The most commonly sponsored sport is men's basketball, with 84.6 percent of departments in our sample fielding a team, followed closely by women's basketball at 82 percent. Football is offered by a mere 56.4 percent of our respondent field, ranking lower on the sponsorship list than eight additional sports: women's volleyball (76.9 percent), baseball (71.8), track and field (71.8), cross country (69.2), women's soccer (69.2), men's soccer (66.7), men's golf (66.7) and softball (66.7).
In addition to women's soccer edging men's soccer, women's teams also outpace men in terms of like-sport sponsorship in volleyball (with only 18 percent of respondents reporting a men's program at their school, resulting in a 58.9 percentage-point gap), tennis (53.9 percent to 46.2), lacrosse (25.6 to 15.4), rowing (12.8 to 2.6) and water polo (10.3 to 7.7).
Half our sample has seen no change in sports sponsorship over the past three years. However, nearly twice as many schools (32.5 percent) report adding sports compared to those who eliminated one or more (17.5). Looking to the next three years, 37.5 percent of respondents plan to add at least one sport while only 2.5 percent anticipate making cuts. When changes are made, it's not necessarily driven by Title IX compliance, which at 22.6 percent of responses ranks third on our list of reasons behind changes in student-athlete interest (35.5) and changes in budget (32.3). That said, a full quarter of respondents report having been involved in a Title IX lawsuit within the past 10 years.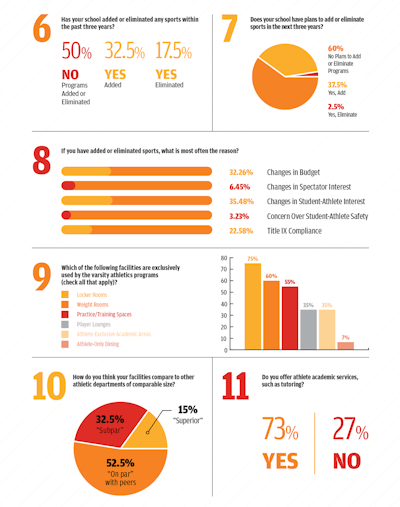 Respondents report receiving an average 54.6 percent of their operating budget from university funds or students fees, followed by 17.9 from donations, 13.3 from ticket sales and 10.7 from media revenue.
On the facilities front, 52.5 percent of respondents rate their offerings as "on par" with their peers, while 32.5 percent feel theirs are "subpar" and 15 percent boast superior facilities. Seven in every 10 respondents report plans to build or renovate athletic facilities within the next three years.
As an indicator of the perceived importance of technology in training, Performance Testing Equipment outranks Powerlifting in terms of equipment priorities among respondents, followed in the top five by High-Intensity Interval Training, General Cardio and Sports Performance.
Not surprisingly, two widely discussed policy issues shot to the top of other lists in our survey. A plurality of respondents rank student-athlete compensation as the most important student-athlete issue they face (ahead of such topics as drug use, academic support and mental health), while transgender inclusion tops the list of most important program-related issues (ahead of conference realignment, student-athlete transfer rules and sexual assault allegations).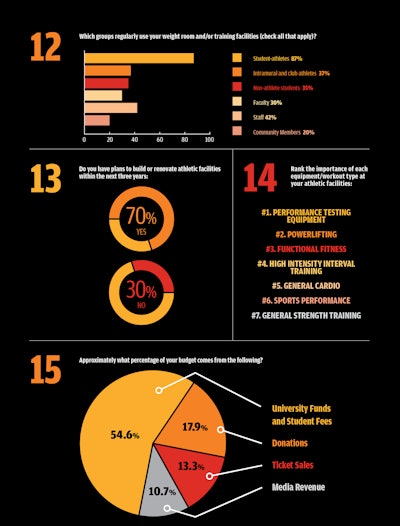 Thanks to all who took time to respond to our survey and for offering peers a peek at your operations.
— The Editors
You can find a full downloadable pdf of this survey here.