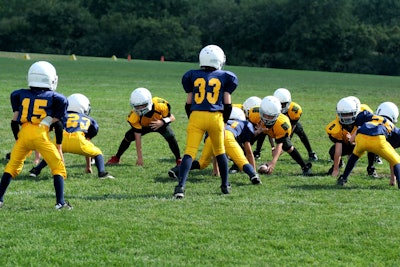 Parents are citing the risk of concussions and the COVID-19 pandemic as reasons why fewer kids are playing tackle football nationwide, and this dynamic has impacted the Twin Cities area especially hard.
As reported by Nick Halter of Axios, just 86 kids played tackle football in the Minneapolis Park & Recreation Board system this fall, which was only enough to field four teams. Eight years ago, Minneapolis fielded 45 teams with more than 1,000 players.
Without enough teams for a league in 2021, the Minneapolis teams had to play in a suburban league.
In neighboring St. Paul, youth tackle football participation averaged 675 players from 2011 through 2015, but fewer than 400 kids have played each of the past three seasons, according to city Parks and Recreation data.
Tim Grate, athletic program manager for MPRB, told Axios that tackle football has been in decline locally and nationally due to heightened concerns about concussions, as well as more specialized sports participation — kids who play one sport year-round. Then the pandemic hit and cratered the numbers further.
Without youth players in the pipeline, it's possible that a contraction of high school football teams in Minneapolis and St. Paul could result, much like the trend in ice hockey. The lone four Minneapolis youth teams this year were from North Minneapolis, which is the one area of the city that has bucked the larger trend, according to Axios. North High has built a strong football program in the area, winning a state title in 2016.
When asked about consolidation, a Minneapolis Public Schools spokesperson said in an emailed statement, "We are always examining ways to maximize playing opportunities for our kids, but no decisions have been at this time."
Grate, who played football for the Minnesota Gophers, noted that flag football participation has shot up in Minneapolis. "Some of these hardcore old football guys (say) if you're not tackling it's not real football," Grate told Axios. "That's not true. You can still learn the fundamentals of football through flag just as well as tackle."