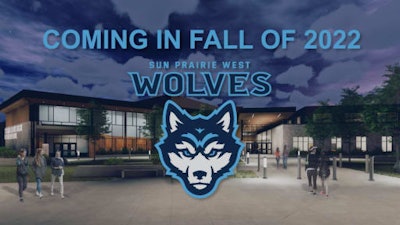 Sun Prairie (Wis.) High School has operated with approximately 2,520 students, but the opening of Sun Prairie West next fall will provide new athletics opportunities for each high school that otherwise wouldn't be available.
"I think you are more likely to see more kids come out," Sun Prairie athletic director Eric Nee told Andrew Balko of Madison Commons. "This year we are not cutting at the freshman or JV level. It is more of an opportunity to develop kids on the athletic field."
The decision to not cut any students from the freshmen or junior varsity level for most sports resulted in overloaded rosters that made it difficult to balance playing time and development. 
Along with the extra opportunities on the field afforded by the new school, Nee said it provides current athletes with a chance to engage more and step up as leaders and captains of different teams. This wouldn't only develop them as athletes, but also as young men and women, he said.
"There will be more opportunities to be leaders on your team," Nee said. "You are going to have more kids that sport specialized going out for more than just one sport, which will improve those teams. So, I think there is a great opportunity for development going forward."
Sun Prairie High School won six Wisconsin Interscholastic Athletic Association state championships within the past decade, according to Madison Commons. The split could jeopardize that level of competitiveness as the talent pool is diluted.
"I feel like when the schools split up the teams won't be as good," Sun Prairie senior Mateo Molina said. "If the city grows, the teams can get back to where they are. But if it stays similar to its current size, it will be the same amount of kids and the same amount of talent just getting split up into two different schools."
Some sports will likely need to draw from both student bodies. Nee says that for now boys' hockey, wrestling and gymnastics will likely be co-op programs.
The district has an Athletics and Activities Configuration Committee that does annual survey work among the middle schools within the district and presents to the school board which teams need to become a co-op. This can change from year to year, and predictions may not always reflect who actually comes out for the sport.
Both high schools will likely stay in Division I for most sports. According to Nee, football can be either Division I or Division II in a given year due to who is eligible for the state tournament and how the high schools compare in enrollment.
"I think for both schools, with change comes growing pains," Nee said. "Does that mean we are not going to compete? No. As an athletic department, we are going to continue developing everyone that is in front of us."
The two schools will share Bank of Sun Prairie Stadium as their home venue for football, soccer, track, lacrosse and Ultimate. The impact will be felt immediately next fall.
"Next year, Sun Prairie East and West both play a home game week one," said Nee, who will be assisted with game-day logistics by a dean of students at each school moving forward. "So, Sun Prairie East is playing on Thursday night and Sun Prairie West will be playing on Friday night."
As reported by Madison Commons, both schools' logos will be featured on Ashley Field and throughout the Bank of Sun Prairie Stadium. Sun Prairie East will keep the traditional Cardinals logo with a red and black color scheme. Sun Prairie West will adopt the Wolves as their team mascot with a navy and sky-blue color scheme.