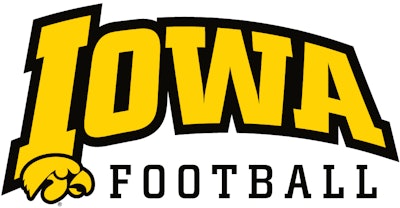 A year and a half after the University of Iowa athletics department formed an alumni advisory committee to discuss diversity issues within the football program, head coach Kirk Ferentz last week abruptly dissolved the volunteer group.
As reported by The Gazette of Cedar Rapids, the group made up of seven Black football alumni and three white former players began meeting in the summer of 2020, in the wake of active players alleging the football program fostered a culture of racism and bullying.
"I have come to a decision that this is an appropriate time to dissolve our committee as it stands currently," Ferentz wrote in a Tuesday email to the group. "As we start a new calendar year and prepare to move forward with our preparation for the 2022 season, I am giving thought to how we restructure the committee/board in a way that best serves our program moving forward."
Ferentz's decision to dissolve the group came after a contentious meeting Oct. 18 and after committee chair David Porter, a former Hawkeye offensive lineman, suggested to the group in a chain of text message Jan. 2 that it's time to "bring in a new head football coach, football staff, and athletic director," The Gazette reported.
In the chain of messages, Porter said Ferentz is "loyal to a fault" and will "fall on the sword for his son and his staff because he thinks it's the right thing to do. I disagree."
"The only way I see to save his legacy, protect the program, help those kids, and continue to move forward at the same time is for Kirk to retire," he wrote.
"Dave Porter did not share his sentiments with me directly," Ferentz said in the statement, as reported by The Gazette. "I was surprised and disappointed by his comment and wish him the best moving forward. His comment had no influence on the decision regarding the advisory committee." On Friday, three days after the committee was disbanded, UI Athletics announced Ferentz, already the longest tenured football coach in the Big Ten Conference, signed a contract extension through the 2029 season. He'll earn $7 million annually before performance-based bonuses — $6 million of which is guaranteed. Under the contract, the UI would pay Ferentz between $42.5 and $48.5 million, depending on the month, if it were to terminate him in 2022 without cause.
Ferentz said he's "tremendously appreciative of the time and dedication of those volunteer members who shared ideas and best practices" while serving on the diversity advisory committee, which had helped teach the football program that "we can be a team and celebrate players as individuals" and that "communication builds connection and understanding."
Current and former players began airing grievances with the program in June 2020, compelled by the national racial reckoning sparked by George Floyd's murder in Minneapolis in the summer of 2020, as well as by Ferentz's handling of kneeling during the national anthem.
In response to Ferentz's assertions his players should either stand or kneel as a team, Chicago Bears offensive lineman James Daniels — who played at Iowa from 2015 to 2017 — said via Twitter, "If the team collectively decides to kneel, this will bring about a cultural change for both Iowa football and the state of Iowa which I believe is long overdue!!!"
At least 55 former Iowa players and one current player — most African American — reacted by sharing accusations of racist treatment and behavior, according to The Gazette. More than 20 former players mentioned longtime strength and conditioning coach Chris Doyle or the "weight room" as a problem. In response, the program placed Doyle on administrative leave pending an investigation, and then announced a separation agreement to pay Doyle 15 months of salary — more than $1.1 million.
Related: U. of Iowa Holds Roundtable about Racism in Athletics
In July 2020, the St. Louis-based Husch Blackwell law firm released a 28-page report based on interviews with 111 people current and former players and staff that was critical of the "Iowa Way." The firm found that program rules "perpetuated racial or cultural biases and diminished the value of cultural diversity." It also determined staff "over-monitored players to the point that they experienced heightened anxiety and maintained a culture that allowed a small group of coaches to demean players."
However, the further the program got from the 2020 complaints — even with an ongoing discrimination lawsuit that 13 former players later filed — athletics staff interest began to wane, according to Porter.
Related: Judge: Black Iowa Football Players' Suit Can Advance
"For a while we were making good progress," he said. "But as you get further away from the initial situation and issue, people tend to lose focus on why we were formed in the first place."
Suggestions such as a mentoring program for athletes were discussed but never implemented. Ferentz asked that a committee meeting scheduled during a bye week in the Hawkeyes' 2021 schedule be delayed, and when the meeting did occur several football staff came unprepared, according to Porter.
Nine days after Porter sent his group message suggesting the best path forward was with a new head coach and athletics director, Ferentz sent his email dissolving the committee.
Ferentz said he encourages former players to continue to provide feedback, The Gazette reported, but he did not provide any next steps for the committee.
"While the formal committee will no longer meet regularly, the input and direction they provide will be welcomed in our program," Ferentz said in the statement. "Our former players help guide and support our present and our future."