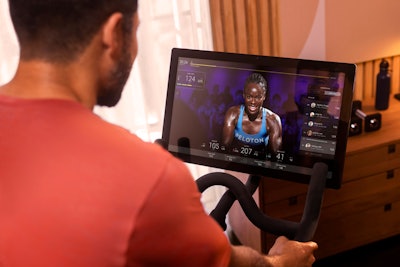 Photo courtesy of Peloton
Peloton riders who may need a break from their usual instructors can choose a new challenge with video games the company has added to its platform.
Designed specifically for the Peloton Bike and Peloton Bike+, the new option is called Lanebreak and combines music, immersive visuals and fitness-inspired challenges to motivate members.
In a press release, Peloton said Lanebreak is available to All-Access Members on Bike and Bike+ and is designed to add some variety to members' workout routines.
In Lanebreak, players control a wheel-like avatar along a six-lane track. Riders encounter Moments that are placed in time with music and sequenced to create unique, fitness-first workouts. Members can choose a variety of levels based on different genres of music and workout types.
The company plans on keeping the experience fresh by regularly adding more levels. Riders can choose to take any level on Beginner, Intermediate, Advanced, or Expert – affecting the resistance ranges of each lane.
The announcement comes as Peloton earlier this month fired CEO and co-founder John Foley who led the company since its inception. The company also cut 2,800 employees, including 20 percent of its corporate positions.
Barry McCarthy, the former chief financial officer of Spotify Technology SA and Netflix Inc. has replaced Foley as CEO.
"This restructuring program is the result of diligent planning to address key areas of the business and realign our operations so that we can execute against our growth opportunity with efficiency and discipline," the company said in a news release upon the change of leadership.
Shares of Peloton have fallen 77 percent since their all-time high of $139 back on Feb. 19 of last year. As of Thursday afternoon, Peloton was trading at $30 per share.