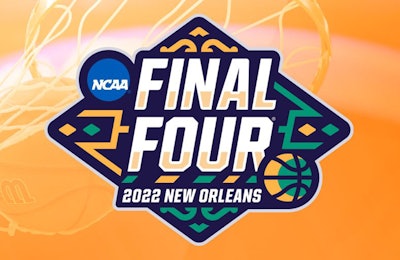 The madness is here, and this year it's bigger than ever — with four additional women's basketball teams in the bracket. Student-athletes and coaches from 68 Division I teams across the country are gathering at host sites eager to prove they have what it takes.
For eight of those teams, the competition starts Wednesday and Thursday with the tournament's inaugural First Four competition. Their storylines vary: Teams making their first appearance in the NCAA tournament. Student-athletes competing for a sixth year because of the extra year of eligibility provided in response to the COVID-19 pandemic. Coaches and athletes making contributions beyond the basketball court.
No matter their path to the Division I Women's Basketball Championship's first-ever First Four, they all have one goal: a national championship.
No. 16 seed Howard (20-9) vs. No. 16 seed Incarnate Word (13-16)Wednesday, March 16 | Columbia, South Carolina | 7 p.m. Eastern time | ESPNU
Winner will face No. 1 seed South Carolina in Friday's first round.
Two schools that epitomize what's great about March Madness: Howard and the University of the Incarnate Word. The resiliency it takes to overcome a stinging defeat. A program's first taste of the tournament.
Howard is dancing for the first time in 21 years, winning its first Mid-Eastern Athletic Conference tournament championship since 2001. But the Bison are no stranger to success in March, having won 11 conference championships — the most in MEAC history.
UIW won four games in four days for its first NCAA tournament berth. The Cardinals won the Southland Conference tournament championship in thrilling fashion, beating Southeastern Louisiana in overtime.
"I am incredibly proud of our team," UIW head coach Jeff Dow told uiwcardinals.com after the conference championship. "To play like that, in overtime, and win the fourth game in four days shows the fight and resilience of this team. This is a terrific win, not only for our program, but for UIW athletics and our university as a whole."
Howard is back in the tournament after a heartbreaking defeat in the MEAC conference championship game last season to North Carolina A&T. Its players were motivated to ensure they did not fall short again.
"We were locked in from Day One and we never forgot about last year," Howard head coach Ty Grace said after her team's victory. "Our kids remember crying in that loss while North Carolina A&T State celebrated."
Howard and UIW not only are participating in the first First Four in the history of the Division I Women's Basketball Championship, but they have the first game. The winner will face the overall No. 1 seed South Carolina on Friday.
No. 11 seed Dayton (25-5) vs. No. 11 seed DePaul (22-10)Wednesday, March 16 | Ames, Iowa | 9 p.m. Eastern time | ESPNU
Winner will face No. 6 seed Georgia in Friday's first round.
Dayton and DePaul have a coach and coach-in-waiting who represent two opposite ends of the spectrum.
DePaul head coach Doug Bruno is leading his team to its 25th NCAA tournament appearance in 36 seasons. He was named a 2022 Women's Basketball Coaches Association Hall of Fame inductee, in part for his pivotal role growing the game. He was also the 2006 and 2007 USA Basketball Developmental Coach of the Year and served on the staff of the 2012 and 2016 United States Olympic Teams. His squad this year led Division I in scoring at 88.3 points per game and boasts one of the game's top young players in freshman Aneesah Morrow, a finalist for the John Wooden Player of the Year, Naismith Trophy Player of the Year and Naismith Defensive Player of the Year honors.
Earlier this season, Dayton's Jenna Giacone — a sixth-year senior guard for the Flyers and 2021 and 2022 first-team Atlantic 10 selection — released "Gabby's Got Game," a children's book about a young women's basketball player who gains confidence in her abilities and falls in love with the sport. No matter what happens in the tournament, Giacone knows she's going to the Final Four as she will participate in the WBCA's So You Want To Be a Coach program at the WBCA Convention in conjunction with the Women's Final Four in Minneapolis.
Though they are at different points in their career, Bruno and Giacone represent the growth and evolution of the game that's on full display throughout the tournament.
No. 16 seed Longwood (21-11) vs. No. 16 seed Mount St. Mary's (16-12)Thursday, March 17 | Raleigh, North Carolina | 7 p.m. Eastern time | ESPN2
Winner will face No. 1 seed NC State in Saturday's first round.
The Mount St. Mary's and Longwood matchup could be titled, "Basketball 101: How To Turn a Program Around." Both programs have come a long way to get here.
Longwood posted a 3-27 record in Rebecca Tillett's first season. Three years later, the Lancers enter this week at 21-11 after winning the Big South Conference championship to clinch the team's first NCAA tournament bid. Longwood's men's team also secured its first NCAA tournament appearance. Men's head coach Griff Aldrich and Tillett were introduced together as the program's new leaders in 2018 in a joint news conference.
"We both use different words, but it's a really similar process," Tillett said of the two coaches' combined success. "I can't wait for both of us to be able to really enjoy this with our teams."
Mount St. Mary's women enter their second straight NCAA tournament after capturing the Northeast Conference Championship. Before the past two seasons, the program had not reached the NCAA tournament since 1995. When current head coach Antoine White started as an assistant with the program in 2016, the team was coming off a 9-21 season — the second of five consecutive seasons with a losing record. Now in White's first year as head coach, the team has cemented its third straight season with a winning record.
"It's just so exciting," senior point guard Michaela Harrison said to the media after the team's conference championship. "We had so many ups and downs and for us to make it back-to-back and do this for so many reasons, like being able to play in front of our friends and family and get Coach 'Twan his first one and give our two seniors one last ride and make it end on a special note, it just means a lot. So I'm excited to go into the tournament and have an opportunity to possibly get an NCAA win."
No. 11 seed Missouri State (24-7) vs. No. 11 seed Florida State (17-13)Thursday, March 17 | Baton Rouge, Louisiana | 9 p.m. Eastern time | ESPN2
Winner will face No. 6 seed Ohio State in Saturday's first round.
Missouri State's Brice Calip and Florida State's Tiana England are graduate students in their sixth year of college ball, each having taken advantage of the extra year of eligibility provided to student-athletes because of the impact of COVID-19.
For the Lady Bears, Calip ignites the team as a prolific defender. The two-time Missouri Valley Conference Defensive Player of the Year leads Missouri State in steals this season with 66 and is second on the team in defensive rebounds with 116. On Dec. 18, 2021, Calip became the winningest player in Lady Bears history when she played in her 105th career victory.
"It's a great honor, and I'm blessed to still be wearing this jersey," Calip said after the historic victory.
For the Seminoles, England has become a voice for those struggling to find their identity outside of sports. For years, England suffered from fainting spells, an increased heart rate, fatigue and dizziness without an explanation. Symptoms that left her sidelined also left her struggling to find purpose outside of basketball. England was diagnosed with postural orthostatic tachycardia syndrome, a condition that affects blood flow.
Before her diagnosis and ensuing medical treatment for POTS, England struggled to find her identity without basketball.
"Being a Nole changed my life, it saved my life to be honest. I love this community and the atmosphere here," England said in a feature story on seminoles.com in February.
England's impact on the court for Florida State wasn't what she expected, but her impact off the court has been even greater. She aspires to start a nonprofit in the future to raise awareness for POTS and mental health.
After six years of college basketball, the ball will eventually stop bouncing for both Calip and England. Whether in the history books or as a voice for others, their impact will remain.