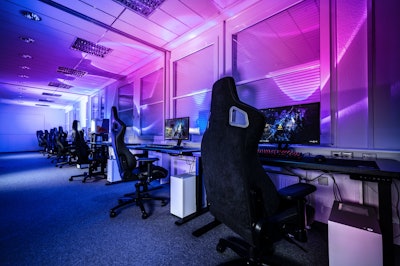 A Springfield, Mo., high school this week approved a new esports program despite some concerns about the impact of gaming on students' physical and mental health.
Board vice president Maryam Mohammadkhani raised concerns about the program while would ultimately pass on a 6-1 vote.
"We are growing children's minds and... it behooves us to look at it from the perspective of we don't have enough data to know that it's not harmful," Mohammadkhani told the Springfield News-Leader, adding that she did not support the purchase of hardware and software for an extracurricular esports program.
The board approved a list of contracts, agreements, change orders and bids, including $59,520 to buy 60 laptops and related accessories for the esports program.
Superintendent Grenita Lathan said the decision to approve the esports program was largely based on student input.
"I asked 'What's missing?' and what do we need to keep students engaged," Lathan said.
Lathan said the games played will be age-appropriate and noted that many other colleges and communities are adding esports programs. The current plan is to offer the program to high school students but not to middle school students.
"We're always looking at more ways to get kids involved and so this is one more activity that kids can get involved in," said John Mulford, superintendent of operations. "It also tends to target a group of students who may not be involved in physical sports."
Mohammadkhani questioned the acquisition of high-end hardware for esports but sub-standard equipment for academics. "We're choosing to do it for extracurricular but they're stuck with Chromebooks in their classrooms — that they're already gaming on," she said.