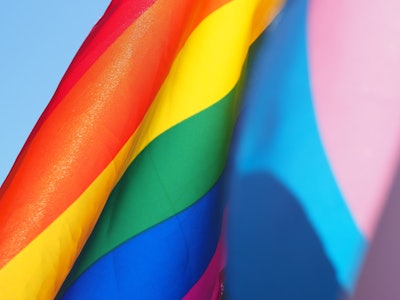 Several NHL teams have announced plans to hold Pride Nights, during which players wear jerseys celebrating the LGBTQ+ community either during warmups or games — or both — but many of those plans have been scraped by teams after being made public.
As reported by CBS Sports, the most recent example came on March 7, when Minnesota Wild players chose to not wear special Pride Night jerseys that had been designed.
According to Chris Bengel of CBS Sports, citing reports by The Athletic, NHL players of Russian heritage have emerged as Pride Night sticking points.
Specifically, and quoting directly from Bengel's account:
Philadelphia Flyers defenseman Ivan Provoroy opted out of participating in warmups with his teammates when the team held their Pride Night back in January. Provorov, who is originally from Russia, stated that he didn't wish to participate due to his Russian Orthodox religious beliefs.
When the Wild were planning to wear Pride jerseys on March 7, the team originally even had an auction site where fans could bid on a Pride jersey that was worn by a player. However, the website was deleted. This could have something to do with the fact that Wild star Kirill Kaprizov is originally from Russia and had issues returning back to the United States from Russia over the summer.
The New York Rangers also planned to hold Pride Night, but canceled. The Rangers have several Russian players on their roster, including goalie Igor Shesterkin and forwards Artemi Panarin and Vladimir Tarasenko.
It is worth noting, Bengel added, that the Pittsburgh Penguins did hold their Pride Night on Dec. 12, and Penguins star Evgeni Malkin — who is Russian — wore a Pride jersey,
"The deeper connection here is to Russian president Vladimir Putin and laws he's put into place in the country," Bengel wrote. "Under Putin, Russia has passed several laws that restrict the rights of LGBTQ+ citizens."
The New York Times reported in December that a law passed in Russia "makes it illegal to spread 'propaganda' about 'nontraditional sexual relations' in the media, advertising, movies or on social media."
"These are legitimate fears," Ben Noble, associate professor of Russian politics at University College London, told The Athletic, which points out that 5 percent of all NHL players are Russian. "'If you put on a Pride jersey, then there is uncertainty regarding how this would be interpreted by law enforcement in Russia — and that's a risk. The authorities have the power to enforce this and other legislation selectively. It's up to them to decide whom they go after."
According to Bengel, 14 teams still have Pride Nights planned for the remainder of the 2022-23 NHL season.