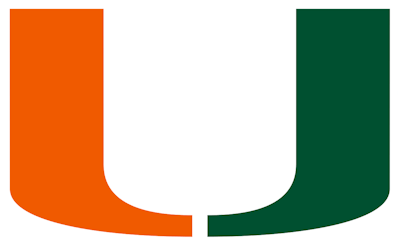 University of Miami Athletics announced Thursday the launch of the UStrive Leadership Program, which was created to help develop leaders within the department through a nine-month curriculum designed to explore issues and opportunities in the college athletics space.
"We're very excited to launch the UStrive Leadership Program and work with these engaged members of our staff," Matt Smale, executive associate athletic director of Business Operations said in a post on the school's website. "I've been a beneficiary of programs like this, so I felt a personal obligation to help create a similar opportunity for others. The program will help grow these individuals professionally and personally and accelerate the group's impact as successful leaders within our department."
The program's curriculum includes topics such as leadership, communications, recruiting and hiring, resource management and sport administration, among many others. The program also features guest speakers from sports industry leaders, South Florida business leaders and UM faculty and staff.
"The UStrive Leadership Program represents a concerted effort to provide existing talent with real-time development opportunities within the dynamic industry of collegiate athletics," said Nate Taylor, senior human resources manager for Athletics. "The program aims to boost job satisfaction in their current roles and prepare them for future roles in Miami's athletic department."
The program's inaugural class will include 12 students.