Minnesota Is Taking Bleacher Safety to New Heights, While the Rest of the Country Seeks to Improve Antiquated Standards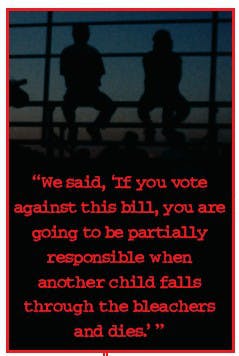 If you're looking for proof that Minnesota's landmark Bleacher Safety Act is working, consider this: The outdated bleachers at the Hutchinson Civic Arena - the ones 6-year-old Toby Lee fell through to his death in January 1999 - have been replaced with new state-of-the-art seating structures. All across Minnesota, in fact, from municipal soccer fields to minor league ballparks, you can see new guardrails mounted on outdoor bleachers, which are protected from climbers by chain-link fencing, safety netting or other materials. And at some places, like the University of Minnesota's Siebert Field, you'll find open spaces where dilapidated and dangerous bleachers once stood.
The 1999 state law required all temporary and permanent bleachers, indoors and out, to comply with specific safety standards by Jan. 1 of this year, or go unused.
"We set out to change the law, because we don't think Toby should have died," says Rod Cosgriff, an attorney who spearheaded the Minnesota Bleacher Safety Committee, a group of parents who helped two state legislators draft the act after Lee's death. "We're told it's pretty much unprecedented to get a law like this passed through the Legislature in one session - especially when it wasn't on anybody's radar. But we didn't pull any punches. We said, 'If you vote against this bill, you are going to be partially responsible when another child falls through the bleachers and dies.' It's pretty hard to vote against that."
Proponents of Minnesota's bill had statistics on their side. According to the U.S. Consumer Product Safety Commission, 10 deaths between 1980 and 1999 - including Lee's - were attributed to bleacher falls. Of those, four were of children younger than age 15. From 1991 through 1999, the CPSC says that the annual number of bleacher-related injuries treated in emergency rooms across the country averaged 19,100. In 1999 alone (the latest year for which figures are available), 22,100 bleacher-related injuries were treated; roughly 6,100 of those were the result of someone falling from or through the bleachers, and nearly 5,000 cases involved children 15 years old or younger.
Whether Minnesota's law will significantly reduce the number of bleacher-related injuries and fatalities in the state is still a matter of some debate. But federal officials are impressed enough to use it as a blueprint for developing national bleacher guidelines and standards.
While many states have incorporated some form of bleacher safety standards into their own construction codes, enforcement - or even adherence - can often be marginal. In an effort to tighten bleacher safety standards, Kentucky at one point even considered following in Minnesota's footsteps with a law of its own, but the bill died because officials feared compliance would be too costly for organizations and communities. As of this writing, no other states are considering making bleacher safety a legislative issue.
Bleachers are a "classic, accident-prone structure," one building official says, and many seating structures currently in use are decades old, built using myriad materials and under varying code requirements. Building permits often aren't obtained for bleacher structures because bleachers usually are installed after a facility is constructed. They also are considered by inspectors and installers as equipment not requiring permits.
Moreover, when upgrading facilities, operators and designers tend to focus on improving such spectator and player amenities as rest rooms, locker rooms, dugouts and concessions stands while overlooking the most basic of user needs - safe seating.
Minnesota's Bleacher Safety Act, which affects both new and existing bleachers that rise higher than 55 inches (or roughly five rows), seeks to change that mind-set. The law mandates that the open space between bleacher footboards, seats and guardrails cannot exceed 4 inches. The only exceptions are for retractable bleachers in existence prior to Jan. 1, 2001, and for bleachers used in state or private colleges and universities. Those structures are allowed a 9-inch gap between footboards and seats. (Lee slipped through a 13-inch gap.) Bleachers' mandatory vertical perimeter guardrails must have no more than 4-inch spacing between rails, as well as rails or netting that prevent people from climbing the sides or back of the structures.
The law is enforced via an easy-to-follow self-certification process that allows for inspection by a certified building official, state licensed design professional or, in the case of school districts, a buildings and grounds supervisor. Facilities that pass muster receive a yellow sticker to place on the outer portion of their bleachers, acknowledging that they are in compliance. "We're taking people at their word, based on the certification-of-compliance form," says Scott McLellan, supervisor of plan review and regional services for the Minnesota Department of Administration's Building Codes & Standards Division. "Our intent was not to go crazy with this law, but to at least give bleachers some attention."
An earlier version of the bill, which called for compliance by Jan. 1, 2001, was considered a bit crazy by some legislators. It affected all bleachers higher than 30 inches, which would have included three-row units, and the state's Department of Children, Families and Learning estimated that that particular version of the bill would have collectively cost organizations up to $70 million to comply. "Despite our best intentions, the Legislature cannot pass a law that eliminates all the risks families face each day," Rep. Fran Bradley (R-Rochester) said after successfully lobbying Gov. Jesse Ventura to approve his amended version of the bill. "However, when we try, we must make sure such legislation is fair, balanced and reasonable."
Apparently, many facility operators in Minnesota now consider that to be the case. By mid-March, McLellan's office had already received more than 1,500 certification-of-compliance forms, with more arriving each week. "Overall, it's been pretty well-received," McLellan says about the mandates. "It isn't something I dread receiving calls about, because people know what the law entails."
To help municipalities facing financial hardship comply with the law, the League of Minnesota Cities Insurance Trust, which insures about 95 percent of all cities in the state, made $3 million available for loans to help cover compliance upgrade costs. But according to LMCIT officials, only a handful of cities - all with populations of fewer than 50,000 people - have taken advantage of the loans, which must be repaid within five years at 3 percent interest.
Some school districts have solved upgrading issues by inviting members of their communities to donate time and materials to bolt extra boards between seats and footboards, effectively closing wide gaps, Cosgriff says. Other facility operators have brought their bleachers into compliance by simply enclosing open ends or hiring companies that specialize in retrofitting procedures when the structures call for more drastic changes. "Manufacturers are now building bleachers that comply," Cosgriff says. "The problem is figuring out what can be done about the old bleachers."
That question is the one that eventually doomed Kentucky's bill, which in 2000 would have tightened safety guidelines for open bleachers at least 60 inches high. The proposed legislation came more than a year after two Kentucky children younger than 5 took traumatic falls. The House of Representatives passed a bill requiring guardrails and limiting gaps between footboards and seats to 4 inches. Initially, the bill called for guardrails on bleachers 30 inches or higher, and gaps no wider than 3 1/2 inches. One representative called the failed bill "dangerous," and another questioned who would pay for the state-mandated upgrades. Eventually, the bill died in the Senate because of concerns about the cost of compliance.
In an attempt to make it easier for states to reach some sort of consensus on what constitutes a safe set of bleachers, the International Code Council recently developed new bleacher retrofit standards. If approved by the American National Standards Institute later this year (a mere formality, says ICC program manager Lawrence Brown), the standards can then be adopted by more than 40,000 jurisdictions that already enforce building and other fire and life-safety codes. There is also the possibility that the standards will be built into a revised International Building Code (slated for publication next January, Brown says), giving the standards added weight.
Among the highlights of the ICC's standards, which are even more restrictive than Minnesota's law: Guardrails no shorter than 42 inches would be provided on bleacher structures higher than 30 inches, and open spaces between footboards and seats on structures higher than 30 inches would be small enough so that a 4-inch-diameter sphere would not be able to pass through. (To read the complete set of standards, log on to www.intlcode.org.)
"There's been little to no effort to update codes in this area. That much is evident," says McLellan, who was one of four Minnesotans (along with Cosgriff) to sit on the ICC's Consensus Committee on Bleacher Safety. He cites 9 inches in past codes as the recommended gap between footboards and seats. "Many of the provisions are antiquated and just don't work today. We're finally fixing the bleacher codes to make them more realistic."
The CPSC offers "Guidelines for Retrofitting Bleachers," which takes both Minnesota's law and the ICC's proposed standards a step further. Published in 1999, the guidelines recommend guardrails on all structures higher than 30 inches and openings between footboards and seats of no more than 4 inches. They were developed with input from manufacturers, members of Congress and parents of children injured or killed in bleacher falls. "The CPSC guidelines remain our best advice," says Ken Giles, a commission spokesman. "If the International Code Council wants to build a code that will eventually find its way into the laws of states, we've had our say." (To read the complete set of guidelines, called Pub. No. 330/000011, log on to www.cpsc.gov.)
Stricter bleacher safety standards might have prevented the shutdown of bleachers at the University of Detroit Mercy's Calihan Hall by city fire officials earlier this year. Inspectors at the time described many of the sections, which hold up to 1,500 fans, as so unsafe that they were in imminent danger of collapse, the Detroit News reports. Cracked and broken footboards, missing skirt boards and risers, unlinked struts and lack of guardrails were among the hazards inspectors found on the bleachers that were installed roughly 50 years ago. "I can't see where a single repair or improvement was made," inspector Lonnie Vermeersch, a 27-year veteran of bleacher and grandstand inspections, told the paper. "The company that made these has been out of business for 20 years."
National Fire Protection Agency codes call for annual bleacher self-inspections, with a certified engineer or installer inspecting them every two years. Even without the condemned sections, Calihan Hall still seats more than 6,500 fans, and plans were already in the works at the time of the bleachers' closing to replace them with electrically controlled telescoping stands this summer.
Similar stories abound throughout the country. County fairgrounds are especially susceptible to bleacher failures, McLellan says, adding that three people fell through grandstand bleachers last year in Minnesota. The age of many of those structures, combined with the limited budgets of their operators, spells "bad news," he says.
Even in jurisdictions where building codes don't adequately address bleacher safety, organizations and municipalities can take precautions against failed inspections - or worse, bleacher-related injuries and fatalities.
Last fall, when officials at the University of Houston hired two different inspectors to examine temporary bleachers rented for a football game at Robertson Stadium against in-state rival Texas, they received conflicting reports about the safety of the structures. One inspector claimed the bleachers complied with federal standards and were strong enough to withstand expected loads, while the other cited improper design and sloppy workmanship. In the wake of the engineering debate, university president Arthur Smith opted not to use the 37-row bleacher sections that were erected on dirt behind the stadium's north end-zone stands. The decision dislocated 4,150 Longhorns fans who had purchased bleacher tickets and forced Houston officials to issue refunds.
And after a set of 4-foot-high wooden bleachers collapsed in Coplay, Pa., last spring, sending two spectators to the hospital with minor ankle injuries, officials there replaced not only the faulty set of stands, but also an adjacent section - even though it showed no signs of collapse. "No sense horsing around," field manager Bill Polaha told The Morning Call of Allentown, Pa.
That's the attitude adhered to by the Institute for Environmental Assessment, a Brooklyn Park, Minn.-based consulting firm that assists public and private businesses with environmental management issues. The institute recommends that schools and other organizations take inventory of their bleachers by following these steps:
1. Look for gaps that exceed 4 inches between footboards and seats and between guardrails.
2. Examine guardrails and perimeter fencing for ease of climbability.
3. Locate structural drawings of the bleachers for review by a licensed structural engineer.
4. Discuss with administration officials and an attorney any potential liability issues the bleachers could cause.
Perhaps the most important step, officials say, is to let users know about the dangers of bleachers and urge them to use care when mounting and sitting on them. "Raising people's consciousness about bleacher safety was a big part of our campaign," Cosgriff says about the Minnesota Bleacher Safety Committee, which has been keeping a low profile since the state's law went into effect. "I think Toby's death really galvanized people in this state. It's our hope that what we've accomplished so far will eliminate the need for us having to do more."