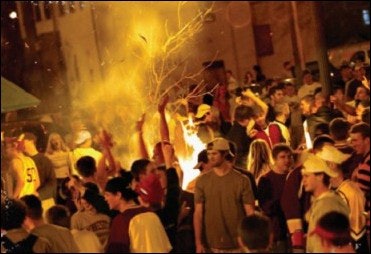 When the University of Minnesota men's ice hockey team won the 2002 NCAA Frozen Four in St. Paul, it marked the end of a 23-year national championship drought for the storied program. Then, by successfully defending their title this spring in Albany, N.Y., the Gophers underscored the program's return to its dynastic days of the 1970s (three titles in six seasons).
But just as that rich tradition was rekindled this year and last, fires were being set in off-campus Minneapolis streets. That the final game of the 2002 season took place, in essence, in the university's own backyard might serve to partly explain — though certainly not excuse — the resulting riotous behavior of U of M students and others. But things got even more out of hand this year, with more than 60 fires set and at least one student expelled as a result of that night's widespread felony-level behavior. (Cases were still being adjudicated this summer.) This, despite the game having taken place a half continent away and the heads-up afforded by the prior year's post-game fallout, leaving campus administrators to ponder what went wrong. Again.
"We did not anticipate what happened last year and thought that was just an unusual circumstance started by a handful of individuals," says June Nobbe, Minnesota's interim associate vice provost for student affairs. "We trusted our students and surrounding community members to not let it happen again, but they instead wanted to create another tradition off of last year."
With another academic year just under way, and the Gophers expected to put a strong team on the ice again this season, Nobbe and other campus officials are urgently working to avoid a riot-related three-peat. But as other schools have discovered, it doesn't take back-to-back championships - or even victory - to spawn civil disobedience among students. The University of New Hampshire, whose hockey team fell to Minnesota in the 2003 final, saw riotous behavior erupt in Durham, where bottle-throwing and other illegal activity led to 53 student arrests. Similarly, Maryland and Michigan State have dealt recently with student lawlessness after high-profile losses involving their basketball programs. Win or lose, the basic questions remain the same: What factors feed the appetite for destruction in a sporting event's aftermath? And what, if anything, can institutions do to control them?
Within weeks of a national-headline-grabbing riot following Ohio State University's win last November over arch football rival Michigan, the university assembled The Task Force on Preventing Celebratory Riots - a mix of the highest ranking university and civic leadership, as well as faculty, students, alumni and community members. Funded by the athletic department, the task force set out to investigate the causes of such events and the most effective strategies in preventing them. Not surprisingly, the latter task proved significantly more daunting than the first. "It's pretty easy to tell the story of how riots unfold. It's pretty difficult to figure out how to intervene," says David Andrews, OSU's dean of human ecology, who chaired the 37-member task force. "It takes multiple strategies."
The immediate charge of the group, which released its 39-page final report April 7, was to prevent any springtime campus events from leading to unrest (a series of late-night cookouts/concerts is believed to have helped). But the traditional powderkeg period within the academic year has been the fall. Four OSU football games (two road wins, a home loss and a home win) have spawned riots in Columbus since 1996, and according to Andrews, Buckeye fans can be particularly ungracious hosts. "People are drinking volumes of alcohol and responding to visitors from the other team in ways they would never do Monday through Friday," he says. "We create this kind of environment that suspends all rules of civility."
The riot following last year's win over Michigan, a victory that earned Ohio State a berth in college football's national championship game, topped all others in terms of scope and destruction. Not even two-time Heisman Trophy-winner Archie Griffin's PSA pleas for good sportsmanship in anticipation of the game seemed to mitigate the mayhem, as an estimated 4,000 to 6,000 individuals participated in the riot (either actively or as onlookers), 107 dumpster and couch fires were set, 20 cars were either damaged or burned, and 17 students were among 70 individuals arrested.
Several factors contributed to the uprising, according to Andrews. Lane Avenue, a street adjacent to Ohio Stadium where open drinking, urination and nudity help create a burlesque blockparty atmosphere (the street is shut down on game days in the interest of public safety), churned out scores of publicly intoxicated individuals before and after the game. Yet, campus and the adjacent low-rent neighborhood where riots historically have erupted remained relatively quiet well into the night, prompting law enforcement agencies to send large numbers of officers home at roughly 11:30 p.m. Once the first revelers took to the streets after midnight, however, word traveled fast via cellphone - a modern-day must-have for students that campus officials across the country point to as a clear riot accelerant.
Anne Lawing, senior assistant vice president for student affairs at New Hampshire, found herself in the thick of that school's hockey riot in April. "I saw students on their cellphones during this whole time, talking to other students and saying, 'Hey, get over here. This is where the action is. Something's burning.' "
Adds Andrews, "Cellphones can make the crowd gather so much quicker. You make one or two calls, and suddenly it's a telephone tree."
Local news coverage has also been blamed for fanning the flames, or even sparking them. Andrews contends that a dangerous mind-set is established among young Columbus TV audiences who, as part of the weeks of hype leading up to the annual Michigan game, witness clips of past riots as anchors muse whether another will ensue this time around. "It almost becomes a self-fulfilling prophesy, and it helps fuel the expectation that at some time in the night, there's going to be trouble." Once all hell breaks loose, the camera crews can't contain themselves. "Our latest riot started around 9:30 p.m. By the time our three major affiliates came on at 10, they were showing live shots," Nobbe recalls. "The police department kept calling them, saying, 'You're creating part of the problem. Get this off the air, because everybody's coming down to see what's going on.' "
The mere presence of passive onlookers can inspire those more inclined to set fire to a sofa or conspire to overturn a car, according to Nobbe. "I don't think most students understand how they contributed to our riots just by spectating," she says. "Of course, that's what the smaller number of individuals want - attention." Mark McSherry, a U of M economics senior and riot witness, offered a glimpse into the student thought process when he told a reporter from the Minnesota Daily student newspaper, "Riots are some of the top three memorable college times of my life. When else do you see all these students come together to do one thing?"
Changing attitudes like that can be challenging, according to Andrews. "I hate to use the word tradition, but if you have one riot a year for three years, you have a freshman class that comes in wanting to know when they're going to get to see their first riot," he says. "We've tried to educate our freshmen and sophomores about the inappropriateness of being an onlooker. We've also stiffened the city's laws in terms of what authorities can do with onlookers when they fail to disperse when we ask them to disperse."
One popular approach to reducing crowd sizes in the streets is to offer students alternative campus-based programming - typically an event held in the team's home venue and centered around watching a road contest (usually a post-season tournament game) on largescreen TVs. Results have been mixed. "Can you really find something for these students to do that would keep them from watching a car being turned over and set on fire?" Andrews asks. "That's a pretty jazzy thing. I think you can reach a certain number, and maybe keep the numbers down a little bit, but it's not a solitary solution."
Few of the 4,000 Minnesota hockey fans who sat in 9,700-seat Mariucci Arena to watch the New Hampshire game April 12 were students, Nobbe admits, adding that the university did not solicit student input in the planning process. It's a mistake that won't be repeated, she says, especially now that the university has established a $100,000 annual contingency fund to stage more attractive diversions in the event the hockey team returns to the Frozen Four or the football team finds itself in a future Rose Bowl. New Hampshire, meanwhile, was hamstrung that night (and the previous four years, for that matter) by ongoing campus construction projects, which have made a traditional outdoor student gathering place inaccessible for staged events. "Students tell us, 'Give us a place to congregate,' " Lawing says. "We're working on it."
Nobbe and Lawing say that their schools are rarely contacted by colleagues elsewhere for advice on how to deal with student riots. In fact, they're the ones working the phones in search of success stories. Add Syracuse University to the call list.
As soon as Syracuse reached the NCAA men's basketball Final Four last March, Chuck Merrihew, the school's director of student programs, assembled a group of campus officials (including those involved in campus safety), representatives of the city police and fire departments, and members of an off-campus student services office, which is also part of a coalition that includes local merchants (among them, bar owners along popular Marshall Street, two miles off campus). "Essentially what we tried to do was come up with a proactive stance," Merrihew says. "We came to an agreement about shutting down city streets at certain hours of the day. If you saw a video of Marshall Street, there were no cars by 4 p.m., because the street had been shut down."
That was on the Monday of the 8 p.m. final against Kansas, but Syracuse officials treated the semifinal game two days earlier as potentially volatile, too, given that it was a Saturday night. That game would also serve as a dress rehearsal in case the Orangemen advanced and the plan needed tweaking. "We even went to the extreme of having the city department of public works go through the surrounding community and do extra trash pickups, so there wasn't any trash sitting out on the street that night," Merrihew says. "A little thing, but if there's no old couch in front of the fraternity house, that's one less thing to set on fire."
Finally, Syracuse convinced the city to announce on the preceding Friday a zero-tolerance policy. "It would not be a situation where they would issue appearance tickets; they would arrest people on the spot for violations of public drunkenness, open containers and so on," Merrihew says. "There wasn't any doubt in students' minds that if they went down to Marshall Street and engaged in behavior X that they were going to jail." To punctuate the point on that Saturday and Monday, police lined the curbs in full riot gear, placed sawhorses in front of storefronts to discourage looting, and parked a paddy wagon and school bus in full view. (Incidentally, the Syracuse student code of conduct extends to behavior off campus, a policy approach adopted by Minnesota and Ohio State in the wake of their most recent riots.)
The mere presence of force at Syracuse produced the desired peacekeeping effect, but enforcement in these issues can be a delicate matter. "Typically, the riotous behavior doesn't start until police start trying to shut the party down," says Andrews. The situation can quickly devolve into a violent catch-22. "People burn stuff because the cops keep chasing us and they keep Macing us," McSherry told the Minnesota Daily. "We're going to break stuff until they quit chasing us."
On a kinder, gentler note, the Carrier Dome's doors opened to Syracuse fans wishing to watch both Final Four games on TV (for a two-day $3 admission). The title game alone drew 11,000 spectators, many of whom proceeded to Marshall Street, intoxicated to that point only by their team's victory.
Merrihew, who drew some of his ideas from an NCAA-sponsored summit on fan behavior held Feb. 20 in Dallas, clearly left little to chance. But there is one factor influencing the volatility of mobs gathered outdoors that can't be controlled: Mother Nature. By the time the Carrier Dome emptied on April 7, it had begun to snow in Syracuse. "That helped quell the crowd a little bit," Merrihew admits.
"One of the things that's been pretty consistent across the country is that these things are outdoor activities that don't occur as readily in bad weather," says Andrews, adding that inclement weather was one reason Ohio State avoided a riot following the football team's double-overtime win Jan. 3 over Miami in the Fiesta Bowl, which secured the school's first national title since 1968. "You don't see many riots in the winter. You see them in the fall, associated with football games, and you see them in the spring. They're highly associated with good weather in the spring."
"That was a huge part of our problem," says Nobbe, adding that April 12 represented the first jacket-free spring day in Minneapolis, providing idyllic conditions for daylong porch parties in anticipation of the Minnesota-New Hampshire hockey game, which began at 7 p.m. local time. "In Minnesota, our winters are so long that when spring rolls around and you have the first couple of nice days, everybody's nuts. We are absolutely certain that played a huge role."
Given the right mix of alcohol, school pride and mob-afforded anonymity, college students - even the academically successful ones - can prove nearly as unpredictable and out of control as the weather. For that reason, schools trying to anticipate what might happen when their teams triumph or tumble in big games are finding that consulting with students in advance is a good place to start. "Part of our recommendation is that whatever is done needs to have a strong student voice. We can't do this without having very active student involvement and even leadership," Andrews says. "What's interesting here is that 90 percent of our students report never having seen one of these riots. Yet, when you ask them, 'Whose responsibility is it to get things back under control?' they note that they perceive it's their responsibility as students to help solve the problem."
Andrews envisions Ohio State becoming a national agenda-setter on the issue of returning civility to college sporting events. On Nov. 19 and 20, the university and the U.S. Department of Justice will cohost the first National Conference Addressing Celebratory Riots. "The longer campaign is a social-norming type of campaign that sets a higher standard of behavior, without taking away the fun, enjoyment or special experience of a college game day. Other universities are starting to think about this strategy, as well."
Count among them Michigan State. No stranger to riotous episodes itself, MSU has taken the lead on a new national study of the issue launched this summer. Also count among them New Hampshire, which will host a summit Sept. 19-21, at which students will discuss with other students "ways of stemming the tide," Lawing says. At the same time, a tide New Hampshire hopes continues to roll along unabated is that of its hockey team's Frozen Four appearances. "UNH is perennially a strong team," she says. "Good for them. Let's find out how we can continue on this winning streak and celebrate responsibly."