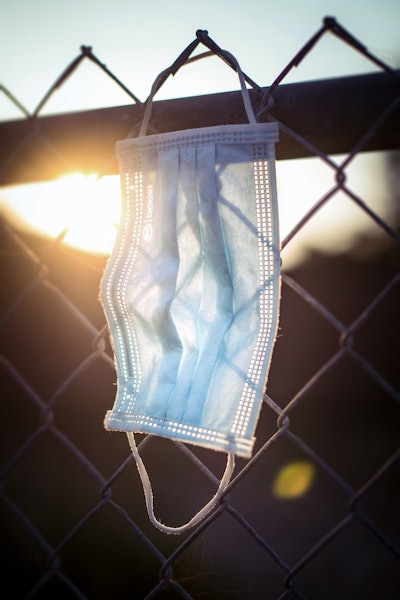 Noncompliance with mask-wearing at sporting events is forcing school districts across the country to revise their policies and crack down on violators.
The Roaring Fork School District in Glenwood Springs, Colo., requires athletes not actively participating in a sporting event — such as those sitting on the bench — to stay masked. The same goes for parents and other fans in the stands.
As reported by The Aspen Times, a recent lack of compliance, mostly from visiting fans, has prompted the district to retool its COVID-19 safety protocols specifically for athletics competitions.
"They're making it very hard on the people who are working in the schools: the administrators and the athletic directors and others who supervise," Roaring Fork School District superintendent Rob Stein told the Times. "They're just making it a very unpleasant experience for them to just do their jobs… I just think that those people are making choices that jeopardize the bigger ability of everybody to participate and enjoy those things."
Earlier this month, the district announced new, stricter protocols. Spectators at Roaring Fork sporting events are given one reminder if they aren't wearing their mask properly. If they fail to comply and create a disturbance, "games will be paused until those spectators have left the gym," a release from the district states.
Additionally, if spectators from the same visiting school continue to fail to comply, those visitors will be disallowed from attending games at a Roaring Fork school for the remainder of the season.
"We're not trying to take anything away from anybody," Glenwood Springs High School athletic director Craig Denney told the Times. "We're just trying to keep people safe. That's it."
Denney describes one way in which fans skirt the rules as "grazing" — using eating and drinking as an excuse to not wear a mask for the entirety of an event. Glenwood Springs responded by closing its concession stands.
Likewise, ejection for improper mask-wearing is now on the table at Galesburg High School in Illinois.
"We have our own fans who don't want to wear masks — and we offer free masks — but we've gotten to the point if you're going to do that we're going to ask you to leave," athletic director Eric Matthews told The Register-Mail of Galesburg . "We're just trying encourage people to wear them and correctly."
Matthews is asking his coaches, players and the general student body to set an example for everyone.else. "We have to do a better job with our coaches, and our student section has to do a better job. We're going to really try to hit those two areas to make sure we're doing it properly," Matthews said. "The officials on the floor are not supposed to enforce masks. It's the coaches and the school. We are responsible for Galesburg players and coaches. The officials are not. The officials are not the mask police. The IHSA was clear on that when we started this last year."
According to Denney, the same responsibility he expects of visitors follows his teams when they leave Glenwood Springs for road games..
"We just ask that they follow along with our protocols when they come here just like we would follow along with their protocols when we go to their place," Denney told the Times. "If I walk into your house and you ask me to take my shoes off, I'm not going to walk into your house with my shoes on."