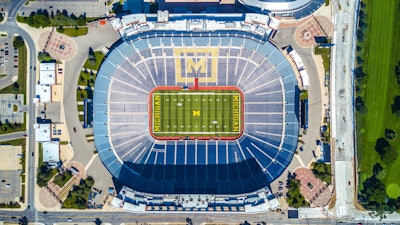 Although well-publicized instances of sexual abuse — including those at the University of Michigan, Ohio State University, Penn State and San Jose State — have affected student-athletes from a wide range of backgrounds, Black men may be disproportionately susceptible to sexual assault due to their overrepresentation in the largest college sports — football and basketball — and their reliance on athletic scholarships to cover education expenses, according to a report by INSIGHT Into Diversity.
In 2020, a group of 40 Black men who were former athletes at Michigan stated that they were "particularly vulnerable" to decades of sexual violence because of their race and lower socioeconomic backgrounds. The men said they were abused by Robert Anderson, a former team physician in UM's athletics department, who sexually assaulted more than 1,000 college athletes who came to him for medical appointments and sports physicals throughout his nearly 40-year-long career. Approximately 40 percent of the students he assaulted were Black men, according to attorney Mike Cox, who represents 174 victims in a federal court mediation against the university.
"Most if not all these men from the 1970s and '80s were first-generation college students. They came from depressed socioeconomic backgrounds, and their only lifeline was these athletic scholarships," Jamie White, an attorney representing some of Anderson's victims, told MLive, as reported by INSIGHT Into Diversity. "So, for those reasons, these men literally just [bore] what Anderson would do, because, as they will say, there weren't any options. They will unilaterally say that had they not cooperated with these sports physicals, they would have lost their scholarships."
Related: U. of Michigan Reaches $490M Settlement in Abuse Case
Nearly one in five Black men in the U.S. has experienced some form of sexual violence, according to the Centers for Disease Control and Prevention's National Intimate Partner and Sexual Violence Survey. Yet, INSIGHT Into Diversity reports that this demographic is less likely to report such abuse, often because of a fear of being perceived as weak or, in contrast, being viewed as the aggressor, according to advocates.
INSIGHT Into Diversity's Erik Cliburn writes that underreporting of sexual misconduct is especially common among Black men athletes, either due to fear of retaliation or a misplaced trust in their athletics staff, according to several survivors and experts. Jon Vaughn, a Black man and former NFL and UM player and Anderson survivor, told CNN that it took him years to recognize Anderson's behavior as abusive. After realizing he had been victimized, Vaughn said it was hard for him to discuss it because of the way society stereotypes Black men.
"Showing emotion about being abused? It's not well accepted," said Brian Johns, a survivor and activist, in a RAINN.org interview, as reported by INSIGHT Into Diversity. "As a Black man, you've been broken down so much that you have to put on a face of being strong. We have a lot of pain that is unattended to."