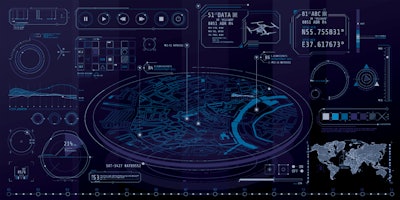 In November 2017, as the San Francisco 49ers hosted the Seattle Seahawks, a drone flew over Levi's Stadium in Santa Clara, Calif., and dropped leaflets protesting the media industry on the unsuspecting crowd. That same day, the drone's operator pulled the same stunt, dropping more leaflets over spectators at the Coliseum in Oakland, where the Raiders were taking on the Denver Broncos.
This year, at a July game between the New York Yankees and the Boston Red Sox at Yankee Stadium, a drone was spotted hovering above the outfield bleachers. The incident sparked an investigation by the New York Police Department, but as of this writing, the pilot hasn't been identified.
While the Federal Aviation Administration has banned unmanned aircraft from flying over stadiums while games are in progress, the aforementioned incidents illustrate that enthusiastic hobbyists don't always get the memo or follow the law. In fact, several MLB games in recent years have been interrupted by drones, including five during the 2020 season alone. While the primary concern for facility operators is always to ensure the safety of fans, drones flying above stadiums have, so far at least, proved to be nothing more than a nuisance — occasionally resulting in a delay of play and later an investigation by authorities.
Here's a look at how some stadium operators are mitigating the drone threat.
Technology to the rescue
"While stadium security managers are mostly concerned about hobbyist drone pilots who cause public safety concerns and financial losses from liabilities, structural damage or when a televised event must be delayed, most understand the risk of nefarious drone use," says Lexi Rinaudo of AeroDefense, which manufactures a drone detection system. "The Ukrainian military's success with using small quadcopters to carry munitions has caught the attention of security teams who fear there is nothing preventing a nefarious actor from weaponizing a drone here on U.S. soil over a large crowd of people."
AeroDefense's AirWarden drone detection solution has been installed at MetLife Stadium since 2018, as well as an MLB stadium that Rinaudo wasn't at liberty to name. The AirWarden ​​detects, tracks and classifies drones and the persons flying them to help security teams mitigate threats.
According to Rinaudo, the system detects physical energy generated by drones via spectrum sensing, much like a Geiger counter detects the presence of radioactive material. "Our detection method allows the system to detect and locate RF-based drones from most manufacturers, as well as DIY drones, as soon as they are powered on, which maximizes response time. Spectrum sensing also allows us to operate without violating federal surveillance laws."
After an unauthorized drone has been detected, AirWarden can locate the operator through trilateration — the same technique used to locate where a cellphone call originated.
"When detections occur, AirWarden sends text and email alerts automatically to designated users along with audio-visual alerts on a command console," Rinaudo says. "The system records the user interface for incident playback and generates an incident report that users can then export."
And then what?
So, what happens after a drone has been detected in restricted airspace? Rinaudo says response tactics vary by organization.
"When AirWarden alerts the facility, they immediately use their camera system to get eyes on the pilot if possible and dispatch response personnel to the pilot's location," says Rinaudo. "On event days, facility operators often dispatch law enforcement resources with the facility security team."
The goal is to confirm as quickly as possible whether the drone pilot is a clueless, careless fan or a terrorist with ill intent and then deal with the person accordingly.
Rinaudo notes that not all events are treated equally and, as such, some events are allowed more leeway in terms of what they can do to mitigate a potentially hazardous situation. The Special Event Assessment Rating grades events on significance. For instance, events of national or international importance that require extensive federal interagency support, such as the Super Bowl, Indianapolis 500 and the Kentucky Derby, obtain waivers to operate mitigation equipment that can disable or take over drone control.
Rinaudo says that facility operators who do obtain this kind of waiver need to understand the risk of liability involved. "Mitigation technology use introduces potential injuries to fans on the ground from drones that may fall on them from high altitude."
Are operators doing enough?
While the threat posed by drones to large outdoor events isn't new, drone technology has improved and the price has come down, meaning there are more hobbyists who may unwittingly send their drone to secure a stadium view while a game is underway. Rinaudo says there are millions of drones in the United States.
Facility operators appear to be taking notice and continue to bolster their defenses. According to a May 2022 survey of professional venue directors conducted by The National Center for Spectator Sports Safety and Security, the majority of participants (82.5 percent) have a drone mitigation plan, and another 82.5 percent of respondents observed and detected unauthorized drone operations in the airspace above or near their venues.
Of the respondents who reported unauthorized drone operations, 45.5 percent were visually observed, 15.1 percent were detected through sensor technology, and 39.4 percent were detected using both means. The number of drone sightings by survey participants ranged from one to 10,000 during the previous 12 months, with 67 percent of participants detecting one to 25 drones during this time period.
According to the survey, unauthorized drone operations interfered with events at venues of three respondents, causing one respondent to take protective action.

While drones haven't caused too much trouble for large outdoor events to date, security professionals aren't resting on their laurels. The potential for tragic consequences is very real should a bad actor fly an unauthorized drone over a stadium full of fans and drop something more lethal than leaflets.