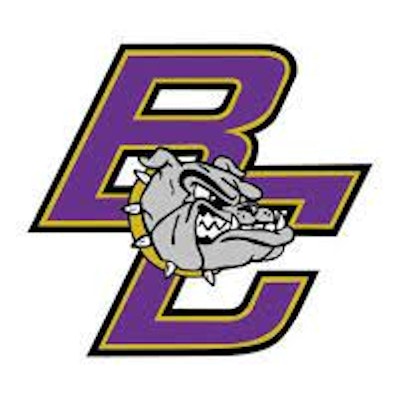 The athletic director at Bloom-Carroll High School in Caroll, Ohio, was arrested Tuesday and charged with two felony counts of sexual battery.
According to a complaint filed in Fairfield County Common Pleas Court, Chad LIttle, 45, unlawfully engaged in sexual conduct with a then-student--athlete from about March 18, 2018 to September 30, 2020, when Little served as girls' basketball coach.
As reported by The Columbus Dispatch, a warrant for Little's arrest was issued Monday, according to court records, and a clerk in the Fairfield County Clerk of Courts office said Little was booked into the Fairfield County jail Tuesday morning. Little's initial court appearance was scheduled for 8:30 a.m. this morning.
Little has been placed on leave, according to a statement issued by Bloom-Carroll Local Schools Superintendent Shawn Haughn.
"I was informed that Athletic Director, Mr. Chad Little, was arrested this morning," the statement read. "I immediately placed Mr. Little on leave. The District has fully cooperated with law enforcement and will continue to do so."
On Sept. 13, an official with the Ohio Department of Education (ODE) contacted the Fairfield County Sheriff's Office to report a possible sexual battery case between a former student-athlete and her coach at Bloom-Carroll High School, according to a report from the sheriff's office.
The ODE official told a deputy that the department had in August 2018 received a complaint from a student athlete who alleged an inappropriate "boundary violation" from her then-coach, Chad Little.
The ODE official read aloud the email to the deputy, in which the student said a relationship with Little first began when he touched her on the way home from a district title game. The relationship ended on Sept. 9, 2020, around the time when Little received his admonishment from the state, the student said.
The student also said in her email that it was only through therapy that she was able to come forward and build upon the allegations made in 2018.
According to ABC affiliate WSYX in Columbus, parents reacted with alarm and disgust.
"It's scary," a Bloom-Carroll mother who wished to remain anonymous said. "It's disheartening that these are trusted adults in our school system."
"I really feel for our small town, and I just hope that justice is served," added an anonymous mom of a Bloom-Carroll student-athlete.
As both parents process the news, they're thinking about all the district's students, WSYX reported.
"It's sickening because it's such a vulnerable age anyways, you know, and you look to athletics for a sense of confidence and skill building and prosocial activities, and to have your mentor, your coach, your leader, whoever is in charge of that, I don't know. I'm just at a loss for words," one mother said.
"Being a female, I can't imagine having to deal with that on a daily basis and knowing that you have to go to this man and who's in authority and who can actually take advantage of you," the mom of the student-athlete said.
She said she has conversations with her high school daughter about people like Little.
"Sometimes you have to worry about things in this world, and having daughters, that's what you do," she said. "You prepare them for the outside world and prepare them that people aren't as honest as they say they are."
WSYX found a consent agreement with the ODE signed by Little on Sept. 16, 2020. A consent agreement serves as a way to bring an educator's license into good standing with the department. According to the agreement, Little did not keep appropriate boundaries with students.
The State Board suspended his education-related licenses for 180 days — from Sept. 5, 2020, until March 4, 2021, according to WSYX. Little was not allowed to coach or teach during that timeframe. He also had to complete 24 hours of training on professional boundaries and 16 hours of community service work.
"It's really sad," one mother said. "It's sad to see what's going to happen and what the future's going to hold for everyone, I think, in this community. I think that us, as a small community, can lay our heads at rest tonight and know that a predator is behind bars."