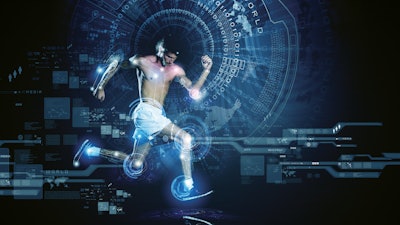 About 3.8 million sports-related concussions occur each year in the United States. The Centers for Disease Control and Prevention estimates that 5 to 10 percent of athletes will experience a concussion in any given sports season. Many of these injuries go unreported and undiagnosed, leading to mismanagement and premature return to activity.
Athletes, coaches and parents are always looking for any way to better mitigate, diagnose and treat concussions. In recent years, the industry has seen improvements in helmets, field surfaces, strategies for faster diagnosis, return-to-play protocols and overall increased awareness of the problem. But there's also been a significant boom in the innovation of new technologies for all aspects of concussion mitigation, diagnosis and care. Here's a look at a few of the tech companies hoping to better protect athletes from the dangers of head injuries.
SISU Sense
SISU Sense offers a sensor-equipped mouth guard made from a reinforced thermoplastic material that has shape memory, so that it can be remolded multiple times until a perfect fit is achieved. The embedded microchip sensor gives accurate acceleration readings when an impact occurs. The mouth guards connect to SISU's mobile application, which collects impact information for long-term monitoring and review.
TecTraum
TecTraum's pro2cool system allows coaches, trainers and physicians to treat and care for athletes who have suffered head injuries. The pro2cool portable device leverages hypothermic therapy ("cold therapy"), which has been shown to have clinical efficacy in a variety of cardiovascular injuries, including cardiac arrest and myocardial infarction (heart attack). Researchers investigating the pro2cool device have observed significant improvements in clinical outcomes through the cooling of the brain within eight days of a concussion.
Riddell
Helmet maker Riddell recently released the Axiom Tru-Fit system, which uses Riddell's Verifyt scanning app to capture a 3D image of an athlete's head, cross-reference that image with football's largest head-shape database, and then customize a factory-installed performance liner system of pads — with specific thicknesses, shapes and contours — to create a personalized fit for the athlete. Axiom comes standard with InSite Smart helmet technology, an impact-sensing and reporting system that collects and transmits head impact data from the field in real time. With a subscription to Riddell InSite Analytics, football programs receive periodic reports with objective analysis designed to provide a deeper understanding of the head impact exposure their athletes experience during practices and games — actionable information to help coaches take steps to reduce HIE and improve performance.
Cerebritech
Cerebritech is developing a concussion-detecting device and software that takes and sends pictures of the brain in real time. According to the company, the proposed method of monitoring athletes' brains in real time aims to use a benchmark that is more homogenous in nature and biologically consistent among athletes. The company says the resulting tech will increase specificity and limit potential measurement errors to provide players, coaches and sports medicine experts with a more comprehensive and accurate picture of the athlete's brain during competition. Cerebritech's solution employs fNIRS sensors, which track an athlete's brain health during competition, practice and training periods. It does this through sensors implemented in the helmet that detect changes in the athlete's cognitive state by tracking blood hemoglobin levels in the brain, while filtering out such non-relevant artifacts as the probes' own motion, rendering the collected data even more accurate.
Aural Analytics
Aural Analytics offers Speech Vitals, a computerized cognitive assessment aid that can identify possible brain injuries. Speech Vitals collects just a few minutes of speech samples from patients via app-based tasks that measure speaking rate, articulatory precision, word search time and other data. Aural Analytics recently partnered with HitCheck to integrate its speech analytics into HitCheck's cognitive assessment application, which tracks individuals' unique performance over time and screens for sudden changes after a potential brain injury has occurred. Aural Analytics says this integration enriches the assessments that coaches, athletes, medical personnel and others rely on to assess an athlete's ability to return to play.