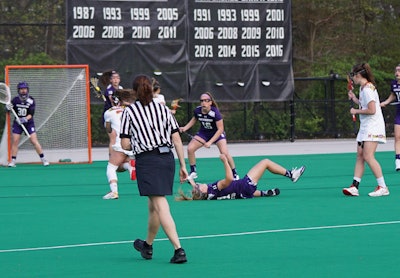 An on-field incident that hospitalized a Yale University women's lacrosse player for two weeks has prompted two oversight organizations to reexamine the rulebook.
As reported by ESPN, an apparent illegal but unpenalized cross-check ruptured a kidney of Yale sophomore attacker Taylor Everson, causing severe internal bleeding, during a game at Stony Brook University on Long Island last month. "The ball went down, and I went to go grab it and I shot it and a girl kind of came in my blind spot and cross-checked me in the side," Everson told ESPN. "It felt like knives were being stabbed into me."
On Feb. 25, the Collegiate Women's Lacrosse Officials Association sent video clips of cross-checks to game officials in hopes of cracking down on the illegal maneuver, and just this week leaders of the Intercollegiate Women's Lacrosse Coaches Association told member coaches about Everson's injury and reminded them of the points of emphasis in the rulebook, including one aimed at stamping out cross-checking.
The coaches were also asked to submit their suggestions for potential rule changes to make the game safer, wrote Michael Fletcher of ESPN. Those proposals could then go to an NCAA committee for consideration.
"I think this injury caught everybody by surprise," IWLCA executive director Liz Robertshaw, an All-America at George Mason University in the late 1990s, told ESPN. "You don't hear about this kind of thing often."
Women's lacrosse is considered a non-contact sport. By comparison, men's lacrosse allows body checks and shot-blocking. The sports even look different, with men wearing helmets with face masks, while women don only the eye protection mandated by USA Lacrosse nearly 20 years ago following multiple incidents of shattered orbital bones. But advancements in stick technology have led to an overall increase in the spreed and physicality of both games.
Still, efforts to further blur the lines between the men's and women's games — in terms of safety equipment and rules — has met resistance.
"A lot of traditionalists in women's lacrosse would say, 'It's a different sport than men's lacrosse. We don't allow checking. We don't allow defenders to put themselves between the shooter and goal,' " said Mike Oliver, executive director of the National Operating Committee on Standards for Athletic Equipment. " 'To make them wear all the extra equipment is going to make them play like the men, and we don't want that to happen.' "
But, as Fletcher points out, the differences also led to one potentially critical shortcoming at Stony Brook.
"The classification of women's lacrosse as a non-contact sport can also affect the type of emergency medical staff assigned to games," Fletcher wrote. "There were no ambulances or emergency medical technicians at the Stony Brook game — although university officials said two physicians staffed the game — and the medical personnel did not initially recognize the severity of Everson's injury.
An NCAA spokesperson told Fletcher the presence of an ambulance or EMTs for any sport is determined by the host school or conference office as part of its emergency action plan, as well as local governmental requirements. According to Robertshaw, many schools assign EMTs and ambulances only to games involving collision sports, including football, hockey and men's lacrosse.
In an email to Stony Brook, Everson's mother, Carolyn Everson, said that about 90 minutes elapsed between her daughter's injury and the time when an ambulance took her to the Stony Brook Trauma Center, which is less than a mile from the school's lacrosse field.
As reported by Fletcher, Stony Brook athletic director Shawn Heilbron said the severity of Everson's injury initially went unnoticed by the two physicians at the game because there was no foul called on the play and the game was not stopped. Only later did a Yale trainer ask that a doctor examine Everson, he added. The doctor then recommended that an ambulance take Everson to the nearby hospital for further evaluation. Heilbron said an ambulance arrived within 15 minutes of being called.
The hospital admitted Everson to its intensive care unit, where she remained for more than a week before being transferred to New York-Presbyterian Hospital. Everson lost 15 pounds and is now at home working to regain her strength.
Though such injuries remain extremely rare in women's lacrosse, Everson's plight is not without precedent. Taylor Scornavacco suffered a severe kidney laceration from a cross-check while playing for Stanford University in 2019. Scornavacco sensed that she was seriously hurt, but her team's trainer could not pinpoint her injury. Later, while in the locker room, she noticed blood in her urine.
Scornavacco spent a week and a half in the hospital, and another three months convalescing at a friend's home, Fletcher reported, adding that it took her nine months to fully recover.