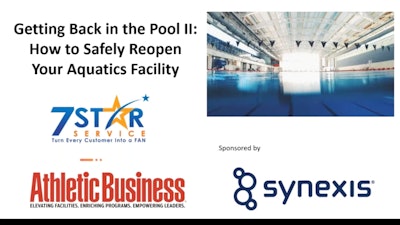 While facilities of all types navigate reopening amid the COVID-19 pandemic, aquatics professionals are wrestling with their own unique set of challenges. From disparate local, state and federal guidelines to a new set of staffing concerns, COVID-19 has made getting back in the water a monumental challenge. Join Athletic Business, 7 Star Service and a panel of aquatics professionals, as we return to our discussion on the intricacies of getting your aquatics facility back up and running. 
In this free session, you will learn:
Proper distancing and virus mitigation protocols on deck and in the water
Strategies for safely training staff on how to enforce new policies at your facility 
New protocols for hosting swim lessons, swim meets and team practices.
Panelists:
Megan Pleli, M.S., RN | Aquatic Program Administrator, Bainbridge Island Metro Parks & Rec District, Bainbridge, Wash.
Phil Julson, Associate Director-Aquatics, The Ohio State University, Columbus, Ohio
Hosted by: Ruby Newell-Legner, CSP | Guest Experience Expert, 7 Star Service
Sponsor: