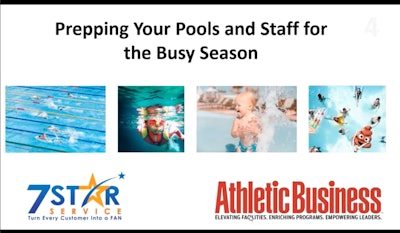 After a year of hard lessons due to the COVID-19 pandemic, pool and natatorium operators across the country are struggling to understand the best way to reopen their facilities in the coming year. Join Athletic Business, 7 Star Service and a panel of experts for a deep dive on how to prepare your facilities for a fun and active aquatics season.
In this free session, you will learn:
New strategies for hiring and training staff during the pandemic. 
How to keep your guests safe and comfortable.
Cleaning and sanitizing solutions that work. 
Guest speakers:
Cory Hilderbrand, Community Services Manager, City of Irvine, Calif.
Lydie Gutfeld, MPA, Community Services Manager, City of Mission Viejo, Calif.
Hosted by: Ruby Newell-Legner, CSP, Fan Engagement Expert, 7 Star Service
Sponsors: